Donald Trump daughter Ivanka pictured in meeting with Japanese Prime Minister Shinzo Abe
'It's quite unusual to see a family member attending the first encounter between two leaders even if it's informal,' expert says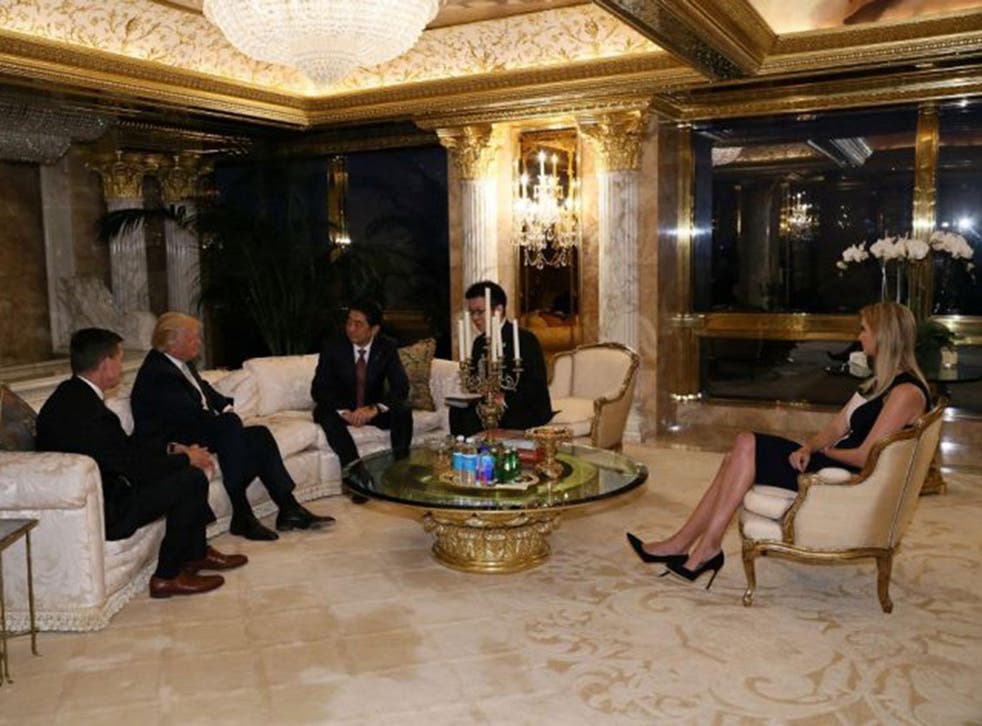 Donald Trump's daughter has been pictured attending a meeting with Japanese Prime Minister Shinzo Abe, heightening concerns the President-elect's family will wield unprecedented influence over his political duties.
Ivanka Trump, who features in handout photos of the impromptu gathering, plays a significant role in managing Mr Trump's businesses, along with his other adult children.
Unlike other presidents, Mr Trump's children are part of his transition team, which has been beset by problems since its inception.
The inclusion of Mr Trump's children - none of whom have been elected to any public office - in the political process has raised questions over how Mr Trump would deal with potential conflicts of interest between his business and political duties.
As well as being a key player in her father's business empire, Ivanka Trump has her own fashion label and jewellery line, and active Twitter and Instagram accounts that promote her brand. Newly appointed National Security advsisor to Mr Trump, General Mike Flynn, was also in the meeting.
It is not known how much Ms Trump participated in the discussions with Mr Abe, or if – as some observers have speculated – she was merely there as 'decoration'.
Her presence at the meeting was only revealed after the Japanese government released the pictures, thanks to a freeze-out of US journalists by the President-elect's team.
But the pictures attracted attention in protocol-conscious Japan.
"It's quite unusual to see a family member attending the first encounter between two leaders even if it's informal," said Yoshinobu Yamamoto, a professor of International Relations at the University of Niigata Prefecture, to AFP.
Donald Trump's most controversial quotes

Show all 14
"It indicates that she would be playing some important role in the Trump administration. But it's no surprise to see her there as she has already been involved in politics. Anyway, that's the Trump way."
The move also prompted criticism among US commentators.
"There is literally zero reason for Ivanka Trump to be sitting in on meetings with heads of state other than her own personal benefit," Simon Maloy, political writer at Salon, wrote on Twitter.
There have been unconfirmed rumours in Japan that Ms Trump could become ambassador to the country.
Mr Abe was visiting Mr Trump after the President-elect made comments during the campaign suggesting Japan, officially a pacifist country, should obtain nuclear weapons and not rely so much on the US for security.
Following the meeting, Mr Abe told the media he was confident Mr Trump was a "trustworthy leader."
Mr Trump released a separate photograph of himself and Mr Abe on Facebook. A caption said: "It was a pleasure to have Prime Minister Shinzo Abe stop by my home and begin a great friendship."
Register for free to continue reading
Registration is a free and easy way to support our truly independent journalism
By registering, you will also enjoy limited access to Premium articles, exclusive newsletters, commenting, and virtual events with our leading journalists
Already have an account? sign in
Register for free to continue reading
Registration is a free and easy way to support our truly independent journalism
By registering, you will also enjoy limited access to Premium articles, exclusive newsletters, commenting, and virtual events with our leading journalists
Already have an account? sign in
Join our new commenting forum
Join thought-provoking conversations, follow other Independent readers and see their replies