James Franco and Zachary Quinto stage promotional gay kiss
The actor plays a gay man who suddenly becomes a homophobic Christian fundamentalist in the independent film I Am Michael
Jenn Selby
Wednesday 04 February 2015 11:37 Comments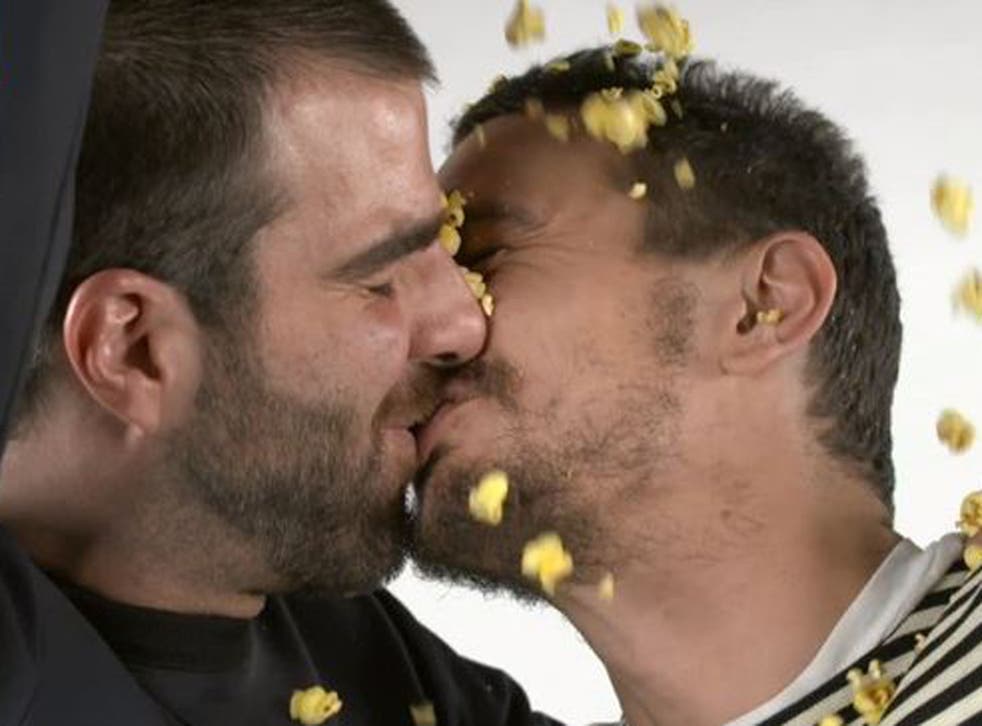 James Franco has long been the subject of media speculation over his sexuality.
And he's not shy of playing up to it, either.
His last year in film was punctuated by mocked-up Instagram images of him in 'steamy clinches' with male love interests, or riding with a semi-naked Seth Rogen in Kanye West spoof "Bound 3".
He took on Gawker on the social media platform, too, after the site published an article claiming Franco had been living with a male partner, his friend and co-star Scott Haze.
"But theirs is the kind of relationship - somewhat ambiguous, seemingly gay, probably romantic - that almost always sends The New York Times into a bizarre moral panic," it read.
"GAWKER - always getting the cutting edge, homophobic scoop!!! Go see CHILD OF GOD in theaters and see me direct my live-in boyfriend, SCOTT HAZE!!! Love you SCOTT!!!!" he captioned a screengrab of the article.
And it seems 2015 might involve much of the same, if the promotional kiss he staged with his gay I Am Michael co-star Zachary Quinto is anything to go by.
In a video taken at the Sundance Film Festival and released by The New York Times this week, the pair, much to the delight of their gay fans, enact a slow-motion session under a shower of popcorn.
Their new film is based on The New York Times article "My Ex-Gay Friend", which was originally written by Benoit Denizet- Lewis.
It tells the story of a magazine publisher and former gay rights activist Michael Glatze (played by Franco), who suddenly converted to become an anti-gay Christian fundamentalist after deciding that he was straight.
"I haven't had that many conversations with him," Franco told Pink News of meeting Glatze following his portrayal of him.
"I met him in person for the first time here at the festival. He made a point to come up to me and thank me, and he said he loved the movie. I think it was very healing for him."
"We did have Michael's permission and his relationship to this material is different than any of the real life people I have portrayed. Where we start in Michael's life in the movie, is far from where he is right now," he went on.
Gay Times Top 30 gay icons of the last 30 years

Show all 30
"So in a way, we had to show to him we were going to have a very even-handed, non-judgemental approach, but we also had to say to ourselves, 'We're not telling this story just to make Michael happy, we're telling the story to get both sides'. The best we could do was say to him was, 'We have good intentions. We're not going to crucify or judge you but we also need to tell the story from the other side as well as the side you're on now'."
The independent film, directed and co-written by Justin Kelly and produced by Gus Van Sant, premieres in Europe at the Berlin Film Festival next week.
Register for free to continue reading
Registration is a free and easy way to support our truly independent journalism
By registering, you will also enjoy limited access to Premium articles, exclusive newsletters, commenting, and virtual events with our leading journalists
Already have an account? sign in
Join our new commenting forum
Join thought-provoking conversations, follow other Independent readers and see their replies