James Wharton: The former Guard now fighting discrimination against gay soldiers
Life after the Army has brought new battles for the LGBT activist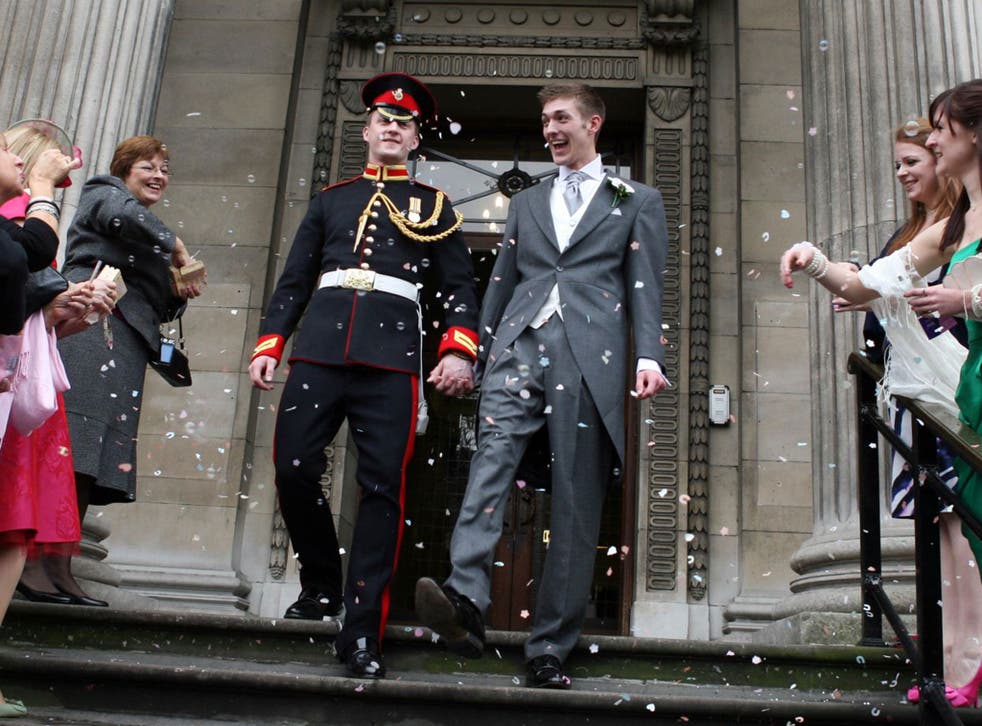 It has always been a source of wonder to me how the Queen's Guard can manage to keep a straight face sitting on their horses, in their magnificent uniforms, while hordes of tourists take their picture.
As well as needing "huge reserves of patience" to stay alert for a whole hour before change-over, soldiers develop tricks to help them, playing mental games such as "counting the chimes", reveals James Wharton, the poster boy for the Army's changing stance towards homosexuality during 10 years of service as an openly gay man.
Wharton, who left the military last year after a distinguished career as a member of the elite Household Cavalry regiment, the Blues and Royals, is explaining his former ceremonial duties in front of his old barracks on Horse Guards Parade in central London. A young soldier ("that used to be me: he's only about 17") marches past before saluting.
Wharton was granted the Freedom of the City of London, his adopted home town and the place where he came out, earlier this year for his work as a prominent LGBT activist, a role that has put him into the Independent on Sunday's Pink List, forerunner of the Rainbow List, for the past three years.
Wharton says the Rainbow List is vitally important for the way in which it recognises everyone from the famous, such as Olympic swimmer Tom Daley – "the most influential person in this country in the LGBT community this past year, for what he did and the reaction it had, people were talking about it for weeks" – through to "people who are doing everyday jobs while being authentic about who they are and fighting the cause".
The 27-year-old became the first openly gay soldier to appear on the cover of the Army's magazine, Soldier, in 2009. His civil partnership to husband Thom (although the couple have very recently separated), was the first to be celebrated with great fanfare in the Household Cavalry's barracks in 2010.
The couple became a symbol of how far the military had evolved after the law to allow homosexuals into the services came into force in January 2000.
"It was 10 years since the law had changed and it acted for me as a real benchmark of how far the Army had come," says Wharton. "At the end of 1999, it was illegal, and in 2010, we were putting plans together for a civil partnership which we then celebrated in the barracks."
As well as Daley, Wharton would like to see Steph Keeble and Dave Viney from the Birmingham LGBT Centre, on this year's list for their work in the community, Professor Tom Welton from Imperial College London, an openly gay scientist "very active with working for equality" and Greg Ussher, the head of the Metro Centre, the equality and diversity charity in south-east London.
Wharton is talking ahead of the launch of an update to his best-selling memoir Out in the Army: My Life as a Gay Soldier, which catapulted him back into the headlines when released last summer because of revelations about the time he served with Prince Harry in Canada.
In the book, Wharton revealed Lieutenant Wales had rescued him from six soldiers threatening to "batter" him in a homophobic attack along with detailing accounts of conversations they shared about sex, including how Prince Harry lost his virginity.
Wharton says that "in an honest reflection of the 10 years he spent in the military" the six weeks he spent with Prince Harry was one the "highlights in his career", along with taking a role at the wedding of the Duke and Duchess of Cambridge and "returning from Iraq after seven months away and seeing my family" back home in Wrexham, North Wales.
Life wasn't all so uncomplicated being out in the Army after 2000. Wharton says although his friends were "all supportive" he was not always comfortable with the way the hierarchy dealt with it.
His sexuality also led to an horrific attack by a fellow soldier with an iron bar in which he could have been killed. In a new chapter of his book he also details his break up with Thom. Wharton tells me that it is "ironic" that he is now single as it was in part because he wanted to spend more time with his husband that he quit the Army.
Things "started to go downhill" a year before breaking up around the time the two became very involved in the campaign for gay marriage, which put "intolerable pressure" on them both. "I am still 100 per cent sure gay marriage is what is required and what is relevant," Wharton says. "But using my own marriage as an example, I felt I was lying a little but and we were pretending things were all right when they weren't."
Although Wharton has nothing but praise for how the Army has changed in its attitude to the LGBT community, he is critical of the way soldiers are abandoned once they leave service.
"I have had no support since I left the military but I had a wonderful husband and a book coming out," he says. "There are people who leave the military who have gone through the same process and have found themselves in a state of hopelessness, who do not know what to do, where to turn to.
"One friend developed an alcohol problem."
He says the people he knows that found themselves in difficulty have been supported by charities but he says it is "shambolic the MOD allows the charities to do the job they should be doing".
He believes there is a case for military status to be protected under the Equality Act due to the discrimination veterans face when seeking employment after service, difficulties with getting credit because they have moved addresses throughout their career, down to nightclub doormen not allowing soldiers on to the premises.
"The fact that you are a veteran or in the military means you do not have equal opportunities to everyone else," he says.
He also thinks it "ridiculous that women are not allowed at the front line, in submarines or to drive tanks.... I was a tank driver and all the women I met in the Army were just as capable of driving tanks as me."
Watching two soldiers dismount their horses before heading back into the barracks, I ask Wharton whether he regretted his decision to leave. "Not at all," he says. "I did 112 guards – Queen's Life Guards, where you stay [on duty] for 24 hours. I did this for 10 years."
Although Wharton is busy working as a diversity consultant, in PR, writing a column for the gay magazine Winq and working for the charity Stonewall, he does harbour political ambitions.
He feels that military personnel "have no real representation, or voice" in Westminster and his interest in politics comes from a desire to "put the welfare of people in the military" at the heart of decision-making.
Curriculum vitae
1987 Born in Wrexham, Wales. His father, Ron, is a factory worker and window cleaner. His mother, Pauline, works in a hardware store.
1988 His parents separate. His mother is diagnosed with multiple sclerosis shortly afterwards.
2000 Joins the Army cadets.
2003 Joins British Army.
2007 Serves in Iraq for seven months, carrying out duties as part of an armoured reconnaissance unit.
2008 Helps prepare troops for active service at a training facility in Canada. Prince Harry defends him from homophobic attack by fellow soldiers.
2009 Is the first gay soldier to appear on the cover of the Army's Soldier Magazine – nine years after the Army lifted ban on homosexuality.
2010 Marries long-term partner Thom. They are the first same-sex couple to have their relationship formalised in the Household Cavalry's 350-year history.
2011 Escorts the Queen to the wedding of the Duke and Duchess of Cambridge.
2013 Quits the Army. Publishes his autobiography Out in the Army: My Life as a Gay Soldier.
Join our new commenting forum
Join thought-provoking conversations, follow other Independent readers and see their replies