The Independent's journalism is supported by our readers. When you purchase through links on our site, we may earn commission.
Jamie Brewer: What you need to know about the first Down's Syndrome model to walk at New York Fashion Week
The inspiring American Horror Story star has highlighted the plight of people with disabilities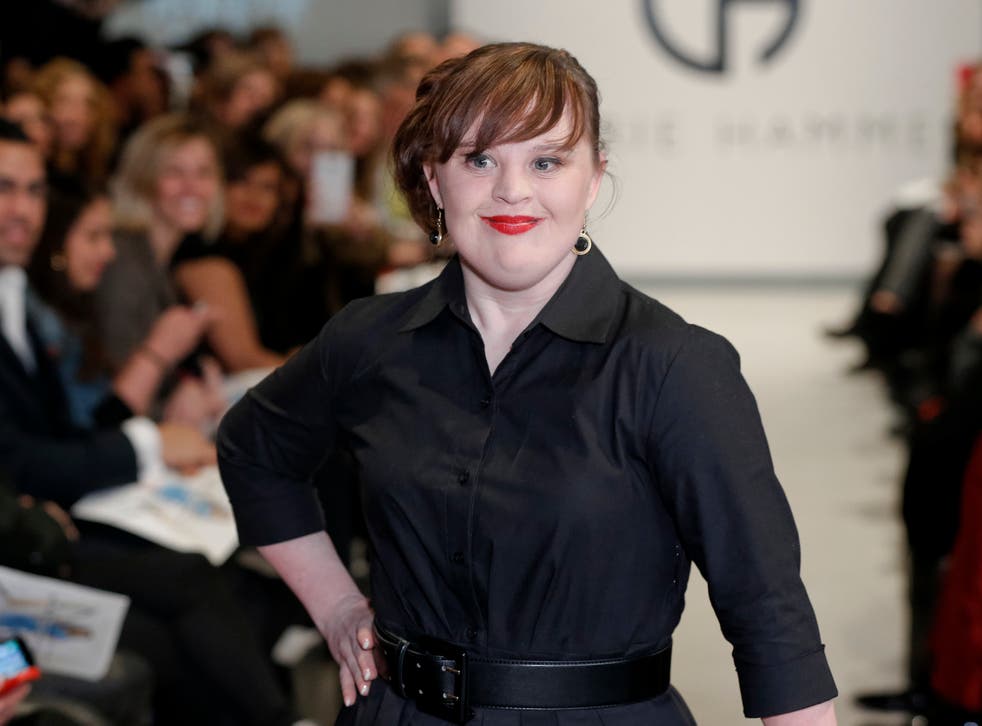 Jamie Brewer, a model and actress with Down's Syndrome, walked at New York Fashion Week as part of a Role Models Not Runway Models show and has won legions of new fans.
Brewer, 30, modeled for designer Carrie Hammer, and tweeted pictures of herself getting ready for the pioneering show.
It's worth keeping in mind that in the US, until 1984, doctors refused to carry out life-saving procedures on people with Down's Syndrome, and by 1981, 60,000 had been physically and sexually abused through forced sterilisation.
Role model
Brewer is not afraid of being seen as an example. "Young girls and even young women… [see me] and say: 'Hey, if she can do it, so can I.'" She interacts with her fans on Twitter in a way few other stars do and describes herself as "happy".
"It's a true inspiration being a role model for any young women to [encourage them] in being who they are and showing who they are," she said.
Game changer
Brewer is far from a mere spokesmodel. She served on the ARC Governmental Affairs Committee for Texas to improve legal rights and recognition for disabled people. Speaking to Senators, she argued against the use of the word "retarded" in state legislation.
Fashion elite
Hammer was keen to flatter Brewer's figure and public image. "American Horror Story is dark, scary, bewitching so we had to go with black and Jamie has a beautiful body with a teeny waist and curves and we went with an A-line," she said.
The idea that a woman with Down's Syndrome could be celebrated for having an attractive figure moves the debate well beyond thigh-gaps or Size Zero.
"It's amazing, it's really new," Brewer said. "Many women have many sides to their personality, this dress fits… mine. I am honored to be in it."
Top of her game
Brewer was selected for being outstanding and inspiring in her field. "We feature incredible influential women on the runaway. CEOs, executives, activist, actresses, anyone who is the top of the field, top of their game," Hammer told USA Today.
Ambitious
Born in California, Brewer was always interested in performing arts. She took up acting classes in 1999 and did theatre training that included improv, drama, musicals and comedy. American Horror Story was her first major TV role, and she's had several roles within the series.
Register for free to continue reading
Registration is a free and easy way to support our truly independent journalism
By registering, you will also enjoy limited access to Premium articles, exclusive newsletters, commenting, and virtual events with our leading journalists
Already have an account? sign in
Register for free to continue reading
Registration is a free and easy way to support our truly independent journalism
By registering, you will also enjoy limited access to Premium articles, exclusive newsletters, commenting, and virtual events with our leading journalists
Already have an account? sign in
Join our new commenting forum
Join thought-provoking conversations, follow other Independent readers and see their replies