Jeremy Clarkson racism: Top Gear presenter's week of hell continues with rumours Frances, his wife of 21 years, is divorcing him
Frances Clarkson declined to comment on reports, as a source close to the presenter cited the difference between 'divorce and getting a divorce'
Jenn Selby
Tuesday 06 May 2014 12:36 Comments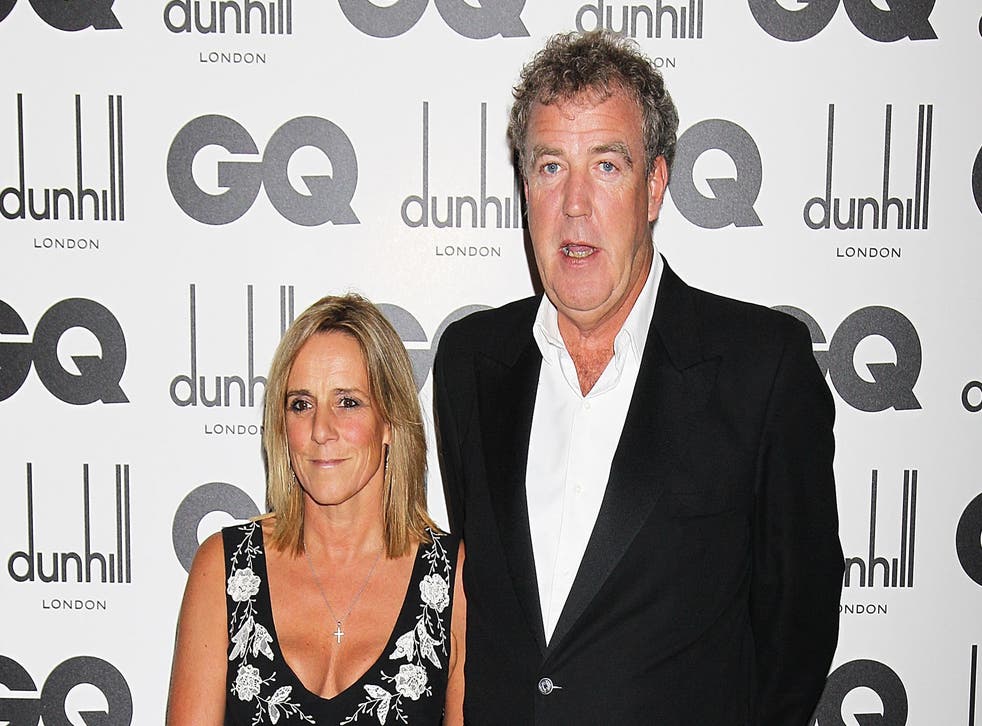 Whether deservedly so or not, the last seven days of Jeremy Clarkson's life have been, by all accounts, a bit of a shocker.
Firstly, the Top Gear presenter was accused of being a racist when un-broadcast footage of him appearing to mumble the word 'n****r' while reciting a derogatory rhyme was leaked to the press.
It resulted in some stern words from BBC bosses and a final warning, and some words of support from co-presenter James May, the Secretary of State for Eduction Michael Gove and the man no-one could possibly want sticking up for them, UKIP leader Nigel Farage.
He also released a grovelling video apology, in which he declared he'd taken steps to ensure he hadn't said the offensive word, but admitted that his efforts "obviously were not good enough".
None of this, of course, was helped by the fact he'd recently come under fire for naming his black pet dog 'Didier Dogba' (yes, after the black footballer), and made a derogatory reference to Asian people during a recent episode of Top Gear (read about that here).
Jeremy Clarkson's Top 25 Most Obnoxious Lines

Show all 26
But it gets worse. Reports this morning suggest that Clarkson's wife of 21 years, Frances Clarkson, is set to divorce him.
The couple have been living apart for three years after their marriage was put under strain following a slew of rumours that the presenter had been unfaithful – something he has vehemently denied.
Again, his repeat denials were not helped by the fact he'd lifted a High Court injunction in 2011 that prevented his first wife, Alex Hall, whom he'd initially married in 1989 only to separate from two years later, from claiming that she'd had an affair with Clarkson after he was married to Frances in 1993.
According to Hall, the pair had rekindled their relationship from 1999 onwards.
Furthermore, in 2002, a tabloid newspaper snapped Clarkson and TV presenter Elaine Bedell cuddling in a doorway and kissing in a car, while in 2011, he was pictured kissing events organiser Phillipa Sage during a world tour with his Top Gear co-presenters Richard Hammond and James May. Clarkson shrugged off the claims, saying he and Sage had simply been "colleagues fooling around". Last year, he was photographed kissing that same colleague on holiday in Greece.
Now, sources close to Frances are claiming that she's finally decided to throw in the marital towel, celebrating her decision with a trip to Majorca.
"Apparently Francie had a really jolly boozy time because she is finally getting a divorce from Jeremy and she was celebrating that," a source was quoted by Daily Mail as saying.
"All her friends have been waiting for years for her to do it and she finally has."
A source close to Clarkson has since denied that the Top Gear presenter is divorced. However, when pressed further over whether he would be "getting divorced" in the near future, the insider apparently replied: "Getting [divorced] and divorced are different."
Last night, Frances told reporters that she did not "want to make a comment at this time" on the reports. Asked whether she could confirm or deny the rumours, she answered bluntly: "No."
If the couple do end up officially ending their marriage, Frances could be set to secure a substantial pay-out as, as well as being Clarkson's wife, she also has the unenviable task of being his manager.
His fortune is estimated at £30million, and last year, he reportedly earned £14million for Top Gear, which includes his salary and payments from a company he set up with the BBC to sell the programme internationally.
A spokesperson for Clarkson has declined to comment.
Register for free to continue reading
Registration is a free and easy way to support our truly independent journalism
By registering, you will also enjoy limited access to Premium articles, exclusive newsletters, commenting, and virtual events with our leading journalists
Already have an account? sign in
Register for free to continue reading
Registration is a free and easy way to support our truly independent journalism
By registering, you will also enjoy limited access to Premium articles, exclusive newsletters, commenting, and virtual events with our leading journalists
Already have an account? sign in
Join our new commenting forum
Join thought-provoking conversations, follow other Independent readers and see their replies