Jeremy Clarkson: Top Gear host called producer a 'lazy Irish c*** before punching him', BBC disciplinary will reportedly hear
Report claims producer Oisin Tymon was left with a bloodied mouth and need hospital treatment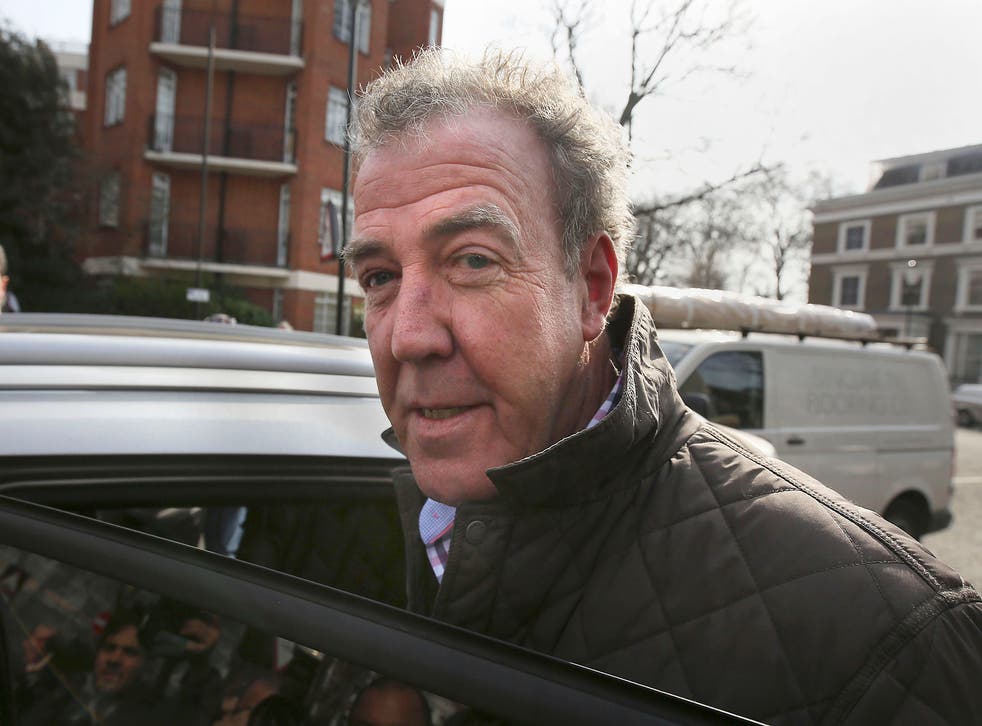 A BBC investigation into a 'fracas' involving Jeremy Clarkson will hear that the Top Gear host allegedly called a producer a "lazy, Irish c***" before punching him, a report has claimed.
The Mirror reports the investigation will be told the star shouted the abuse at Oisin Tymon, who was allegedly left with a bloodied lip which resulted in him needing hospital treatment during a "40-minute rant" over food.
Clarkson will strenuously deny using xenophobic language when he faces a disciplinary inquiry, the paper claims.
The 54-year-old hinted at a possible exit from the show in his column in The Sun on Saturday, but assured readers that while "things are bad […] they are not that bloody bad".
An onlooker at the alleged 'fracas' said earlier this week that Clarkson was angered when he returned to the Simonstone Hall Hotel in the Yorkshire Dales after a day of filming and was informed he could not have the steak he wanted because the chef had gone home. Instead, soup and a cold meat platter had reportedly been arranged.
This led to a "scuffle" between the controversial host and Mr Tymon, according to the witness, before he was cooked a steak by the hotel's general manager.
Jeremy Clarkson's Top 25 Most Obnoxious Lines

Show all 26
The BBC disciplinary panel will be led by Ken MacQuarrie, the head of BBC Scotland, who carried out the investigation into Newsnight's false expose of Lord McAlpine.
It has since been reported that Clarkson started the disciplinary process himself when he told his bosses at the BBC about the row.
One statement to be read at the disciplinary hearing will claim Clarkson also threatened to have Mr Tymon sacked and warned him: "You'll be on the dole tomorrow. I'm going to make sure you will not have a job."
Paul Daniels, an employment lawyer at Slater and Gordon, declined to comment on the alleged fracas but said: "We are assisting Oisin Tymon in relation to ­incidents occurring during his ­employment with the BBC.
"I want to make it very clear that our client will not be making any statement until the BBC investigation has taken its course."
Olswang, the law firm represented Clarkson, also declined to comment.
Meanwhile, a petition to re-instate Clarkson has gathered over 870,000 signatures. The Prime Minister appeared to lend his support on Thursday when he described him as a "friend" and "huge talent", adding that he hoped the situation could be resolved so his children would not be left "heartbroken".
He is scheduled to appear alongside co-hosts James May and Richard Hammond at four live shows in Norway on 27 and 28 March and a decision on whether to go ahead is expected early next week. The last three episodes of the series have been put on hold.
However, all three men's contracts expire three days after the Norway gigs, which could render any disciplinary hearings redundant.
Clarkson has taken a light-hearted approach to the furore by making jokes about nipping off to the job centre and recently changed his Twitter to bio to read: "I am probably a presenter on the BBC2 motoring show, Top Gear".
Join our new commenting forum
Join thought-provoking conversations, follow other Independent readers and see their replies