Jibran Nasir: The quiet lawyer and activist who is taking on Pakistan's Taliban
He has received death threats and warnings to stop 'harassing' the imam of the Red Mosque - but now he has had enough
Omar Waraich
Tuesday 30 December 2014 19:05 Comments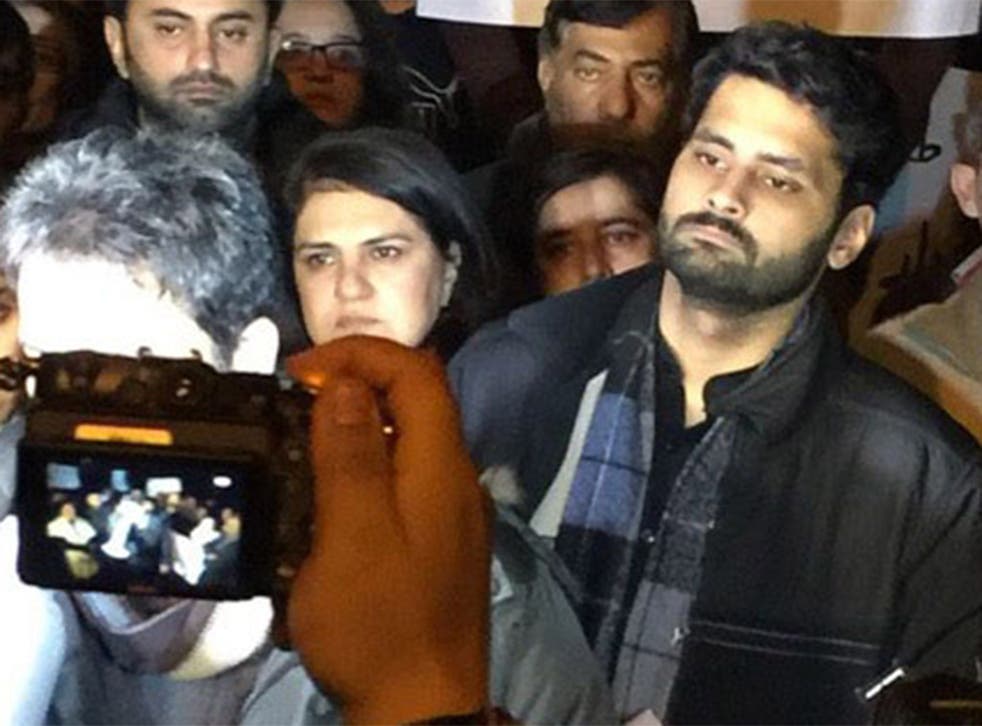 The Taliban called Jibran Nasir, a charismatic 27-year-old lawyer, on his mobile phone. "If you don't take your actions back, and if you don't stop harassing the imam of the Red Mosque, then you are putting yourself, your family and your people at risk," said the spokesman for the Pakistani Taliban's Jamiat Ahrar faction. "And don't think that we can't reach you, or that we are weak. We may be weak, but we don't forget our enemies."
The call, a little over a week ago, came after Mr Nasir set up a vigil outside the extremist mosque in Islamabad, drawing hundreds of Pakistanis to rally against a pro-militant preacher there. The unprecedented action came after the mosque's leader, Maulana Abdulaziz, refused to denounce or condemn the Taliban after the massacre at a military-run school in the north-western city of Peshawar, where 141 people, including 132 children, were killed.
Mr Nasir has been trying, so far unsuccessfully, to get the imam of the Red Mosque arrested for issuing threats of violence and inciting hatred. In return, he has been accused of blasphemy. And in Pakistan, the mere suggestion that someone has committed blasphemy can put their life in jeopardy.
The Red Mosque in the heart of Islamabad has been a feared and notorious centre of pro-Taliban sympathy since 2007, when the Pakistan army mounted an operation against it. "We are not against mosques," Mr Nasir said. "We want to safeguard them against extremism and terrorism."
In 2011, two senior government officials were assassinated after they were accused of committing blasphemy for insisting that Pakistan's laws be reformed and a poor Christian mother of five be released after being convicted on a bogus charge of blasphemy.
One recent image circulated on social media showed Mr Nasir's photograph next to a dangling noose, with the claim that he is trying to spread sectarianism in Pakistan and destroy mosques. The image exhorts the government to hang Mr Nasir. Another image carried the hashtag "#HangJibranNasir". The campaign is led by outlawed anti-Shia militant groups sympathetic to the Red Mosque. They equate the anti-Taliban protesters with convicted terrorists.
In pictures: Aftermath of Taliban massacre in Peshawar

Show all 12
Despite the threats he faces, Mr Nasir remains calm, though he has had to keep a lower profile. "I live by the principle that you only have a certain amount of time here, you might as well spend that speaking the truth," he told The Independent. As a civil society activist, he has spent recent years confronting the militant threat on Pakistan's streets.
Last year, after a church in Peshawar was bombed, killing nearly 100 people, Mr Nasir led efforts to form a human chain around the country's major churches. He took Sunni and Shia Muslim clerics with him to Sunday services, where they condemned terrorism in speeches to the parishioners.
Mr Nasir maintained his composure during the conversation he recorded a week ago, asking whether this was the official position of the Taliban faction. "If the mosque preaches peace and love, it would be very good," Mr Nasir told the Taliban spokesman. "Otherwise we'll stay standing where we are."
This is the first time that members of Pakistan's beleaguered civil society have taken to the streets in such large numbers. In the past, such activities have involved candlelight vigils for the victims of terrorism, not vast protests with placards denouncing the Taliban or demanding that extremists surrender the mosques to the people.
"Run, burka, run," one placard said at a demonstration in Islamabad, referring to an incident when Maulana Abdulaziz fled the 2007 army siege of the mosque in a woman's shroud. In solidarity, protesters in Karachi taunted the Taliban spokesman who threatened Mr Nasir. "Call us, too," one sign read. "We have free talk time and package." A leading women's rights activist held a placard that read: "We are all Jibran."
On Monday this week, Mr Nasir and a delegation of activists met with Pakistan's Information Minister, Pervez Rasheed. "I handed over the evidence of hate speech against me. He has personal knowledge of it. If anything happens, they knew what was going on. They haven't provided us with any security."
Prime Minister Nawaz Sharif's government and the military have agreed on 20 steps to tackle terrorism.
The government plans to try terrorism suspects in military courts, block the use of social media and other forms of communication by terrorists, and establish a 5,000-member paramilitary force. But Mr Nasir remains resolute and believes that after the Peshawar massacre, Pakistanis, who are among the principal victims of terrorism, can take on the menace themselves. "I'm a Pakistani. This is a Pakistani narrative," he said.
"We are not a nation of Taliban apologists and extremists. We don't need anyone to come and help us. We just need to break our silence."
Register for free to continue reading
Registration is a free and easy way to support our truly independent journalism
By registering, you will also enjoy limited access to Premium articles, exclusive newsletters, commenting, and virtual events with our leading journalists
Already have an account? sign in
Join our new commenting forum
Join thought-provoking conversations, follow other Independent readers and see their replies