Jim Broadbent, profile: Our greatest character actor takes on Scrooge
Last year he was Santa, this year he's Scrooge. The roles may be contrasting but the reviews rave equally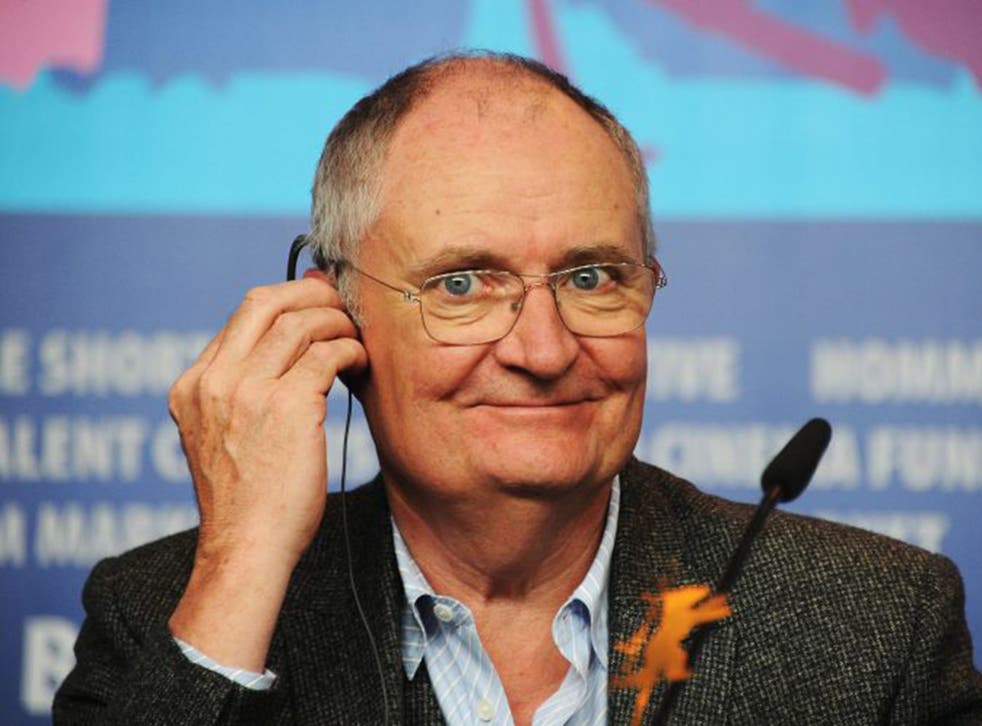 It's a trick of the great character actors that just when you think you know what they're up to, they have an uncanny ability to startle and surprise you. Jim Broadbent, playing Scrooge in the West End in London this winter, has the look of someone friendly and utterly dependable. When you see him on stage or screen, you immediately warm to him. The 66-year-old Oscar-winning British actor has a genial demeanour: a soothing voice and a humorous glint in his eye. He is a tall man and is almost always instantly recognisable.
Nonetheless, Broadbent continually surprises audiences with his choices. He is extraordinarily versatile, and has played his fair share of creeps and scoundrels as well as those dependable husbands and fathers. He has appeared in sitcoms, Hollywood blockbusters, kids' movies, musicals and comedies.
The language used in critics' description of his Scrooge in the new production of A Christmas Carol is revealing. The Independent's theatre critic Paul Taylor described Broadbent's performance as "captivating... glorying in his victims' distress with a gleeful gusto". In other words, even when he is portraying a miserable old skinflint, he does so with enthusiasm.
Speak to those who've worked with Broadbent and they testify to his rigorous professionalism. Max Stafford-Clark directed him in the 1988 Royal Court production of George Farquhar's 1706 comedy The Recruiting Officer. Broadbent played Sergeant Kite, the army recruiter. "Broadbent's Kite is... a huge, greasy yob, but resourceful and shrewd with it," The Spectator wrote of his performance, which combined boorishness, cunning and that familiar Broadbent charm. As Stafford-Clark recalls, the actor always does his homework. In preparation for the role, Broadbent met a military instructor from Sandhurst, who briefed him exhaustively on what soldiers would have experienced during the 1704 Battle of Blenheim, in which Kite and the officer Captain Plume (David Haig) have just fought.
Broadbent was brought up a Quaker. His parents, Roy and Dee, were artists who ran their own rep theatre in a converted church. They were also conscientious objectors who had chosen to work the land rather than fight in the war. "[Broadbent] has that rigour about his background that brings an integrity to what he does," Stafford-Clark suggests. "He has a very clear idea of what he can and will contribute. That's not in any sense restrictive. It is very freeing. He throws himself into what he knows he can do."
David M Thompson, the executive producer of Iris, the film for which Broadbent won his Oscar, has been working with him recently on a Julian Barnes adaptation, The Sense of an Ending. He speaks of his subtlety and restraint, which can bring "an immense emotional power to a film", adding: "Whatever he does, it never feels like acting because it is so real and so sincere. He has a real ability to connect with audiences for this reason. He can be very funny in a dry, ironic way, quite savage when he wants to be, but also very vulnerable and very sympathetic."
After a brief stint at art school, Broadbent studied acting at the London Academy of Music and Dramatic Arts, graduating in the early 1970s. Casting agents were quick to spot his qualities. So was Mike Leigh, who directed him in the 1979 Hampstead Theatre production of Ecstasy, and has gone on to work with him many times since on such films as Life Is Sweet and Another Year.
"He is a one-off," Leigh says of the actor. "Jim is a complete artist. He's an individualist with a completely original take on things. He is very creative. He is incredibly self-critical and can be very, very cautious. But he's a total character... he has a real insight, an intelligent, sensitive but, at the same time, ironic insight into humanity and human frailty."
For all his avunicularity, Broadbent is also known, as one collaborator puts it, for "taking no shit from anybody". He can be surprisingly spiky. He told The Daily Telegraph that one of the upsides of winning his Oscar for for his role as academic John Bayley opposite Judi Dench's Iris Murdoch in Iris was that he no longer had to "worry about people being patronising". It helped him deal with the anxiety too. He turned down an OBE. "I didn't think it would suit me," he admitted to one journalist, but added he wasn't unhappy that the news of the declined honour had leaked out.
Interviewers find him pleasant, but guarded and enigmatic. He has been called "extremely withdrawn, elusive even". What is known is that, when not working, he lives the quiet life in Lincolnshire with his wife Anastasia Lewis, a painter and former theatre designer. He sculpts wood in his spare time.
During the early part of his career, a major influence was Ken Campbell, the maverick English writer, director and comedian whom Broadbent met in the mid-1970s and who cast him in the play Illuminatus at the National Theatre while encouraging him to be fearless in his approach to acting. "Up to then I had been appearing in regular rep up and down the country and in small theatre work. They were hard times," Broadbent recalled.
Broadbent famously turned down the David Jason role in Only Fools and Horses, but it's a measure of Broadbent's range that he is equally at home playing south London wheeler-delaers and patrician toffs. One of his most intriguing and unheralded performances is as the 23rd Earl of Leete in A Sense of History, a short film which Broadbent wrote and which Mike Leigh directed. He makes a very convincing old aristocrat. "This land is not mine to squander. It is held in trust for all future generations of my family," Broadbent's earl drawls earnestly at the camera.
Working with Broadbent on A Sense of History convinced Leigh that the actor would be perfect casting as W S Gilbert in his Gilbert and Sullivan film Topsy-Turvy, which was eventually made in 1999. "I thought, God, Jim has to play Gilbert! I put it to him. At first, he thought I was joking," recalled Leigh.
By then, Broadbent had already begun to work on Hollywood movies. Woody Allen's casting director Juliet Taylor had seen him in Mike Newell's 1920s-set Enchanted April, and this eventually led to him being cast in Allen's Bullets over Broadway. Broadbent gave a wonderful comic performance as a Broadway actor Walter Purcell, who deals with his nerves by eating compulsively and incessantly.
Later, he worked on such high-profile, big-budget films as Martin Scorsese's Gangs of New York, Baz Luhrmann's Moulin Rouge! and Steven Spielberg's Indiana Jones and the Kingdom of the Crystal Skull. He has also remained a familiar face on British television.
This year has been a prodigious one, even by Broadbent's own workaholic standards. We've seen him as a kindly priest in Brooklyn and as a spiv-like blackmailer in The Lady in the Van. He has had roles in the new TV version of The Go-Between and also in London Spy. There are many other movies in the pipeline too, but by rounding off the year by returning to the stage in A Christmas Carol, his versatility is in sharp relief: last year, after all, he played Santa Claus in Get Santa.
Mike Leigh suggests we shouldn't be surprised by his range. "You can't help but be a fan. Anything he does, I want to see. He is so watchable… when he said I am playing Scrooge, I didn't think, 'gosh, that's a far stretch', at all. He is such a consummate character actor that I thought, yes, of course he is playing Scrooge. You don't think of him as a mean bugger because he isn't – but you don't have to be a mean bugger to play Scrooge!"
A Life in Brief: Jim Broadbent
Born: 24 May 1949, Holton cum Beckering, Lincs.
Family: Second son of furniture maker Roy and artist Doreen Broadbent. Married to artist Anastasia Lewis.
Education: Quaker school, Reading. London Academy of Music and Dramatic Art, graduating in 1972.
Career: Years of rep before being cast in Illuminatus!, 1977. First major film Time Bandits, 1981. Mike Leigh collaborations 1990-2010. Best Supporting Actor Oscar for Iris, 2002. Now playing Scrooge in A Christmas Carol.
He's a total character. He has an insight into humanity and human frailty
Join our new commenting forum
Join thought-provoking conversations, follow other Independent readers and see their replies