Jim Storrie: Inside-forward who scored consistently for Don Revie's first trophy-winning Leeds United side of the 1960s
Storrie scored 58 times in 126 Football League matches for Leeds, the kind of ratio that would have made him worth millions in today's market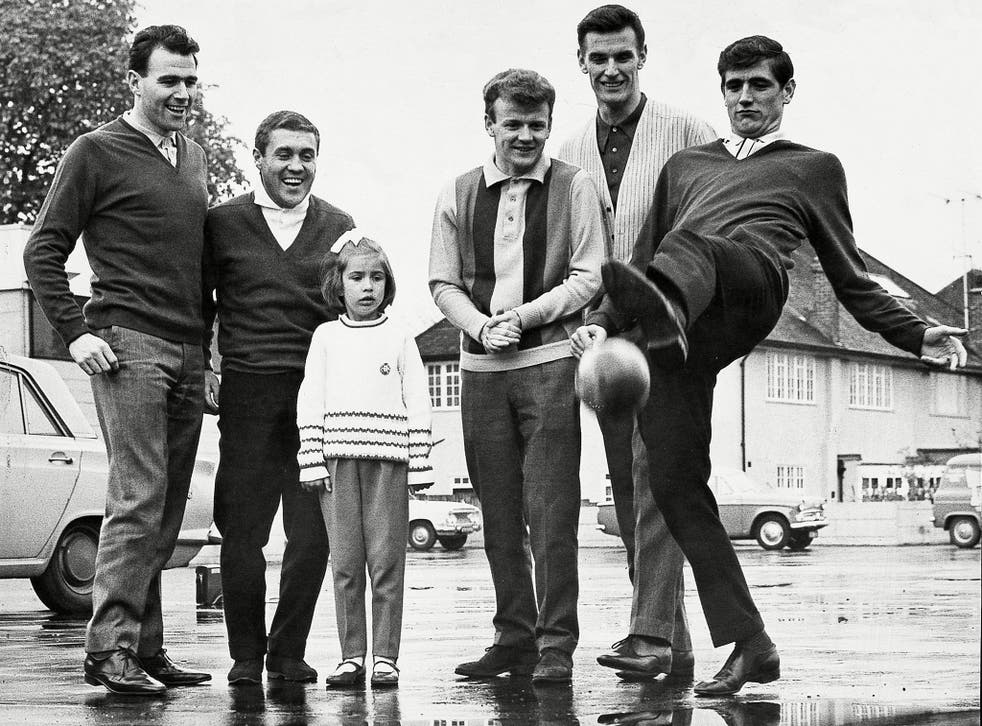 The collision of Stoke City and Leeds United on the sunlit opening day of the 1962-63 season was only a Second Division fixture, but the football world was intrigued to see whether Stanley Matthews or John Charles would emerge victorious.
In the event, Charles and Leeds prevailed, although the fabled Welshman, newly re-signed from Juventus for a club-record £53,000, was eclipsed by another attacker bought during the summer by Don Revie. Jim Storrie had arrived unknown and practically unnoticed from Airdrieonians for £15,650, yet it was the 5ft 8in Scot who struck the game's only goal.
Storrie scored 58 times in 126 Football League matches for Leeds, the kind of ratio that would have made him worth millions in today's market. He played in the 1965 FA Cup final against Liverpool, as well as in European competition, and two years later, after returning to Scotland, he appeared for Aberdeen in its Scottish equivalent.
The inside-forward who became known as "Diamond Jim" after Airdrie's nickname first came to the notice of senior clubs as partner to Willie Wallace – later a European Cup winner with Celtic – for Kelvinside Thistle. The son-in-law of Tony Weldon, a former Everton and West Ham player, he graduated to Kilsyth Rangers and then Airdrie in December 1957, eventually scoring 48 goals in 89 games for the Lanarkshire club.
Leeds were struggling to avoid falling into the Third Division when Revie tried to buy Storrie early in 1962. He rejected them, describing as "ludicrous" the manager's claim that they were "going to be like Real Madrid". By May, however, the purchase of former Celtic "pocket general" Bobby Collins and the plan to bring Charles home convinced Storrie of their ambition, to the consternation of higher-placed suitors Aston Villa and Rangers.
Charles had piled on weight and no longer had the requisite work-rate for English football. After 11 games and three goals he joined Roma. But the speedy Storrie excelled, both as a finisher and the first line of defence, pressuring opponents and chasing down seemingly lost causes.
In his first English season Storrie scored 25 goals in 38 appearances, including two hat-tricks. He even had a five-minute cameo between the posts when Gary Sprake required treatment (substitutes were still two and a half years away), conceding a goal to Portsmouth.
Injury restricted him in 1963-64, when Leeds returned to the First Division as champions, but the following season he struck 18 League and Cup goals as the side branded "Dirty Leeds" finished runners-up to Manchester United and Liverpool in the League and FA Cup respectively.
Storrie made negligible impact at Wembley. Years later, team-mates revealed that he was carrying an injury but did not tell Revie because he did not want to miss out on a medal. He hit 13 goals in 30 outings in 1965-66, but the blossoming of players such as Peter Lorimer and Jimmy Greenhoff limited his opportunities, and in February 1967 he moved to Aberdeen for £13,500.
He scored the Dons' first European goal, against KR Reykjavik, and featured in the defeat by all-conquering Celtic in the Scottish Cup final. But after 10 months, 11 goals and 25 games – plus a summer stint in the US where Aberdeen played as Washington Whips - he was offloaded for £7,000 to Tommy Docherty's Rotherham. The highlight of Storrie's time at Millmoor was a fourth-round FA Cup winner against Wolves.
In December 1969 a £5,000 fee took Storrie to Portsmouth, where he scored 10 times before the end of the campaign and was appointed captain. His 99th and last Football League goal came while on loan to Aldershot, leaving him to rue a referee's mistake during his Pompey days when his header at Leicester crossed the line, hit a stanchion and rebounded into play. Peter Shilton admitted it was a goal, only for the official to wave "play on".
After a brief sojourn at St Mirren he retired as a player. He later had 18 months as manager of St Johnstone and a spell coaching at Airdrie before later working in a sports centre at Cumbernauld and at Stirling University.
PHIL SHAW
James Storrie, footballer and football manager: born Kirkintilloch, East Dunbartonshire 31 March 1940; married Nancy Weldon (deceased; two daughters, one son); died Cumbernauld, North Lanarkshire 11 November 2014.
Register for free to continue reading
Registration is a free and easy way to support our truly independent journalism
By registering, you will also enjoy limited access to Premium articles, exclusive newsletters, commenting, and virtual events with our leading journalists
Already have an account? sign in
Register for free to continue reading
Registration is a free and easy way to support our truly independent journalism
By registering, you will also enjoy limited access to Premium articles, exclusive newsletters, commenting, and virtual events with our leading journalists
Already have an account? sign in
Join our new commenting forum
Join thought-provoking conversations, follow other Independent readers and see their replies