Jimmy Hill: Visionary footballer and manager whose greatest legacy was abolition of sport's maximum wage
Jimmy Hill was an enlightened, even revolutionary thinker consumed with phenomenal enthusiasm
Ivan Ponting
Sunday 20 December 2015 15:26 Comments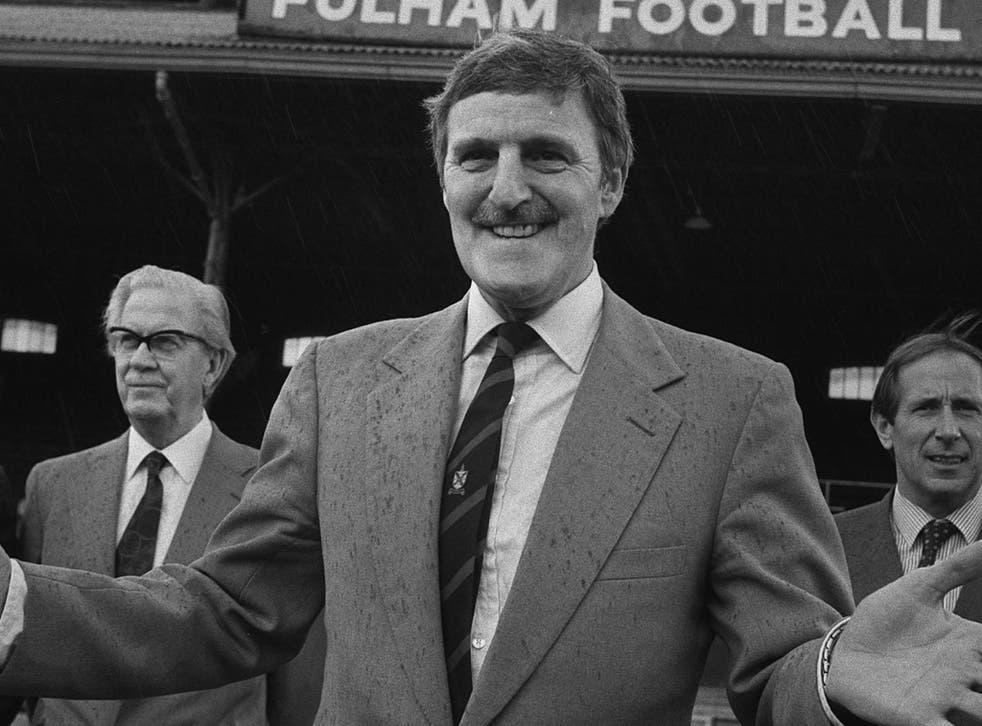 Contrary to popular but chronically misguided belief, Jimmy Hill was one of the great achievers of English football since the war, an enlightened, even revolutionary thinker consumed with phenomenal enthusiasm. Yet frequently he was lampooned as a loquacious busybody with a ski-run chin, a wide-of-the-mark image fuelled by decades as a television pundit during which his fearless, passionate, straight-talking style could stray, some would say, into the realms of self-righteousness and pedantry.
His most lasting legacy to the game for which he lived was his mammoth part in the successful crusade to abolish the maximum wage for footballers, an iniquitous anachronism which persisted into the 1960s. Certain modern stars who mocked Hill owed much of their personal prosperity to his pioneering efforts.
He was an exceptional manager, too, leading Coventry City from the lower reaches of the Football League to its top flight before veering off the conventional path – as was his wont – to become a ground-breaking broadcaster. True, his adoration of the limelight could be as irksome as it was transparent, yet he was, for all his immense ego and multiple eccentricities, a man who knew what he was talking about, and who had the good of the game at heart.
Hill grew up in wartime south London, the sparkily intelligent son of a baker, obsessed with football but not endowed with extravagant natural ability. While thriving as an energetic amateur player, he worked as a clerk for an insurance company and with a firm of stockbrokers before his National Service.
He did well in Army football and, hearing that his progress was being monitored by Reading, he showed characteristic enterprise, knocking on manager Ted Drake's door and asking for a trial. After a handful of appearances for the Third Division club's junior sides he was told he wasn't wanted, but he had been spotted by Second Division Brentford and in 1949 began a professional playing career which owed more to effort than inspiration but which was to last 12 rewarding years.
Hill joined as an archetypal, bustling centre-forward but was converted to wing-half and enjoyed most of his outings for the Bees in that role, also earning selection for prestigious FA representative sides. However, differences with Brentford's manager Jack Gibbons prompted a move to Fulham in 1953, in exchange for Jimmy Bowie and £5,000, and the most memorable chapter of Hill's playing days was under way.
At Craven Cottage he was transformed into an industrious and determined inside-forward, forging a fruitful partnership with the sumptuously gifted Johnny Haynes. Highlights included promotion to the First Division in 1959, scoring in every round as Fulham reached the FA Cup semi-finals in 1958 and a five-goal spree at Doncaster that same season.
In a side notable for its swashbuckling characters, Hill stood out as something of an anti-hero, a regular target for terrace critics. Even then, there was something about him which attracted jeers. Perhaps – it seems ludicrous now – he was singled out because as the first high-profile bearded player he was difficult to miss. He was dubbed "The Rabbi" and "Castro" and appeared to revel in his notoriety.
However, it was Hill's off-the-pitch activities which were of most significance. He became a fervent believer in the rapidly evolving practice of coaching, preaching its gospel at every opportunity and qualifying, an attainment which was to prove invaluable in later life.
It was his leadership of the Professional Footballers' Association, which he chaired from 1956-61, which had the most dramatic impact. He railed against the injustice of never earning more than £20 per week despite being part of a hugely profitable entertainment industry. He saw the maximum-wage rule as tyranny, vowing to oppose it with every means at his disposal, and in doing so successfully he laid the financial foundations of the modern game.
Hill was a born orator, persuasive, eloquent and logical, and he flexed his muscles impressively when defending Sunderland players accused of breaking feudal regulations over so-called illegal payments. Then, in the wage war which followed, he reached new heights. Marshalling his forces brilliantly and tapping into the deep well of grievance which had built up among his fellow professionals, he bombarded the authorities with irrefutable arguments. At first it seemed as if he could never prevail against the draconian, all-powerful League mandarins, and there were times when it seemed the will of his members would buckle against the weight of tradition. But Hill was indomitable and he outflanked the enemy with the threat of a strike, which was averted with three days to spare in January 1961.
His victory, which meant players could negotiate their own deals, rocked the game to its Victorian foundations and led three years later to the abolition of the archaic retain-and-transfer system, which allowed a club to control the future of a player once he had signed a contract, even when the contract had elapsed.
In fact, Hill's overall triumph was even more far-reaching. During his emotional campaign, his articulacy and diplomacy had shown footballers in a new light, dispelling their image as muddied oafs and gaining them overwhelming public sympathy. Having been the prime mover in the freeing of the "wage slaves", the 32-year-old Hill found himself at a crossroads. A knee injury forced his retirement as a player in spring 1961 and he was inundated with offers from the media, while considering a partnership in an agency which represented the business interests of top sportsmen. However, he turned to football management after being offered a challenge he could not resist; that of transforming lowly Coventry City from Third Division also-rans into a major power.
When Hill breezed into Highfield Road in November 1961, the place was in the doldrums, the team drab and lethargic. What followed was little short of a sporting miracle as he presided over one of the most stimulating periods in the history of any club. Hill thought big and possessed the priceless ability of being able to instil his confidence into those around him. Soon his side was revitalised, both by new recruits and a fresh approach, and developments off the pitch mirrored the enterprise on it.
Backed by Derrick Robins, a chairman both rich and bold, Hill made the club progressive and family-friendly at a time when such notions were unheard of. A marketer supreme, he cast away the old striped kit in favour of an eye-catching pale blue outfit. There followed an explosion of razzmatazz: a Sky Blue song, Sky Blue Radio, Sky Blue train specials to away games, Sky Blue children's parties. Attendances rocketed, cash rolled in and the tatty old ground was rebuilt; many away games were screened on closed-circuit TV; the traditional matchday programme became a trendy magazine.
Hill was a symbol of a new footballing age and his team kept pace, lifting the Third Division title in 1964 and the Second Division title three years later. But then, on the threshold of the top flight, Hill dumbfounded the fans by resigning.
He felt capable of establishing the Sky Blues among the elite but believed it would be a lengthy process and requested the security of a 10-year contract. That was not forthcoming and Hill bade farewell to his own astonishing creation. However, testament to the solidity of the foundations he laid at Highfield Road is the fact that Coventry City, under-achievers for so long, remained in the top division until 2001.
In autumn 1967, having passed his screen test, as it were, working for the BBC during the 1966 World Cup finals, Hill became Head of Sport with London Weekend Television, which was due to start broadcasting in 1968. In five years with LWT he practically re-invented television football coverage, starting by fronting The Big Match, ITV's Sunday-afternoon answer to BBC's Match Of The Day. Until then most on-air football criticism was mealy-mouthed and unopinionated. Hill instituted the age of the pundit in a blaze of flamboyance and controversy, leading the way with his colourful World Cup 1970 panel, which featured passionate extroverts such as Malcolm Allison and Pat Crerand and easily won the TV ratings war.
In 1973, having set up a consultancy group to negotiate sports sponsorship deals, Hill switched to the BBC, becoming front man and analyst on Match Of The Day, continuing to be forthright and upsetting many in the process.
While still working for the BBC until he joined Sky Sports in 1998, Hill remained hugely active in football and business. In the mid-1970s he served Fulham as commercial manager, then returned to Coventry in 1975 as managing director (until 1983) and chairman (1980-83). During this second successful sojourn at Highfield Road, City consolidated their First Division berth and he played a prominent part in the club's prosperity and development.
In addition, from 1976 to 1979 he made a fortune as football adviser to Saudi Arabia, but lost much of it when he bought the Detroit Express club, a venture which failed miserably after the sport failed to take off in the US. His next port of call was cash-strapped Charlton Athletic, of which he was a director from 1984-87 and acting chairman for six months from December 1985. The club was in a mess, and he was closely involved in the temporary, unpopular but necessary move from The Valley, whose terraces were condemned as unsafe, to Selhurst Park.
Fittingly, Hill's final club contribution was made to his beloved Fulham. In 1987 he commenced a turbulent 10 years in the chair, when plans were afoot to merge with Queen's Park Rangers and sell Craven Cottage for housing. Skilfully harnessing public outrage, while recognising that the Cottage might have to go, he steered the club through a series of crises.
Many of his decisions were vilified, some were drastic – once he took charge of the team from manager Don Mackay at half-time of a particularly painful match – but he always did what he thought best for Fulham. In the end he was instrumental in the Cottagers retaining their traditional home and in the thriving club remaining intact to be handed over to Mohammed Al Fayed in 1997. Not the least of Hill's achievements was his recovery from bowel cancer, having kept his condition secret, while engaged in the battle to save Fulham.
To any unbiased observer, British football has never known a more courageous, far-sighted reformer; he was advocating all-seater stadia and three points for a win long before they came to pass, and had long demanded sweeping changes to the outdated Football Association, for which he waited in vain. In 2013 it was revealed that he had been suffering from Alzheimer's disease for five years and was living in a nursing home near the south coast.
In the heat of the moment, Sir Alex Ferguson once described Hill as a prat, but for once the Scot's judgement was at fault. The name of Jimmy Hill deserves a place of rare honour in the annals of the game.
James William Thomas Hill, footballer, manager, administrator, businessman, television pundit and executive: born Balham, London 22 July 1928; OBE 1995; married 1950 Gloria (divorced 1961; one daughter, two sons), 1962 Heather, (divorced 1982; one daughter, one son), 1991 Bryony; died 19 December 2015.
Register for free to continue reading
Registration is a free and easy way to support our truly independent journalism
By registering, you will also enjoy limited access to Premium articles, exclusive newsletters, commenting, and virtual events with our leading journalists
Already have an account? sign in
Join our new commenting forum
Join thought-provoking conversations, follow other Independent readers and see their replies