Joe Mauldin: Bass player and songwriter best known as one of the Crickets who wrote several songs with Buddy Holly
Mauldin co-wrote "Last Night", "I'm Gonna Love You Too" and "Well… All Right", but he always made light of his abilities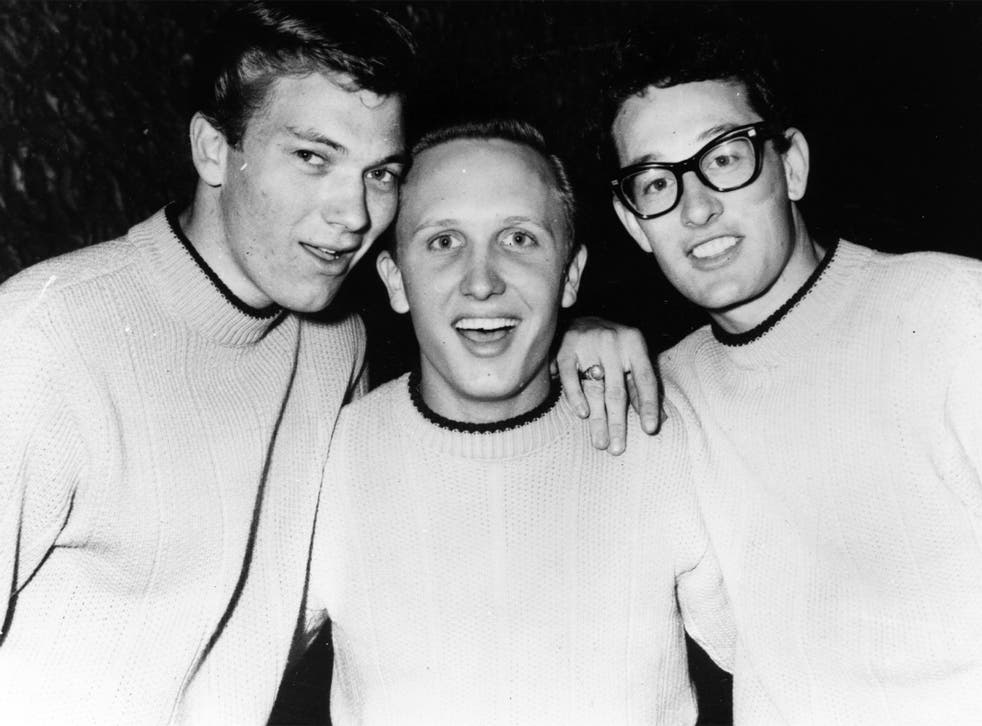 Quiet, good-natured and unassuming, Joe B Mauldin was nobody's idea of a rock star, but he played stand-up bass for Buddy Holly and after the singer's death in 1959, continued as part of the Crickets.
Mauldin was born in Lubbock, Texas in July 1940; his parents divorced when he was four years old. He attended Lubbock Junior High, where he learnt a little piano, trumpet and steel guitar. In 1953 he had an accident while driving illegally and a local newspaper reported that he was "dangerously close to death".
When Mauldin saw Elvis Presley on stage in 1955, he was impressed by Bill Black's double-bass. His friend Terry Noland had one in his house, and the pair formed the Four Teens. However, at that point, Mauldin had no intention of becoming a professional musician.
In March 1957, when Buddy Holly was short of a bass player for a date in New Mexico, he asked Mauldin to join him. Holly, Mauldin, drummer Jerry Allison and guitarist Niki Sullivan worked well as a team – and Mauldin became a Cricket that night. When they recorded for Norman Petty in Clovis, New Mexico, the producer considered Mauldin to be window-dressing for the girls: short and sexy.
Holly and the Crickets had international successes with "That'll Be The Day" and "Oh Boy!" and the Crickets also played on Holly's so-called solo records, "Peggy Sue" and "Listen to Me". In March 1958 they toured the UK very successfully, providing the inspiration for many young musicians to form bands.
Mauldin is listed as a co-writer for "Last Night", "I'm Gonna Love You Too" and "Well… All Right", but he always made light of his abilities. "I loved Buddy's songs from the start and I thought he was great," he once told me. "I was lucky enough to get in on a few of the songs myself. I didn't do anything specific when we wrote 'Well... All Right'. It wasn't, 'OK, you write the next verse.' We all threw in a line here and there and when I hear it now, it's hard for me to say who wrote what on that tune."
They had written "Well… All Right" after touring with Little Richard as it was one of his favourite phrases. The music writer Jon Savage states, "My favourite track of Holly's is 'Well... All Right'. It's brutally simple but complex at the same time, with a fantastic acoustic guitar riff that has the power of a full band. Holly sounds at once tender, resigned, determined and furious. It's a generational statement before such things were consciously thought of, and could have been recorded yesterday."
Holly split with the Crickets in the summer of 1958 because he wanted to move to New York and was distrustful of Petty. The Crickets continued without him, but did not consider it a permanent divide. Mauldin, still only 17, preferred to stay in Lubbock as it was easier to ride motorbikes there. After Holly's death in February 1959 the Crickets worked with Bobby Vee and the Everly Brothers. Mauldin bought an electric bass but fans preferred him on the double-bass.
The Crickets made some excellent records, including "I Fought the Law", "Don't Ever Change" and "My Little Girl", but the line-up kept changing because of conscription. Mauldin was in the army for two years and stationed in Germany.
Mauldin assisted with the US publishing for the first Lennon and McCartney successes and worked at the Gold Star studio in Los Angeles with engineering duties for Leon Russell, Herb Alpert and Phil Spector. He opened his own studio with the songwriter Bobby Russell, and they recorded the music for the TV series The Dukes of Hazzard.
In the 1970s Mauldin came to the UK as part of the Crickets for Paul McCartney's annual Buddy Holly week. He was not mentioned in the film The Buddy Holly Story (1978), starring Gary Busey, but this was at his own request as he was involved with an alternative film, which was never made. He was credited in the long-running stage musical Buddy.
Mauldin moved to Nashville in the mid-1980s and took part in regular tours with the Crickets. They worked with Waylon Jennings and Nanci Griffith, who were both featured on the album The Crickets and Their Buddies (2004). "We have fun playing the tunes and the audiences enjoy hearing them," said Mauldin, who died of cancer.
"It's easy for us to play them and we do them like the original recordings as that's what people want to hear. It's a shame that Buddy's not with us, but he's here in spirit. We were very lucky to have him for a lead singer."
SPENCER LEIGH
Joe Benson Mauldin Jr, bass player and songwriter: born Lubbock, Texas 8 July 1940; married (two daughters); died Nashville 7 February 2015.
Register for free to continue reading
Registration is a free and easy way to support our truly independent journalism
By registering, you will also enjoy limited access to Premium articles, exclusive newsletters, commenting, and virtual events with our leading journalists
Already have an account? sign in
Register for free to continue reading
Registration is a free and easy way to support our truly independent journalism
By registering, you will also enjoy limited access to Premium articles, exclusive newsletters, commenting, and virtual events with our leading journalists
Already have an account? sign in
Join our new commenting forum
Join thought-provoking conversations, follow other Independent readers and see their replies