John Barrowman praised for Commonwealth Games opening ceremony gay kiss
The actor embraced another man in what has been hailed as a snub to homophobia in the Commonwealth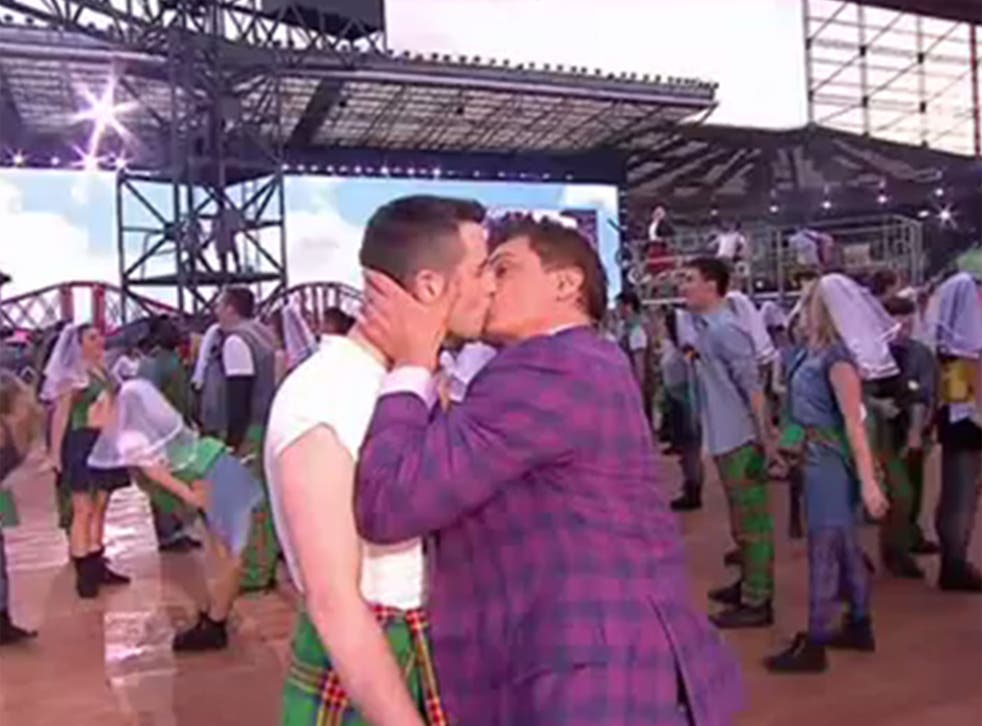 It was a joyous occasion amid a week of sorrow – and John Barrowman celebrated with a kiss.
The actor and musician clasped the head of another man during the opening ceremony of the Commonwealth Games and planted a big smacker on his lips.
The gay embrace has been hailed as a snub to homophobia in Commonwealth countries which criminalise homosexuality.
The openly gay Doctor Who actor kissed his male "bride" at a mock Gretna Green during the showcase at Celtic Park, Glasgow, last night.
It was an act that flew in the face of anti-homosexual legislation in 42 out of the 53 Commonwealth countries represented at the games.
Barrowman said he doesn't care what his critics think. He retweeted both positive and negative reactions to the kiss on his Twitter feed, before saying: "I am retwtin the neg because I want u all to see how bitter and Nasty and Neg some people r:) I am so happy right now. Jb [sic]."
He emphasised his happiness and how proud he was of Scotland.
And many other social media users also took to Twitter to praise the gesture, with many pointing to the political significance of the kiss - and one user remarked that the man Barrowman smooched deserved recognition too.
The kiss came hours after Deputy Prime Minister Nick Clegg called for greater protection for the rights of lesbian, gay, bisexual and transgender (LGBT) people around the globe on a visit to the city's newly opened Pride House yesterday.
He met campaigners, athletes and volunteers at the centre, which has been set up to promote diversity at the Games and within the Commonwealth.
Mr Clegg said: "The Commonwealth core values and principles which all Commonwealth countries sign up to are clear.
"They say that 'We are committed to equality and respect for the protection and promotion of civil, political, economic, social and cultural rights'.
"Yet almost 80 per cent of Commonwealth countries that are represented here in Glasgow this week criminalise homosexuality in some way."
He added: "I hope that through places like Pride House we can gently but firmly, respectfully but consistently urge fellow Commonwealth countries to not only pay lip service to the values of the Commonwealth but also honour those values that include respecting everyone in society, regardless of their faith, background and sexuality."
Glasgow Commonwealth Games 2014: Opening ceremony

Show all 9
Other Scottish stars featured in the opening ceremony included actor James McAvoy, singers Rod Stewart and Susan Boyle, and Olympian Sir Chris Hoy.
Declaring the games open the Queen said: "The baton relay represents a calling together of people from every part of the Commonwealth and serves as a reminder of our shared ideals and ambitions as a diverse, resourceful and cohesive family.
"And now, that baton has arrived here in Glasgow, a city renowned for its dynamic cultural and sporting achievements and for the warmth of its people, for this opening ceremony of the Friendly Games."
Join our new commenting forum
Join thought-provoking conversations, follow other Independent readers and see their replies