John Davies: Academic and broadcaster whose peerless histories of Wales were rich with insight and fascinating detail
Davies was the pre-eminent Welsh historian of his generation and was much in demand as a pundit on radio and television
Thursday 19 February 2015 01:00 Comments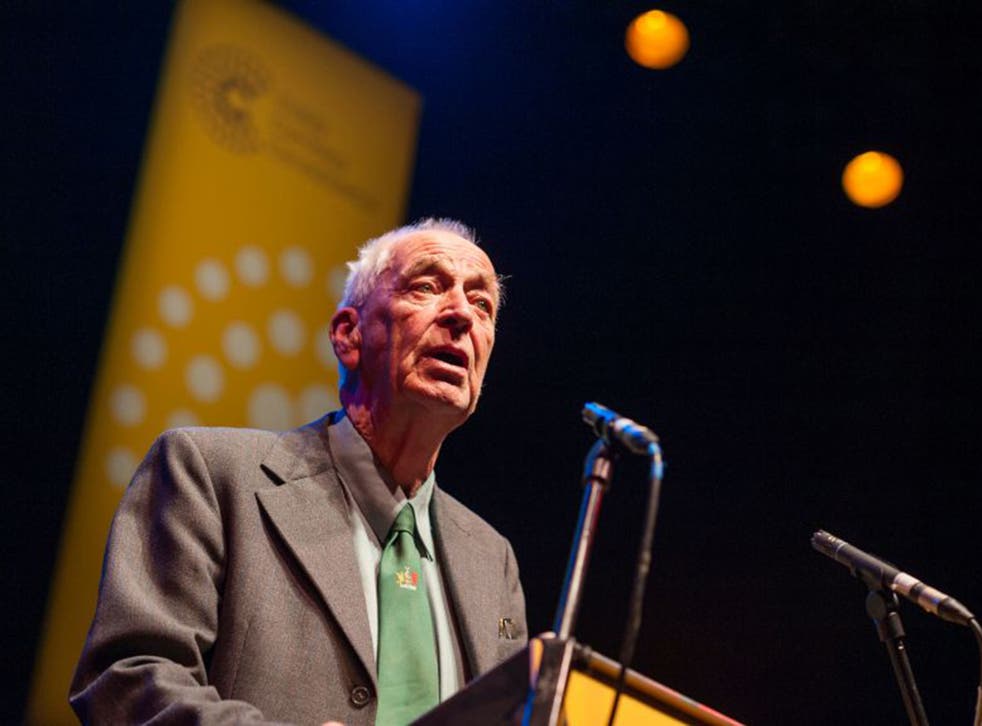 John Davies was the pre-eminent Welsh historian of his generation. He wrote the magisterial A History of Wales as well as books on the growth of Cardiff and broadcasting in Wales. He was also much in demand as a pundit on radio and television: many in the media regarded him as the fount of all knowledge about things Welsh and he enjoyed his reputation as "an encyclopaedia on two legs", taking part in countless programmes in his rich Welsh and patrician English. He was chief editor of the Welsh Academy Encyclopaedia of Wales (2008).
His history of Wales was written for Allen Lane as Hanes Cymru, the first book ever published by Penguin in Welsh. The book won a Welsh Arts Council prize and quickly established itself as the best one-volume history of Wales on the market; the English-language edition appeared in 1993.
The book's appeal lay in its broad purview, fascinating detail and startling but always illuminating comparisons drawn from the author's wide reading and travels in Europe, both east and west. It begins with the Red Lady of Paviland, a skeleton dating from the Upper Palaeolithic Age – of a man it now transpires – which was discovered in a cave on Gower in 1823, and ends with the disastrous miners' strike of 1983/84 and just prior to the creation of the National Assembly. Its last sentence reads: "This book was written in the faith and confidence that the nation in its fullness is yet to be".
Patriotic but never flinching from unpalatable truths, whether about his countrymen or their English rulers, Davies wrote out of his deep and scholarly understanding of Welsh history but so attractively that he made fellow historians seem drab and curmudgeonly in comparison. His Hanes/History is still the standard text for student and layman alike. He brought the same omniscience to The Encyclopaedia of Wales, of which he was general editor.
In a land with a dire shortage of surnames, and to distinguish himself from a dozen others of the same name, Davies was generally known as John Bwlch-llan, after a village in Cardiganshire where his widowed mother was schoolmistress and where he had been brought up from the age of seven. But he had been born in Llwynypia in the Rhondda Fawr in 1938. He was very proud of his family's mining background and when he came to write his first book, Cardiff and the Marquesses of Bute (1981), it was natural for him to dedicate it "in honour of my forefathers, William Davies and William Potter, Rhondda colliers, creators of Cardiff". This was a timely reminder that the mineral wealth of the south Wales valleys, exported via the railways and docks developed by the Butes, had been responsible for the rapid transformation of Cardiff from a fishing hamlet into the largest coal-exporting port in the world.
His book about the Butes was based largely on research for a doctorate carried out at University College, Cardiff, and Trinity College, Cambridge. He taught in the History Department at University College, Swansea, from 1963 to 1973 and thereafter, until his retirement in 1990, in the Department of Welsh History at the University College of Wales, Aberystwyth, where he was Warden of Neuadd Pantycelyn, the hall of residence for Welsh-speaking students. A highly sociable man who was able to stay up all night talking, something of a bon viveur and a consummate gossip, he broke the mould of the prim, chapel-going, teetotal Welsh academic with his bohemian appearance, atheism and hard drinking – he would consume a bottle of good wine with every meal and then take his students on a pub crawl – and was loved for it.
I met John Bwlch-llan in 1962 when he was the first joint secretary of Cymdeithas yr Iaith Gymraeg, the society for the promotion of the Welsh language which had been formed that year. He was assiduous in corresponding with official bodies such as county councils and thereby collecting data on which the society, when it turned militant about a year later, would base its campaigns.
We drove to many parts of the country trying, not altogether forlornly, to persuade sub-post-offices to put up the sign Swyddfa Bost as well as its English equivalent and asking local authorities to use the Welsh forms of their names on letter-heads, bills and road-signs. When, in February 1963, society members sat down on Trefechan bridge in Aberystwyth in a bid to get bilingual summonses, John Bwlch-llan was nowhere to be seen, having no taste for public disorder – and he played no active part in the law-breaking and prison sentences that followed over many years. We remained good friends, nevertheless, and in 1965 he was best man at my wedding.
His next major book was Broadcasting and the BBC in Wales (1994), published to great acclaim. Davies set about defining contemporary Wales as an artefact produced by the BBC from the opening of Cardiff's first radio station in 1923 to the late 1990s, when public service broadcasting faced new challenges such as the creation of S4C, the fourth channel broadcasting Welsh-language programmes made by BBC Cymru and others. But this was no dry, corporate history: the book abounds with anecdotes, pen portraits and juicy quotes from the Corporation's archives illustrating the tension between London and the "national regions".
Two years later he published The Making of Wales (1996), in which he demonstrated, with typical wit and aplomb, that it was urban development which had created modern Wales and that industrialisation had saved the Welsh language by keeping the Welsh at home and allowing for the creation of such essential resources as newspapers and trades unions. The book was dedicated to his wife, Janet, a native of Brynmawr in Blaenau Gwent, one of the cradles of the Industrial Revolution, who is a novelist and historian in her own right.
The bond between them survived Davies's announcement in a television interview broadcast by HTV in November 1998 that he was bisexual and that he was "coming out" not only to give encouragement to Ron Davies, the former Secretary of State for Wales and architect of the Devolution process, who had been involved in "a moment of madness" on Clapham Common, but to provide solace to others like him in a Wales which Davies perceived to be strongly homophobic. He spoke tearfully about having had to give advice to students at Pantycelyn who were terrified that their homosexuality might be exposed, without being able to admit he shared their predicament.
MEIC STEPHENS
John Davies, historian and broadcaster: born Llwynypia, Glamorgan 25 April 1938; married 1966 Janet Mackenzie (two sons, two daughters); died Cardiff 16 February 2015.
Register for free to continue reading
Registration is a free and easy way to support our truly independent journalism
By registering, you will also enjoy limited access to Premium articles, exclusive newsletters, commenting, and virtual events with our leading journalists
Already have an account? sign in
Join our new commenting forum
Join thought-provoking conversations, follow other Independent readers and see their replies