John Lydon breaks down in tears during Jon Snow interview: 'My message is learn to love each other... You only get one go at it'
The Sex Pistols frontman showed a softer side as he discussed coming to terms with childhood illness and the death of his parents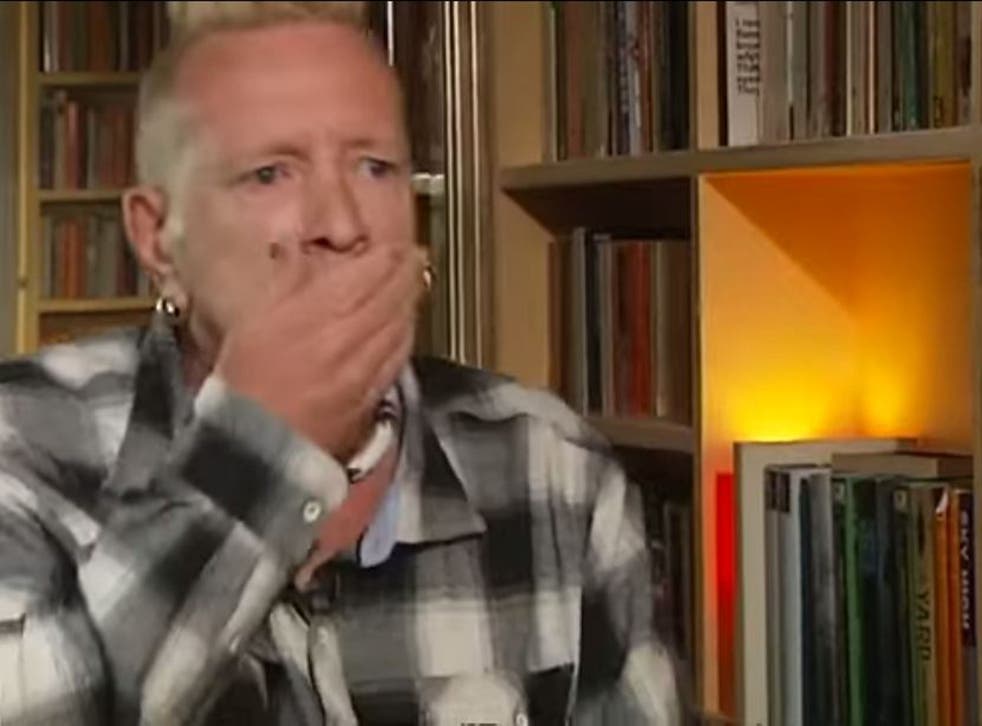 John Lydon has been riding high on the wave of publicity for his new autobiography Anger is an Energy: My Life Uncensored over the past week.
The pseudo-Anarchic Sex Pistols frontman, also known as Johnny Rotten, delighted Radio 4 listeners by calling John Humphrys a "silly sausage" during a heated debate on whether he had actually done anything beyond what all young people were doing in the late Seventies – being angry and rebellious.
"It was no fun to be discussed in the Houses of Parliament, under a traitor and treason act – that wasn't what everyone was doing," Lydon retorted.
Since then, he's also had the pleasure of meeting the other great broadcasting Jon – Channel 4's Jon Snow – who met with an altogether softer side of Lydon's extraverted character.
After a lengthy discussion about the fact he still has hair – and the "common knowledge" Top of the Pops performers had of Jimmy Savile's depraved crimes – he discussed the difficulties he faced when he lost his memory after becoming seriously ill as a child.
"The pain you go through of not remembering your own parents. It took a lot out of me to have to go back into my childhood and face that pain and thereby really regurgitate the death of my parents and the lonely isolationism of that.
"And I don't think I've ever made up to my mum and dad and they're dead now and it breaks my heart. I've never made up [to] them for the fact that I forgot who they were.
"Really my message from my music is really learn to love each other properly, because you only get one go at it.
"I'm gonna cry now," he said, turning away from the camera to compose himself briefly before abruptly ending the interview with, "God bless mate, thanks for having us."
Register for free to continue reading
Registration is a free and easy way to support our truly independent journalism
By registering, you will also enjoy limited access to Premium articles, exclusive newsletters, commenting, and virtual events with our leading journalists
Already have an account? sign in
Register for free to continue reading
Registration is a free and easy way to support our truly independent journalism
By registering, you will also enjoy limited access to Premium articles, exclusive newsletters, commenting, and virtual events with our leading journalists
Already have an account? sign in
Join our new commenting forum
Join thought-provoking conversations, follow other Independent readers and see their replies