John McDonnell profile: The joke's on the shadow Chancellor after Little Red Book stunt during Autumn Statement
The shadow Chancellor's Little Red Book stunt characterised a man of wit, principle – and poor judgement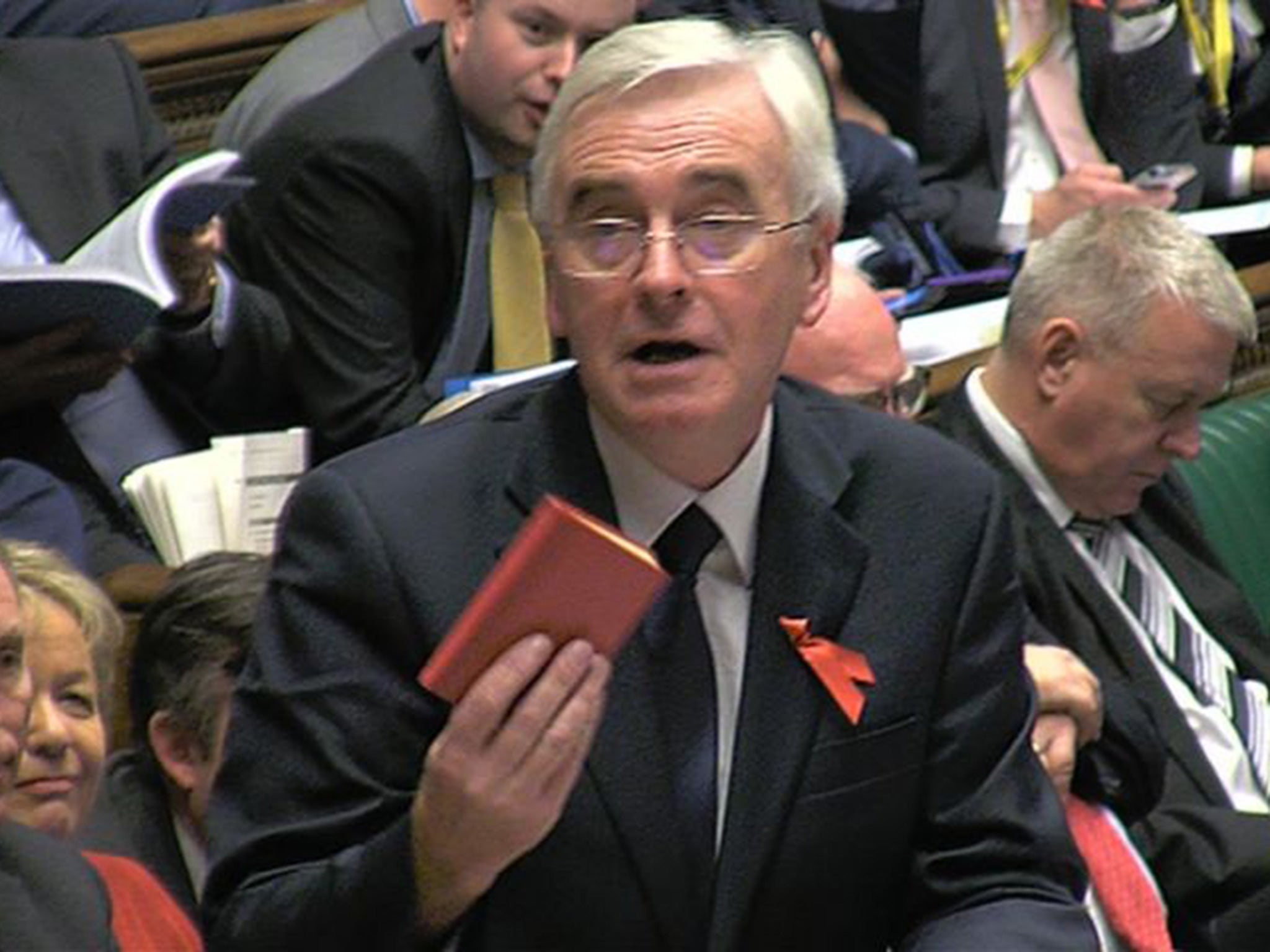 "Don't make jokes, John" is possibly the best advice someone could offer John McDonnell. Rarely has an attempt to be funny had such a backwash as the shadow Chancellor's bizarre decision to flourish Mao Zedong's Little Red Book and chuck it across the Commons chamber in his reply to George Osborne's Autumn Statement. "It was a disaster," one loyal Corbynite exclaimed in despair. "There is a time for political stunts – but you don't do them on the floor of the House of Commons on one of the biggest days of the year."
McDonnell has a penchant for cracking bad jokes. He has had to apologise for the "appalling" one he made in a BBC studio in 2010 about wanting to go back in time to assassinate Margaret Thatcher. The Times unearthed a report today of a meeting of Irish republican sympathisers in a pub in 1986, during which McDonnell suggested "kneecapping" certain "gutless" Labour councillors. And in 2004, he co-signed, with Jeremy Corbyn, a Commons motion calling for the human race to be wiped out by an asteroid.
Jokes of this kind might work in front of a small audience of the like-minded, but sound terrible coming from someone who aspires to one of the highest political offices in the land. Those who know and like McDonnell say that he has a downbeat, self-deprecating sense of humour, and these jokes are a form of self-parody. One prominent Blairite councillor, who worked with McDonnell in his days as chair of the finance committee of the Greater London Council (GLC) in the 1980s, recalled an occasion when a council employee referred to McDonnell in the third person, unaware that he was in the room, chairing the meeting. Instead of humiliating him for his mistake, McDonnell remarked drily: "He's never here: that's the trouble."
Actually, no one could fault McDonnell for the number of political meetings he has been to in his life. If it were possible to compute them, the result would certainly be in four figures. After leaving Great Yarmouth Grammar School at the age of 17, the bus driver's son worked for trade unions for six years and was one of the new, left-wing councillors who took control of the GLC in 1981, with Ken Livingstone as leader.
Today Livingstone is a vociferous supporter of McDonnell, but 34 years ago McDonnell was possibly his most dangerous rival within the GLC Labour group. To the outside world, Livingstone was so left wing that The Sun named him as "the most odious man in Britain" – principally for a comment he had made about the IRA. But to McDonnell, the GLC leadership was too "middle of the road". It was McDonnell, not Livingstone, who suggested that the GLC Labour Group hold open talks with the IRA in the week that a nail bomb at Chelsea Barracks had killed two pedestrians. While Livingstone looked for a legal way round a judgment preventing the GLC from cutting bus and train fares, McDonnell wanted it to run a campaign encouraging passengers to refuse to pay.
In 1982, Livingstone shrewdly brought McDonnell on board by making him the GLC's deputy leader and chair of the finance committee. McDonnell gave up his job as a trade union researcher to be a full-time councillor, handling a budget larger than that of most of the states represented in the United Nations.
John Carr, a fellow councillor, says: "He wasn't fazed by it. He was never somebody to be reliant on what the officers told him. He's very, very smart, but I've always thought of him as on the far edge of the hard left. He has one of the keenest brains, but it has always been his political judgement that has been dodgy."
In 1985, McDonnell demonstrated that lack of judgement by leading an open revolt against Livingstone, who wanted to circumvent rate-capping legislation brought in by Margaret Thatcher's government, whereas McDonnell wanted the council to break the law. He lost that battle, and lost his committee chairmanship.
Overnight, he went from being a major figure in local government to a lonely soul on the far left. As one observer said: "He put himself in a very cold place for the sake of his principles." He found work as a policy adviser for Camden council, and was selected to fight the Conservative-held seat of Hayes and Harlington, west London, at the 1992 general election.
He lost the election by the tiny margin of 53 votes, in what would prove to be a very expensive campaign for him personally and his diminished band of supporters. He had accused the sitting Tory MP, Terry Dicks, of being an apologist for Saddam Hussein. Dicks sued, and McDonnell had to pay £15,000 damages and £55,000 costs, and narrowly avoided losing his home. At the time he was divorced from his first wife, Marilyn Cooper, with whom he had two daughters. He married his second wife, Cynthia Pinto, in 1995, and they have one son.
He had his revenge five years later, when he won the same seat with one of the biggest swings in the country, giving him a majority of 14,291. The custom is for new MPs to pay tribute to their predecessors in their maiden speeches, even if they are from a rival party, but McDonnell's used his to denounce Dicks as "corrupt", "vile," bigoted and "a pig's bladder on a stick".
He also managed an extraordinary feat for a new MP, by being the very first Labour MP to make a speech in Parliament attacking an aspect of government policy. In July 1997, John Prescott, the Deputy Prime Minister, agreed to apply rate-capping legislation to three county councils which were considering setting rates above the limit. It was the same legislation which Labour had opposed in the 1980s, and over which Livingstone and McDonnell had fallen out. He told MPs: "I was convinced then by what the party said and I remain convinced. In all honesty, with all integrity, I cannot support the government."
He had begun as he would continue, as a backbench rebel. For years he chaired Campaign Group, set up by the late Tony Benn's supporters in the 1980s, but reduced to a rump while Labour was in government. In October 2007, Tony Benn despairingly noted in his diary that "truly, there isn't a left in Britain at the moment" after sitting in on a Campaign Group meeting. He also noted: "Diane Abbott, who I don't think has turned up for two years, turned up today and made a very angry intervention about the extent to which... John McDonnell was taking over the Campaign Group. Ridiculous!"
Corbyn's decision to appoint McDonnell as his shadow Chancellor was no great surprise, given how the pair supported each other during their wilderness years, and that it was the Campaign Group which originally kicked off Corbyn's leadership bid. But the appointment provoked dismay among Labour MPs who regarded McDonnell as cleverer but not so nice as the new leader.
His abilities were on display on Monday evening, when the shadow Chancellor set out a powerful economic case against the Government which had his audience listening with respect. His Commons performance was also going reasonably well until that catastrophic moment when the Little Red Book emerged.
A former GLC adviser who watched McDonnell at close quarters in the 1980s remarked: "He has his principles. He sticks to them. He will ultimately destroy himself if he thinks he must, to stand up for what he believes. He is a strong character, but somewhere deep inside there is an auto-destruct mechanism."
John McDonnell: A life in brief
Born: 8 September 1951, Liverpool.
Family: Son of Robert and Elsie McDonnell. He has two daughters by his first wife, Marilyn Cooper (married 1971-87), and a son by his second wife, Cynthia Pinto.
Education: Great Yarmouth Grammar School, Brunel University, Birkbeck College, London.
Career: Production worker 1968-1972, research assistant, NUM, 1972-78 and TUC 1978-82; councillor 1982-85; Camden council 1985-87; Labour MP from 1997.
Join our commenting forum
Join thought-provoking conversations, follow other Independent readers and see their replies