John Nash dead: A Beautiful Mind mathematician and wife Alicia killed in a car crash, say police
The Nobel Prize winner was 86 years old
David Usborne Comments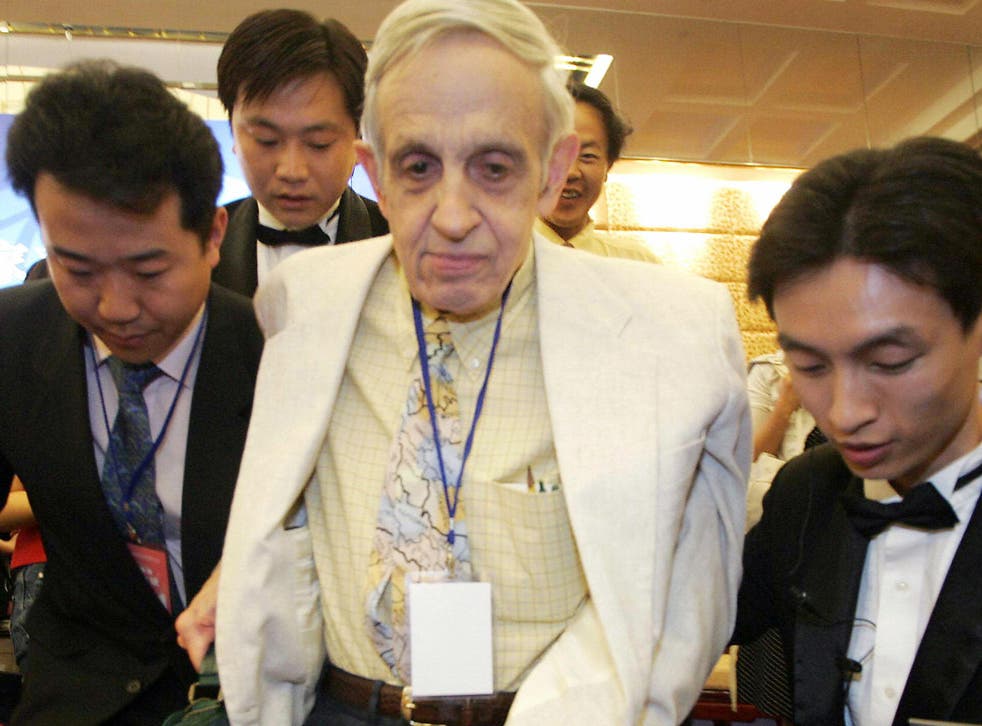 John Nash, the Nobel laureate whose life as both a genius mathematician and a victim of cruel mental disorders inspired the 2001 film A Beautiful Mind, has died with his wife, Alicia Nash, in a crash on a busy stretch of motorway in New Jersey. He was 86 years old and his wife was 82.
They were on the way to their home near Princeton University late on Saturday after flying from Oslo, where Mr Nash received a prize for mathematics from King Harald V. Police said that the driver lost control of the taxi they were riding in and struck a central reservation barrier. The two were thrown from their vehicle. They may not have been wearing seatbelts.
Russell Crowe, the actor who portrayed Mr Nash in the film, said he was "stunned" on hearing of the accident. Directed by Ron Howard and starring Jennifer Connolly as Alicia Nash, A Beautiful Mind won an Oscar for best picture. "My heart goes out to John & Alicia & family. An amazing partnership. Beautiful minds, beautiful hearts," Mr Crowe said on Twitter.
Mr Nash was celebrated for his work on so-called "game theory", which used mathematical theorems to describe and predict the outcomes of contests, whether between individuals, states or corporations. He shared the 1995 Nobel prize for economics with two colleagues, the game theorists John Harsanyi and Reinhard Selten.
His work was in time widely adopted, including in the fields of business and diplomacy. But his career for a long period was derailed by mental dysfunction, eventually to be diagnosed as schizophrenia. He had already laid down the outlines of his theory when at the age of 30 he resigned from the Massachusetts Institute of Technology, suffering from delusions, hallucinations and paranoia. Some of those years, during which he and Alicia were divorced, were spent wandering Europe.
When he was approached for a prestigious academic position in Chicago he declined because he said he was in line to become the Emperor of Antarctica.
The condition eased in his early fifties. Mr Nash joined the faculty at Princeton, and he remarried Alicia in 2001.
"We helped lift him into daylight. We resurrected him in a way," Assar Lindbeck, the former chairman of the committee for the Nobel prize in economics, told Sylvia Nasar, whose biography of him formed the basis of the film.
Register for free to continue reading
Registration is a free and easy way to support our truly independent journalism
By registering, you will also enjoy limited access to Premium articles, exclusive newsletters, commenting, and virtual events with our leading journalists
Already have an account? sign in
Join our new commenting forum
Join thought-provoking conversations, follow other Independent readers and see their replies