John Sutton: Cold War fighter pilot who later rose through the ranks to become Commander-in-Chief, RAF Support Command
Sutton's son, Mark, was the man who parachuted into the Olympic stadium in 2012 dressed as James Bond escorting the Queen
Thursday 19 February 2015 01:00
comments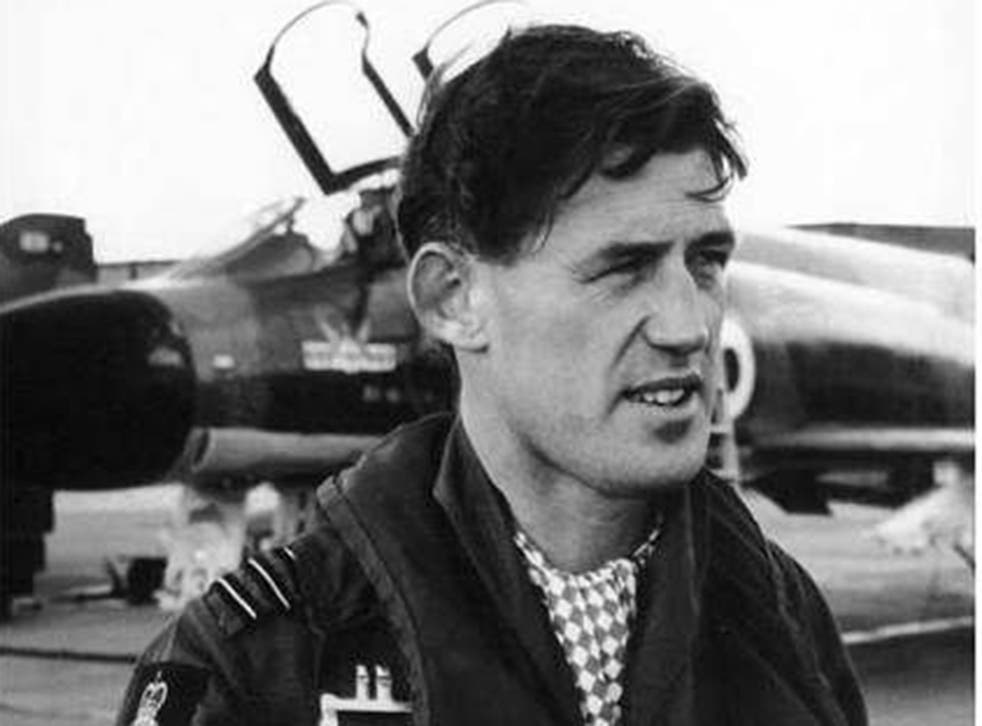 The RAF Hawker Hunter interceptor jet fighter pilots stationed half a century ago in Cold War West Germany had ground control, the latest radar, and trained alertness against Soviet invasion. But the sleek 1950s modernity around them cloaked a flaw as old as powered flight itself. It was their aircraft's thirst for fuel: should error or weather weigh in the scales against the pilot once his "bingo" lights came on, death stalked him.
On 7 February 1957 even the rugged charm of 4 Squadron's Flight Commander, John Sutton, blenched when faced with sudden fog rolling in over his landing-ground – and 16 jets all coming in at the same moment to touch down. It was a year, less one day, since Britain had been shocked by the crash of six Hunters out of a formation of eight, their fuel exhausted after weather-induced landing delays near Swaffham in Norfolk.
Sutton's trial of a new "quickie" ground control approach (GCA) procedure, with aircraft from other squadrons as well as his own, began under blue skies at RAF Jever air base near the north German coast – so the 750mph single-seater Hunter's capacity of only about an hour's flying didn't seem to be a problem. The weather briefing had been benign.
Sutton took off after the other aircraft. "I was head-down concentrating on blind flying instruments – only looking up as I approached the runway to overshoot and try again," he recalled. "I looked up... and was greatly surprised to find myself in cloud at about 100ft. The sea-fog was rolling in and, like me, no one in the control tower had noticed it."
The warning lights were set to come on when fuel levels dropped to 1,300lb; at this point they would check the weather and if reported clear, continue until levels reached 800lb before landing. "On this occasion sod's law operated," Sutton remembered. "The first pair of aircraft to return thought they could beat the low cloud or fog but it got to the airfield before they did. They overshot, popped out of the low cloud and called for a GCA – but there were 14 others not far behind them and none had the fuel to divert anywhere else."
He praised RAF Jever's controllers, who nevertheless talked the aircraft down with only two GCA consoles in place to use.
Sutton, who grew up surrounded by wartime airfields in Lincolnshire, and attended Queen Elizabeth's Grammar School, Alford, chose to do his National Service in the RAF, since it offered pilot training: "Flying jet fighters and being paid for it was a wonderful experience for a young man, and so I decided to stay on."
Following 4 Sqn, Sutton went on, after Staff College, to command 249 Sqn in Canberra bombers in Cyprus, moving to the far East to fly from jungle airstrips during the 1963-66 Indonesian Confrontation.
He had married Delia Woodward in 1954, and they had a son and a daughter before the marriage was dissolved in 1968. He married Angela Gray in 1969, and they had two sons.
Already destined for high command, he served as assistant secretary to the Chiefs of Staff Committee before returning to Germany in 1970 to take over 14 Squadron at RAF Bruggen, equipped with the powerful twin-engined Phantom, with which he fell in love: "On one engine, with undercarriage and flaps down, it would climb at 6000ft a minute." The Phantom's hook – originally supplied for carrier landings as a naval aircraft – was, Sutton added, "a great piece of kit" . One pilot, who had flown his Phantom through a tree, and, weighed down with large parts of trunk and branches, needed to maintain a speed of 200 knots while coming down to land, had lowered the hook, taken the wire at that velocity and landed safely.
Sutton returned to Whitehall, then attended the Royal College of Defence Studies, before being appointed in 1976 as Commandant of the prestigious RAF Central Flying School at Little Rissington, Gloucestershire. Its Commandant-in-Chief was HM Queen Elizabeth the Queen Mother. Her husband, King George VI, qualified as an RAF pilot in 1919 and was often to be seen wearing RAF uniform.
Dismayed at the break-up of parts of the school by Command HQ, Sutton wrote asking for it to be reunited as before. He got no response, but some months later found to his delight that his wish was to be heeded after all. "Did you fix it?" he asked the Queen Mother. She replied: "Well, I did have a word with a few people."
Promoted to Assistant Chief of Air Staff (Policy) from 1977, Sutton kept a battle-ready presence of mind. Threatened with being stuck in Baghdad (Iraq was then Britain's ally) after his planned lift home was refused clearance to cross eastern Europe, he and a colleague managed, by nipping smartly to the VIP area, to be accorded a welcome on board the VC10 of the then British Foreign Secretary Dr David Owen.
Sutton was Deputy Commander RAF Germany, then Assistant Chief of the Defence Staff, before rising to be C-in-C, RAF Support Command, in charge of the force's administration, technical and medical matters, and training. A burnt-out headquarters greeted him when he took over in January 1986: the destruction wrought by an accidental night-time blaze that had broken out in the three-storey building at RAF Brampton in October 1985 would eventually cost £10m to put right. On retirement he was appointed Lieutenant-Governor of Jersey.
Life still held one ordeal for him. It followed little over a year after a family triumph, when, soon after his own 80th birthday, he, and millions of television viewers across the world, had watched his son, Mark, parachute into the Olympic stadium in London on 27 July 2012 dressed as James Bond escorting the Queen.
But on 14 August 2013, this experienced stuntman, a former Gurkha officer who was Sutton's third child and the elder son of his second marriage, hit a rock while descending a ridge in a "wingsuit" at Valais, Switzerland and was instantly killed.
Sutton is survived by his wife and three of his children.
ANNE KELENY
John Matthias Dobson Sutton, RAF officer: born Lincolnshire 9 July 1932; married first 1954 Delia Woodward (marriage dissolved, one son, one daughter); second Angela Gray (two sons); KCB 1986, CB 1981; died Oakham, Rutland 21 November 2014.
Join our new commenting forum
Join thought-provoking conversations, follow other Independent readers and see their replies