Johnny Depp's lawyers claim Amber Heard's request for restraining order was a response to negative media coverage against her
Heard claims Depp has been violent towards her and was granted a temporary restraining order against him on Friday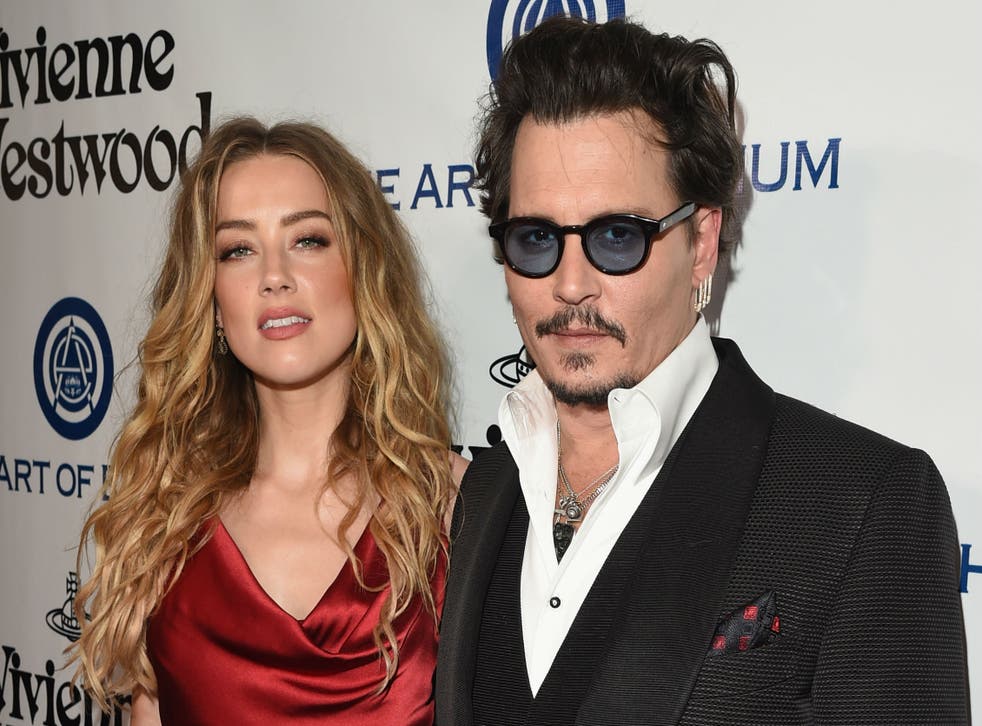 Johnny Depp's lawyer has claimed his wife Amber Heard's restraining order application against the actor was as a result of the negative media coverage she's received and in order to "secure a premature financial resolution", according to court documents.
Heard filed for divorce from Depp, citing irreconcilable differences, earlier this week. On Friday, Heard appeared in court, with a visible bruise on her face, to seek a temporary restraining order from Depp alleging that he had been violent towards her last Saturday and on occasions during their marriage. In court documents requesting the order she wrote: "I live in fear that Johnny will return to the residence unannounced to terrorise me, physically and emotionally."
The temporary restraining order against the 52-year-old actor was granted by a judge at Los Angeles Superior County Court. The order documents show Depp must stay at least 100 yards away from Heard and must not contact her, Heard was also granted residency of their shared house. Her requests for sole custody of their dog Pistol was denied as was her request for Depp to attend anger management. Her claim for spousal support and lawyers fees were not ordered by the judge but could be at a later hearing, according to papers.
In court papers responding to Heard's application for the restraining order, Depp's lawyer Laura Wasser claimed: "Amber is attempting to secure a premature financial resolution by alleging abuse. Her current application for a temporary restraining order along with her financial requests appear to be in response to the negative media attention she received earlier this week after filing for divorce."
The negative media attention Wasser references is the media commentary of Heard filing for divorce several days after Depp's mother Betty Sue died.
Wasser also says that Depp is due to be working for the next few weeks so will not be in the same country as his 29-year-old wife.
"He is unable to attend the hearing on this matter and has not heard Amber's specific allegations against him He nonetheless has every intention of staying away from Amber and will stipulate to mutual stay-away and personal conduct orders," Wasser wrote.
Johnny Depp on screen

Show all 16
Heard's sworn declaration in the papers claims: "During the entirety of our relationship, Johnny has been verbally and physically abusive to me." She claims an incident last Saturday saw Depp allegedly throw a Phone at her and alleges an incident the month before claiming Depp "grabbed [her] by the hair and violently shove [her] to the floor".
Heard also claims Depp has a "substance abuse" problem and his "relationship with reality oscillates, depending upon his interaction with alcohol and drugs".
The only statement Depp has made publicly was prior to the restraining order in response to news of their marriage ending and reports there was no pre-nupt in place and Heard was seeking spousal report.
Johnny Depp accused of assault
"Given the brevity of this marriage and the most recent and tragic loss of his mother, Johnny will not respond to any of the malicious false stories, gossip, misinformation and lies about his personal life," the statement said.
"Hopefully, the dissolution of this short marriage will be resolved quickly."
The Independent has contacted representatives for both Heard and Depp.
Register for free to continue reading
Registration is a free and easy way to support our truly independent journalism
By registering, you will also enjoy limited access to Premium articles, exclusive newsletters, commenting, and virtual events with our leading journalists
Already have an account? sign in
Register for free to continue reading
Registration is a free and easy way to support our truly independent journalism
By registering, you will also enjoy limited access to Premium articles, exclusive newsletters, commenting, and virtual events with our leading journalists
Already have an account? sign in