The Independent's journalism is supported by our readers. When you purchase through links on our site, we may earn commission.
Jon Stewart met with President Obama for 'secret' meetings at the White House
The Daily Show host was considered to be highly influential among a younger audience the Obama administration was trying to tap into
Heather Saul
Thursday 30 July 2015 01:12 Comments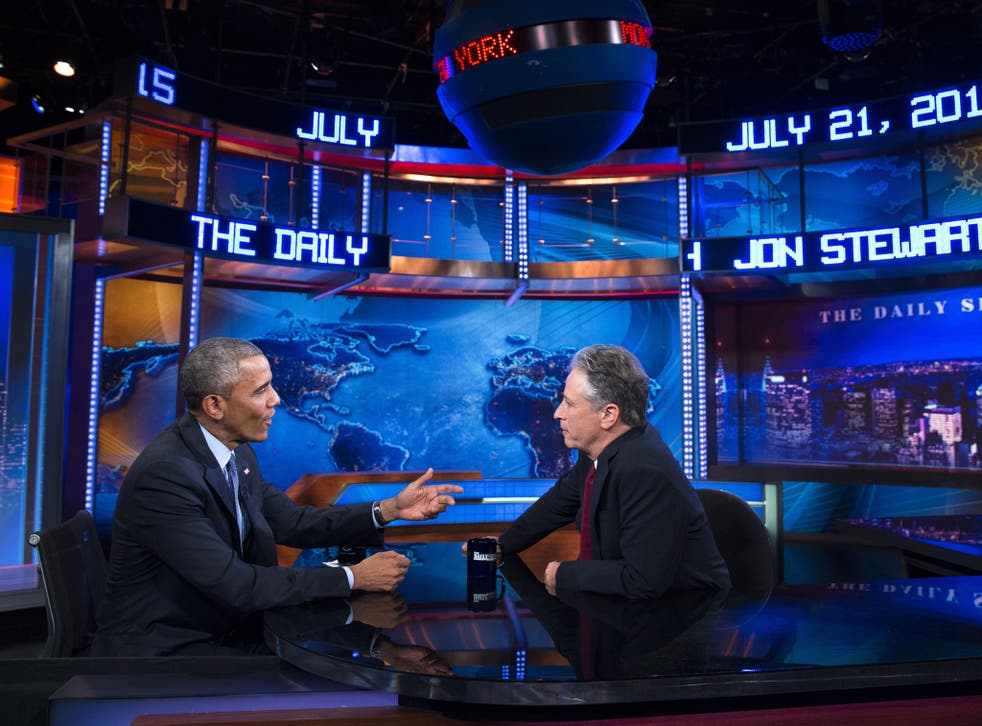 Jon Stewart had some memorable clashes with Barack Obama on the set of the Daily Show, subjecting the President to grillings that left viewers wondering why he would ever willingly put himself through another round with the acerbic host.
Obama was famously given a dressing down over his inaction after entering office in 2010, but returned to a warmer welcome in 2015, two weeks before Stewart was due to retire as the programme's host. It has now emerged that Obama attempted to cultivate a relationship with Stewart outside of the sparring ring in private meetings at the Oval Office in 2011 and 2014.
The visits were revealed by Politico and reflect the sway Stewart held over a younger demographic the Obama administration was keen to tap into. Dag Vega, who was employed to develop relationships between the media and the President for several years, told The New York Times Stewart was considered a "key influencer" for millennials: "They relied on him for an honest take on the news, and the president and senior staff know that."
Stewart was typically flippant about the meetings when he received a grilling himself on The Nightly Show with Larry Wilmore. When asked what their "secret" gatherings would involve, he replied: "Hang out. Eat nachos. Watch 'King Ralph'."
Register for free to continue reading
Registration is a free and easy way to support our truly independent journalism
By registering, you will also enjoy limited access to Premium articles, exclusive newsletters, commenting, and virtual events with our leading journalists
Already have an account? sign in
Join our new commenting forum
Join thought-provoking conversations, follow other Independent readers and see their replies