Jordanian pilot Muath al-Kasaesbeh's wife: I found out on Facebook that my husband had been burned alive by Isis
Anwar Tarawneh talks exclusively to The Independent, explaining that her husband had a premonition that his flight was going to go badly on the day his plane was shot down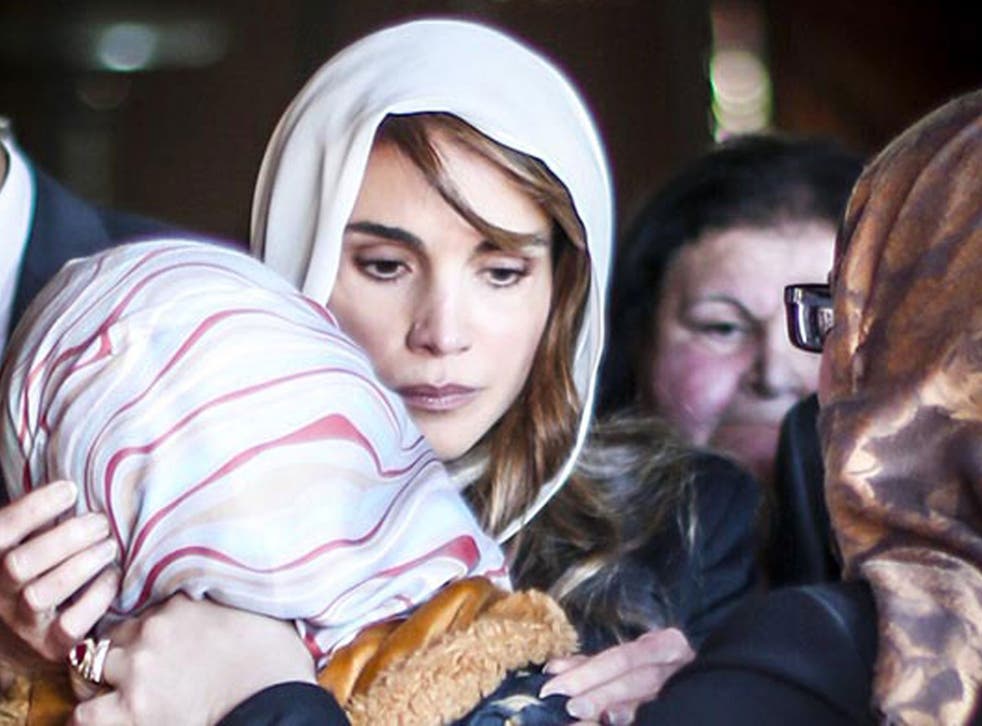 When her mother first called her in tears, Anwar Tarawneh knew immediately that something was wrong.
Her husband, Lieutenant Muath al-Kasaesbeh, was in the hands of Isis, after being shot down while flying an F-16 over Syria on 24 December.
Jordan's government was willing to negotiate his freedom, trading his life for a female al-Qaeda prisoner Isis wanted to have released, and Ms Tarawneh was at a sit-in protest at a university in Amman where students were expressing their support for him when she took the call.
She wasn't convinced by her mother's explanation for her tears – that two of her siblings were quarrelling.
She still hasn't watched the grisly video which shows Isis burning her husband alive in a cage. She collapsed shortly after hearing the news and was admitted to hospital. The tape is still stuck to her right hand, with a pink insert for the intravenous drip to which she was attached.
Her husband, now a hero in Jordan, had a premonition that his flight that fateful day was going to go badly, he told her on what proved to be the last time they would ever talk.
"He had hoped there would be fog, so he wouldn't have to fly," she tells The Independent, sitting in her late husband's ancestral home, near the town of Karak. Dressed in a denim knee-length coat, and wearing a headscarf, she has trouble holding back the tears. "He had the feeling something would go wrong," she says. "It was strange, he had never said that before."
Hours later, his plane was shot down over Raqqa; he ejected successfully, but soon afterwards Isis revealed he was a prisoner.
Five weeks of uncertainty followed until his grim fate was revealed. And now, thousands are gathering to pay tribute to a "martyr" who united Jordan in its opposition to Isis.
In pictures: Anti-Isis protests in Jordan

Show all 15
Today relatives painted a picture of a pious, polite young man, devoted to his family, a golden son who was loved and respected by all. The only vice he seems to have had, a sweet tooth, made him a generous provider of sweets to his younger sisters.
Growing up he was always in a hurry, eager to get to school and move up in life. "It's as if he knew his life would be short," one relative described him. At just 26, he had already bought a farm.
His father, Saif, hoped that Muath would be a doctor, and wanted him to study in Moscow. Medical books line the anteroom to the gold-pillared reception hall in his parents', house and relatives say Saif never fully accepted Muath's choice of career.
But Muath wanted to join the air force. He was fiercely proud of being a pilot. "He lived his life like an F-16," a cousin said.
He was married last July, far too young according to his grandmother. The match was arranged by his oldest brother Jawad, who was friendly with Ms Tarawneh's brother as they both worked as engineers at an air base.
A smile breaks through the tears when Ms Tarawneh recounts their courtship. "I actually wasn't supposed to end up with Muath, but with his older brother," she says. "When he came to see what I was like, I wasn't home. And then he met another girl. But the families were well suited and his sisters also pushed for the match. So Muath ended up with me," she says, beaming.
Her eyes light up when she talks about their July wedding, the white dress, the slide show of pictures of the honeymoon in Istanbul. "That is my happiest memory of my time with him."
They had even picked out names for their future children. "He wanted to be Abu Karam, so Karam would be our first-born boy. And he said I could chose whatever I wanted if it was a girl. It was going to be Leya."
After their wedding, they moved into an flat in a nearby town, to be close to the family. Five days a week, he would be on duty at the air base. And when Jordan was one of four Arab countries to join the coalition against Isis, he began flying sorties to Syria. "Those five months married to Muath were better than all the 25 years before," she says.
Some family members are less at peace with his mission. "You sent him there and now you come to offer your condolences," his sister Tasnim, 22, shouted as fighter jets flew low overhead during a visit by Queen Rania, who had come to pay respects to the female relatives. The king was meanwhile meeting the family's men. "Avenge him," she screamed repeatedly.
Lt Kasaesbeh's mother, Issaf, is still in shock, and merely focuses on his devotion. "He always carried a Koran on his heart, and never missed a prayer," she says.
The last time Anwar spoke to her husband, it was also about prayer. "He reminded me to pray as it was sunset, and told me he had performed a double prayer for martyrs." Later that night, he was on the way to what became his own martyrdom.
Register for free to continue reading
Registration is a free and easy way to support our truly independent journalism
By registering, you will also enjoy limited access to Premium articles, exclusive newsletters, commenting, and virtual events with our leading journalists
Already have an account? sign in