Joseph Stalin's grandson says 'brainless show-off' Vladimir Putin should learn from Soviet-era tyrant's example
Yevgeny Dzhugashvili took a Russian newspaper to the European Court of Human Rights over an article calling his grandfather a 'bloodthirsty cannibal' – and lost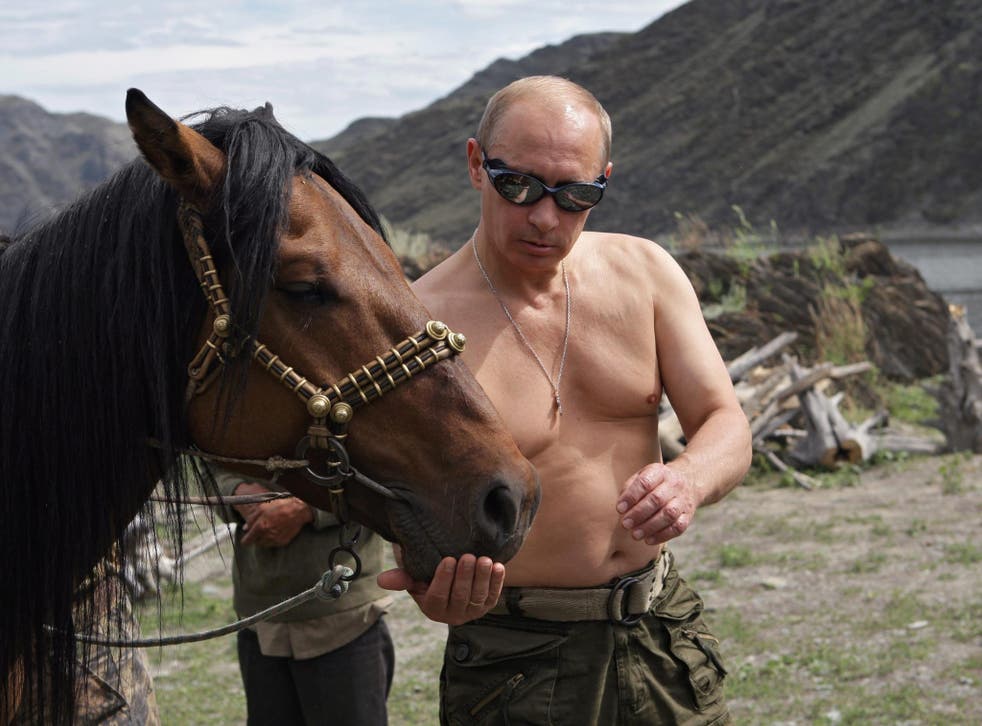 Vladimir Putin's topless publicity stunts show the Russian president is leading "without brains" and "the mess we have now" would have been avoided if Stalin had lived just five years longer, the tyrant's grandson has claimed.
This month the European Court of Human Rights rejected a defamation case brought by Yevgeny Dzhugashvili, 79, against a Russian newspaper that described his grandfather as a "bloodthirsty cannibal".
The court found no issue with the 2009 article in Novaya Gazeta, which explored Stalin's role in the massacre of 22,000 Polish nationals by the Soviet secret police in 1940 at Katyn. It said that as a historical world leader, Stalin "inevitably remain[s] open to public scrutiny and criticism".
But speaking in an interview with the Mail Online from Moscow in the wake of that decision, Dzhugashvili stood by his grandfather and said there was no "common sense" behind the "general prescription… that Stalin must be blamed for everything".
He was heavily critical of the Russian government for working with Poland on a joint commission into the Katyn massacres, and said the "tricksters and thieves" at the Kremlin had betrayed their country in a way Stalin never would have.
"This is the time we are living in, the b******* have won," he said. "They are going down the same road along with the Polish leadership. It is amazing, this enemy state has become an ally."
Dzhugashvili said Putin deserved the apparent snub of not being invited to next week's 70th anniversary of the liberation by the Red Army of the Nazi death camp at Auschwitz.
"Well, they wiped up the floor with him, I must say. And they did the right thing," he said.
In pictures: Putin's macho adventures

Show all 20
Turning his attention to what Putin lacks in comparison to his grandfather, Dzhugashvili told the Mail: "They want people to support him out of pity.
"They are saying that the West wants to get rid of Putin. The aim is to get an opposite reaction from our people. They are supposed to shout, 'We won't give away our Putin'.
"All possible methods are used - we see him skiing, in a plane, then in a submarine, next without a shirt. It is a lack of brains, just showing off."
He said: "If only Stalin had lived just five years longer, the catastrophe that has unfolded in Russia would have been prevented."
Register for free to continue reading
Registration is a free and easy way to support our truly independent journalism
By registering, you will also enjoy limited access to Premium articles, exclusive newsletters, commenting, and virtual events with our leading journalists
Already have an account? sign in
Register for free to continue reading
Registration is a free and easy way to support our truly independent journalism
By registering, you will also enjoy limited access to Premium articles, exclusive newsletters, commenting, and virtual events with our leading journalists
Already have an account? sign in
Join our new commenting forum
Join thought-provoking conversations, follow other Independent readers and see their replies