Julia Donaldson interview: Even with 160 children's titles to her name, she insists 'no part of writing is easy'
Donaldson: 'I've heard that something like a third of all books sold are children's books but if you look at the review space given you could be forgiven for thinking it was three-hundredths'
Susie Mesure
Saturday 04 October 2014 22:03 Comments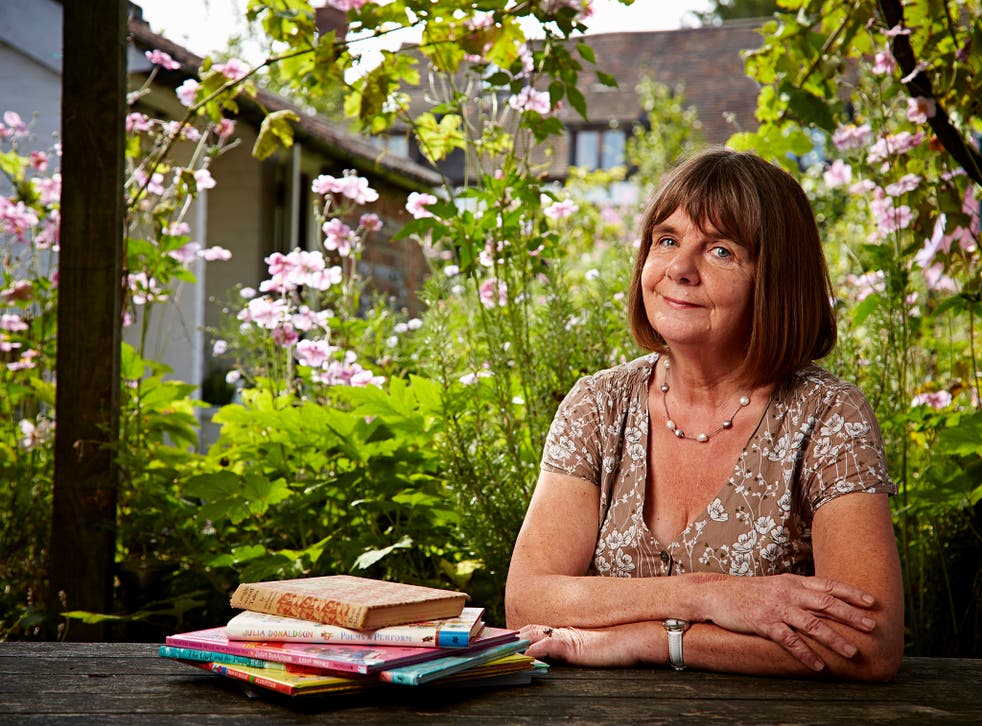 Does everyone imagine their own runcible spoon?
Julia Donaldson's has "little holes in, perhaps because the Jumblies go to sea in a sieve and [Edward] Lear loves vessels". Mine was always made out of mother-of-pearl, iridescent in the moonlight at the Owl and the Pussycat's wedding feast; while the bods at Puffin went for the fork-spoon hybrid, immortalised by 1920s' dictionary compilers, in the "goodie box" they sent Donaldson to woo her to write a sequel to Lear's 1871 classic.
But, really, "runcible is a Lear word," Donaldson points out from her picnic-bench seat under the shade of a trailing vine in the garden of her new, and eminently runcible, Sussex abode. Which is to say a nonsense word, invented by Lear and used to mean, well, whatever he liked. Who's to say what "Aunt Jobiska's Runcible Cat" really looked like, aside from those "crimson whiskers"?
Donaldson's take on the happy couple's "Further Adventures" sees them use their famous spoon to eat "some jam, and a honey-roast ham" in a "beautiful blue balloon" while chasing an errant crow that has stolen their ring. "I'm not normally at all keen on the idea of doing sequels to someone else's books but … I so loved Lear as a child and felt quite indebted to him that I felt it would be a sort of thank you," Donaldson says, metering her sentences much as she does the famous poetry that made her the UK's best-selling author last year. Syllables are lengthened, lending her everyday prose the sort of soothing quality I seek from her books, come bedtime for my kids.
Donaldson, who moved south with her husband and long-term musical collaborator Malcolm after 25 years living just outside Glasgow, is, of course, best known for The Gruffalo, although the German illustrator Axel Scheffler deserves almost as much credit in bringing the imaginary beast to life. Not least for getting his editors at Macmillan to read Donaldson's text, which another, unnamed, publisher had ignored. Despite forcing two Gruffalo T-shirts on me – much like the high street, her house is awash with Gruffalo goodies – Donaldson would rather not dwell on the creation that made her name. She'd sooner write a sequel to Stick Man – "the Stick Children, or the Stick Family" – than delve back into that deep dark wood, home also to The Gruffalo's Child. It's too limiting being stuck using the same meter. So no "Gruffalo's Grandmother", an idea she has toyed with.
Better still are new books, although contrary to what her prolific output suggests (there are more than 160 Donaldson titles) she insists "no part [of writing] is easy". There's the tricky initial idea: possibly "a character, or a setting, or a message," but the "absolutely hardest part is the storyline". Because yes, children's authors care just as much about plots as adult writers, even if you'd barely guess from most newspaper coverage. "I've heard that something like a third of all books sold are children's books but if you look at the review space given you could be forgiven for thinking it was three-hundredths. It seems mad that we're trying to get children to read more but the media won't take [children's] books more seriously."
And then there are the words, which for Donaldson, 65, a songwriter for years, must "scan and rhyme" and have some sort of chorus or pattern "because I don't really like rhyming books that are just saying what you were going to say but in rhyme because they usually take about three times as long, when you could just do it in prose."
So, does she dream in rhyme? Her round face, framed by the pink Japanese anemones surrounding her inherited pond, creases in a smile. "I do like playing rhyming games. My family won't play with me because I do usually win. I could probably now spout doggerel verse." Wait, what? She could have done the interview in doggerel? "Yeah, I probably could. But that's not …" she pauses, leaving that thought, like many others, unfinished as her mind races ahead. "The thing about verse … about a rhyming book … take The Gruffalo: it should be quite concise. All too often though, rhyming books drone on interminably. Someone might send me a story and it goes something like," she adopts a wooden voice: "Once there was a little boy, and his name was Charlie Dave/ Charlie was a boy who liked to be quite brave./ He also liked to dig, in the garden deep./ He especially liked to do it when his mummy was asleep." Ouch.
In The Scarecrow's Wedding, her latest title, she wanted a strong female character to make amends for so many recent male protagonists, but the plot thought better. "She's outnumbered by two male scarecrows. I'm not going to be so politically correct that I have an all-female cast." Nor will she worry about ruffling feathers with any plot twists. She sighs at my mention of the fuss over one of the scarecrows smoking a cigar. "What annoyed me is this isn't a book about smoking. But I had to have a fire in it, and it wouldn't have been in character for the show-off, David Niven-type scarecrow to start a fire with a little lantern or a sparkler. So that's why the smoking is there."
She admits not "really liking" gendered books, defending her own Princess Mirror-Belle books as "not the least bit girly because she is quite anarchic; like a slightly more malevolent Pippi Longstocking" but concedes "they get marketed as very pink". Colour-wise, she's more against clothes "being so him and hers", feeling sorry for boys stuck in khaki and brown.
The Scarecrow smoking furore triggered an invite to head an anti-smoking charity (Betty O'Barley ticks off Reginald Rake for his filthy habit) but Donaldson is already patron of three other charities, so declined. These include ArtLink Central, an outfit that works with disadvantaged communities that she got involved with after her eldest son Hamish, who had schizoaffective disorder, committed suicide in 2003, aged 25.
The Sussex move has brought her and Malcolm closer to her youngest son Alistair, who lives in Oxfordshire, but left her missing her middle son Jerry and his two, soon-to-be three children, in Dundee. A flat in Edinburgh means they'll be back and forth but it's hardly the grandparenting on tap she herself grew up with: her father's mother lived on the top floor of their Hampstead house; her aunt and uncle on the middle floor; and her family, including her younger sister, Mary, on the ground floor.
That said, Donaldson has to be a killer grandmother when she does get the time. How many others can boast a dedicated Gruffalo Room in their house? It doesn't get more runcible than that.
Register for free to continue reading
Registration is a free and easy way to support our truly independent journalism
By registering, you will also enjoy limited access to Premium articles, exclusive newsletters, commenting, and virtual events with our leading journalists
Already have an account? sign in
Join our new commenting forum
Join thought-provoking conversations, follow other Independent readers and see their replies