Julian Assange and Eric Cantona pictured working out together to prepare for unexplained 'future collaboration'
In today's most baffling news story, Assange and Cantona partake in a cross training session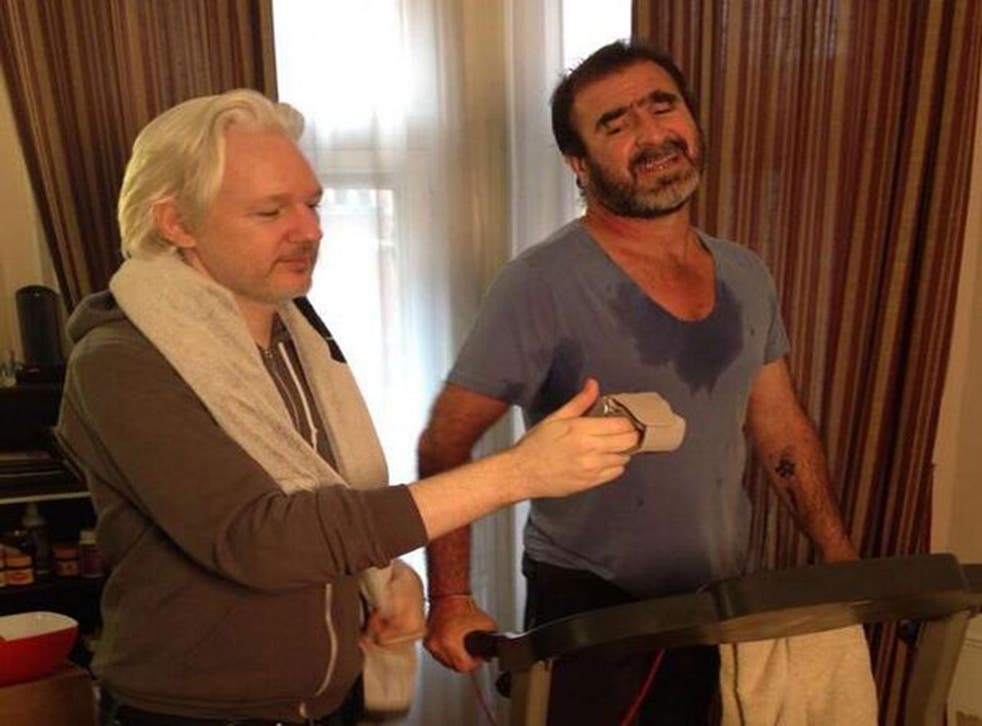 Strange footage has emerged of Julian Assange and Eric Cantona working out together.
And it seems as though Assange is a tough coach; the image and film shows a struggling Cantona sweating profusely on a running machine as the Wikileaks founder smugly assesses his progress with a fitness tracker. The curious event looks to have taken place in the Ecuadorian Embassy, where Assange is currently avoiding extradition.
Wikileaks tweeted news of the thus-far unexplained activity on Saturday, also sharing a picture of the scene.
Film director Romain Gavras then shared a short clip of the workout.
A spokesperson for Assange told the Guardian that the unlikely pair were discussing a "future collaboration", details of which will be divulged "in due course".
So what could this mystery collaboration be? Gavras' presence would suggest that this is a film project and one that Cantona needs to shape up for. But then we come to the #counterintelligenceworldcup, which was launched last week as a way of highlighting, through the World Cup, Germany's plans to resume spying on the US.
Register for free to continue reading
Registration is a free and easy way to support our truly independent journalism
By registering, you will also enjoy limited access to Premium articles, exclusive newsletters, commenting, and virtual events with our leading journalists
Already have an account? sign in
Register for free to continue reading
Registration is a free and easy way to support our truly independent journalism
By registering, you will also enjoy limited access to Premium articles, exclusive newsletters, commenting, and virtual events with our leading journalists
Already have an account? sign in
Join our new commenting forum
Join thought-provoking conversations, follow other Independent readers and see their replies