Julian Assange hails vindication in extradition battle after UN says he is being 'arbitrarily detained'
Report from panel of experts greeted with disdain by the Government, which declares it will seek formal review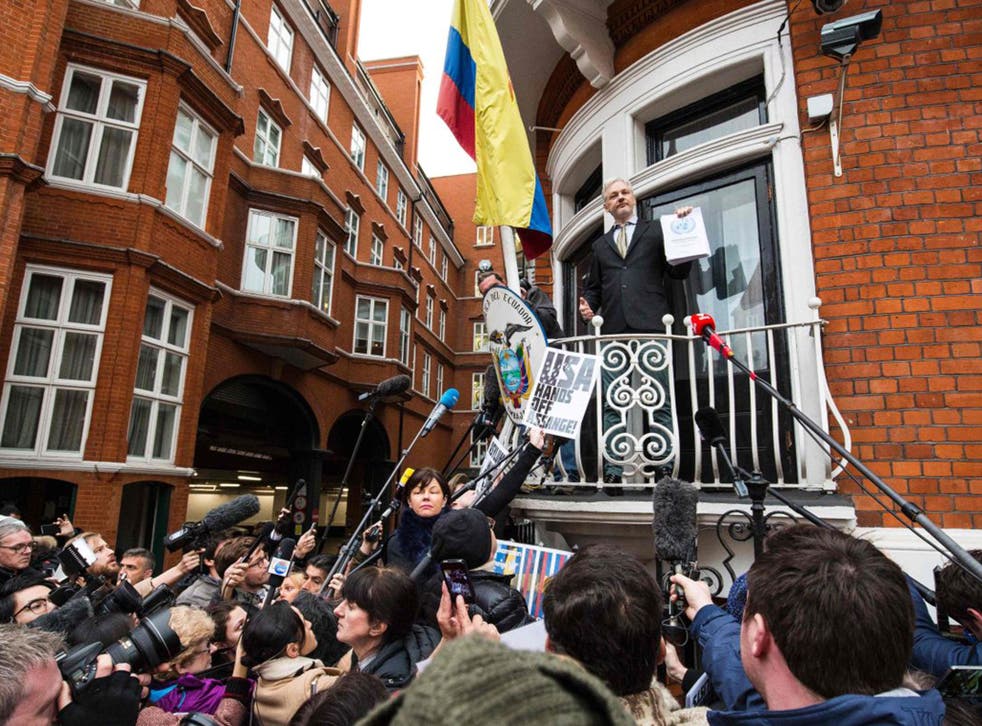 Beamed into a room filled with the world's media, like a figure from a far-off land, Julian Assange claimed vindication in his five-year battle to avoid extradition over rape claims after a United Nations panel decided he has been "arbitrarily detained" inside Ecuador's London embassy.
For a few hours, rumours had abounded outside the South American diplomatic mission he entered in 2012 that the WikiLeaks founder might raise the stakes in his stand-off with the British and Swedish authorities by exiting the building in the hope that police outside had put away their handcuffs.
Instead, the 44-year-old Australian was faded into vision via a videolink. He told a packed press conference held precisely 2.2 miles from his cramped quarters that Britain now stood in defiance of international law after the UN Working Group on Arbitrary Detention (WGAD) accepted his claim that he is in effect being unlawfully imprisoned and declared he should be awarded compensation.
The 18-page opinion from the Geneva-based panel of experts was greeted with disdain by the Government, which declared it would seek a formal review.
The Foreign Secretary, Philip Hammond, said: "Julian Assange is a fugitive from justice. This is frankly a ridiculous finding by the working group and we reject it."
Swedish prosecutors, who have been seeking to enforce a European Arrest Warrant to question Mr Assange about a claim of rape in 2010, also dismissed the report, saying it had no formal impact under the country's law.
But Mr Assange and his legal team, led by former Spanish judge Baltasar Garzon, who in his previous role caused the detention in London of the former Chilean dictator Augusto Pinochet, took full advantage of the opportunity to underline that two Western powers had been called out for abuse of human rights by a UN body.
The Australian, who has denied sexual assault and no charge has been brought against him, believes that an American grand jury investigation into WikiLeaks, which has published thousands of diplomatic and military files, means he would be extradited to the US should he reach Sweden.
In pictures: Julian Assange's 'arbitrary detention'

Show all 14
The lawyer for the Swedish woman who has accused Mr Assange of rape said the UN panel's finding was "insulting and offensive" toward her client. Elisabeth Massi Fritz said Mr Assange should "pack his bags, leave the embassy and start co-operating with the police and the prosecutor".
The WikiLeaks founder, who described Mr Hammond's comments as "insulting" to the UN, told the press conference: "We have today a really significant victory that has brought a smile to my face.
"The lawfulness of my detention or otherwise is now a matter of settled law."
In its report, the WGAD said Mr Assange had been the subject of "different forms of deprivation of liberty" in Britain since 2010 and a "lack of diligence" on the part of Swedish prosecutors, who have yet to question him, meant an excessive amount of time had been allowed to pass. Citing an international treaty to which Britain is a signatory, the UN group said Mr Assange should now be granted his "right to freedom of movement" and compensated.
The decision was not unanimous. Ukrainian Vladimir Tochilovsky, the WGAD's longest-serving member, said Mr Assange should be considered as "self-confined" and not detained.
Mr Assange later took to the balcony of the embassy to address a crowd. He attacked the British, Swedish and US governments for keeping him from his children, saying: "It is time they had their father back. That will happen, one way or another."
Register for free to continue reading
Registration is a free and easy way to support our truly independent journalism
By registering, you will also enjoy limited access to Premium articles, exclusive newsletters, commenting, and virtual events with our leading journalists
Already have an account? sign in
Register for free to continue reading
Registration is a free and easy way to support our truly independent journalism
By registering, you will also enjoy limited access to Premium articles, exclusive newsletters, commenting, and virtual events with our leading journalists
Already have an account? sign in
Join our new commenting forum
Join thought-provoking conversations, follow other Independent readers and see their replies