Julian Assange spearheads funding drive for life-size statue of himself
Stuck in the embassy, he finds a way to get his face out there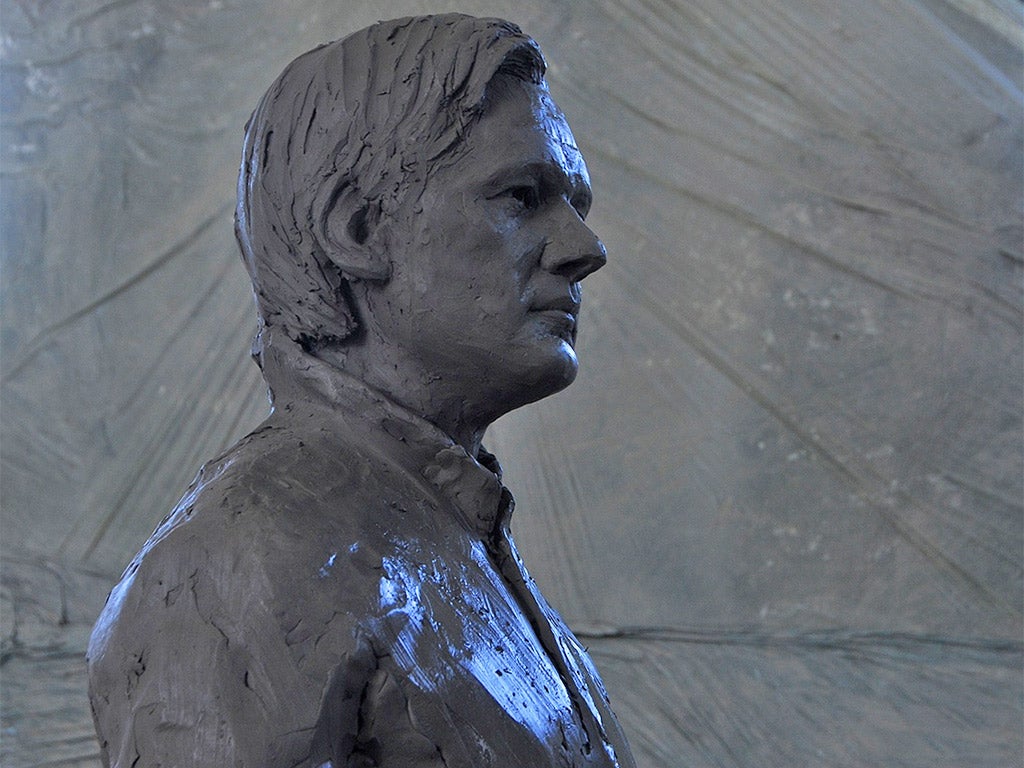 He has been holed up inside the Ecuadorian Embassy for the past two and a half years to avoid being arrested and extradited to Sweden. But that has not stopped Julian Assange from courting publicity, whether from the balcony or from behind his computer.
The WikiLeaks founder has used the whistleblowing website's official Twitter account to publicise a funding drive for the creation of a life-size bronze public artwork featuring himself, Chelsea Manning and Edward Snowden, described as a "a monument to courage".
The proposed statue by Italian sculptor Davide Dormino, entitled Anything to Say?, will depict the trio standing on chairs, with another empty seat beside them onto which members of the public will be encouraged to climb – allowing them to stand shoulder to shoulder with the whistleblowers. Organisers need £100,000 to complete the project, a sum they hope to raise by 1 January through the crowd-funding website Kickstarter. With just 21 days to go, only £19,360 has been pledged – perhaps explaining why Mr Assange chose to alert WikiLeaks' 2.4 million Twitter followers to the campaign.
According to the Kickstarter page, the statue "is not a simple homage to individuals, but to courage and to the importance of freedom of speech and information". "This is the reason for the empty chair," it continues. "Each of us can climb onto it, however uncomfortable and vulnerable, and change our point of view. The work of art will travel from country to country and offer the opportunity for us to hear each other out and think."
Mr Assange has been living in the Ecuadorian Embassy in Knightsbridge, west London, since seeking asylum in the country in June 2012. He is wanted for questioning in Sweden over alleged sex offences, but he denies any wrongdoing and fears that if he travels there he will be transferred to the US, where he could face 35 years in prison for publishing classified documents through WikiLeaks.
Those who pledge money for the statue will qualify for a range of rewards depending on the depth of their pockets. A £5 donation will earn a "public thank you" on Facebook, £50 will buy an autographed picture of Mr Dormino working on the project and £300 will buy a limited edition t-shirt bearing the statement: "Be courageous because courage is contagious."
The idea for the statue came from Mr Dormino and Charles Glass, an American author, journalist and broadcaster. British journalist Vaughan Smith, with whom Mr Assange stayed while he was on bail in 2010, is organising the Kickstarter campaign.
"I got excited by it because I thought it was some art that suggested, rather appropriately, that these whistleblowers were our true friends rather than the politicians who pretend to be," Mr Smith told The Independent.
"If you look at the statues we do have, they're mostly of people who've done various things during our past in conflict and killed rather a lot of people. I think it's refreshing to have a statue that's perhaps owned by the public a little bit more."
He added that most of the £100,000 for the project would go towards transporting the artwork around the world and that nobody was being paid for taking part. The rest of the money will go towards the statue's creation at a foundry in Pietrasanta, Tuscany.
Mr Dormino faced a difficult decision over how to depict Ms Manning, who was known as Bradley Manning when convicted of espionage for passing classified documents to WikiLeaks. The former soldier will be shown as she appeared "at the time when the facts took place", the organisers wrote in reply to a question on the Kickstarter page. "This is also motivated by the fact that the artist could not get enough portraits of her actual look to make a realistic portrait."
Join our commenting forum
Join thought-provoking conversations, follow other Independent readers and see their replies