Julian Assange: Sweden asks permission to interview WikiLeaks founder in Ecuadorian embassy in 'breakthrough'
Mr Assange has been in the embassy for more than four years after being granted asylum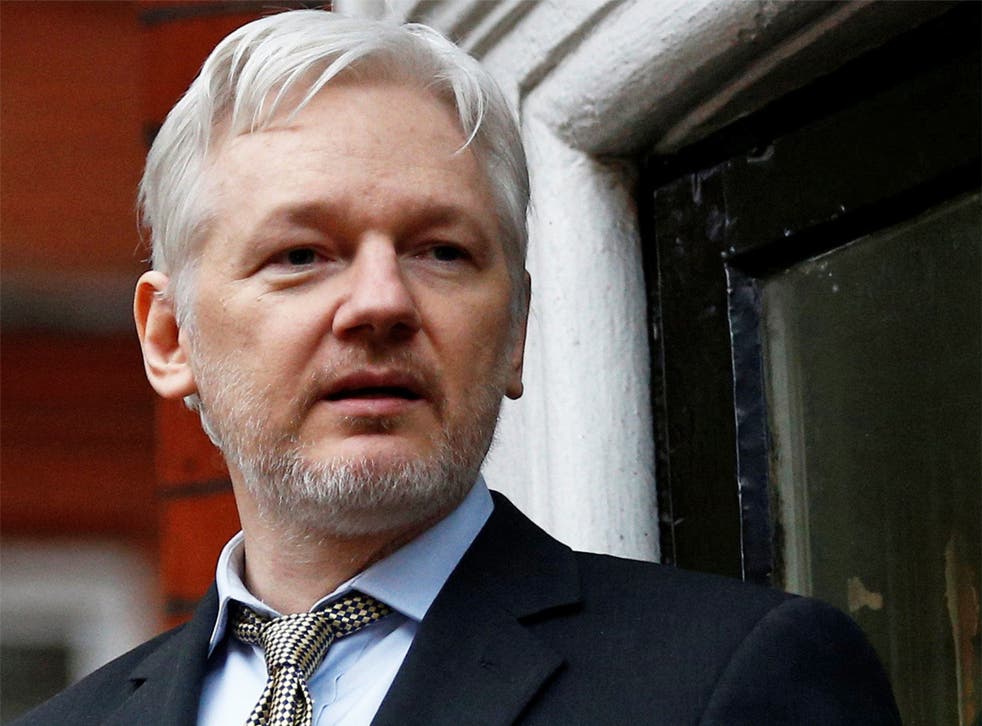 Swedish authorities are attempting to interview Julian Assange inside the Ecuadorian embassy more than four years after the WikiLeaks founder sought asylum in London.
Dr Guillaume Long, the Ecuadorian foreign minister, said a formal request was being considered as investigations continue into an alleged rape in Sweden.
He said the request could be an "important breakthrough", following a meeting with British foreign minister Hugo Swire in London to discuss the case.
Mr Assange has always denied allegations of a sex attack stemming from a working visit he made to the country in 2010, when revelations made by WikiLeaks on the Iraq and Afghanistan wars were reverberating around the world.
He sought refuge at the Ecuadorian embassy in London after the UK attempted to enact a European arrest warrant, saying he feared that Sweden would extradite him to the United States to be investigated over the activities of WikiLeaks.
Mr Assange's lawyers have demanded that he be allowed to leave the embassy, where he has diplomatic asylum, without fear of being arrested after a recent ruling by a UN working group that his confinement amounted to "arbitrary detention" by Sweden and Britain.
The Government disputed the decision and said it was not binding, while the Stockholm District Court has since refused to overturn the arrest warrant on Mr Assange.
In pictures: Julian Assange's 'arbitrary detention'

Show all 14
"The district court finds that there is still probable cause for the suspicion against Julian Assange for rape, less serious incident, and that there is still a risk that he will depart or in some other way evade prosecution or penalty," its ruling said in May.
Dr Long raised the UN case at Monday's meeting but said he was "very disappointed" with Mr Swire's reaction.
"It is very important that the UK should abide by and respect the UN working group's decision," he added.
"It has been somewhat downplayed by the governments of the UK and Sweden, but it should not be.
"This is a very serious body, part of the UN human rights system, and we don't agree that its decisions are not binding.
"In previous cases, the UK has called on countries to act on the group's findings…if Ecuador had a ruling against it, I am sure the UK government would be the first to pressure us to abide by its finding."
The minister said Mr Assange's health had suffered over the past four years, adding that he has been receiving medical treatment and was due to undergo a psychological evaluation.
"He is living in a tiny space, with no outside courtyard - pretty dire conditions for him," he added.
Mr Swire said he wanted to improve Britain's relationship with Ecuador but that he felt "frustration" at the lack of progress in the case.
"Four years after voluntarily entering the Ecuadorean Embassy, Julian Assange remains there, with a European Arrest Warrant in connection with a serious sexual offence allegation still outstanding," he added.
"I personally expressed to Foreign Minister Long my sincere hope that Ecuador will soon facilitate the Swedish Prosecutor's request to interview Mr Assange in the Ecuadorean Embassy in London.
"It is important that this case is finally brought to a close."

Additional reporting by PA
Register for free to continue reading
Registration is a free and easy way to support our truly independent journalism
By registering, you will also enjoy limited access to Premium articles, exclusive newsletters, commenting, and virtual events with our leading journalists
Already have an account? sign in
Register for free to continue reading
Registration is a free and easy way to support our truly independent journalism
By registering, you will also enjoy limited access to Premium articles, exclusive newsletters, commenting, and virtual events with our leading journalists
Already have an account? sign in