Julian Assange: Swedish court upholds arrest warrant for WikiLeaks founder after 'arbitrary detention' finding
The Stockholm district court said there was 'probably suspicion' against Mr Assange
Lizzie Dearden
Wednesday 25 May 2016 10:50 Comments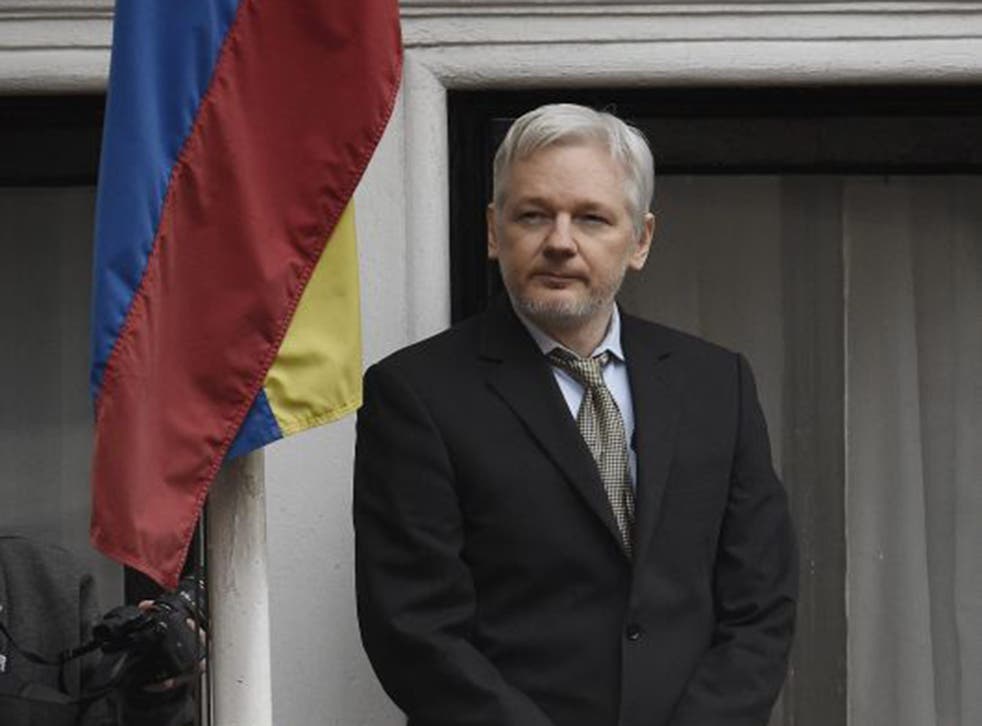 A Swedish court has upheld an arrest warrant for Julian Assange in the wake of a United Nations panel's finding that the WikiLeaks founder was being subjected to "arbitrary detention".
The 44-year-old is wanted by Swedish authorities for questioning over rape allegations dating back to 2010, which he denies.
Mr Assange has been holed up at the Ecuadorian Embassy in London since 2012 in an arrangement condemned by the UN Working Group on Arbitrary Detention (WGAD) in February.
But judges at Stockholm District Court said it does not consider his stay as a form of detention and has asked for aid from embassy officials to carry out questioning.
In pictures: Julian Assange's 'arbitrary detention'

Show all 14
"The district court finds that there is still probable cause for the suspicion against Julian Assange for rape, less serious incident, and that there is still a risk that he will depart or in some other way evade prosecution or penalty," a statement on Wednesday's ruling said.
"The district court finds that the interest of enabling investigation of the crime Julian Assange is suspected of by way of questioning him outweighs the intrusion or harm the detention order causes Julian Assange. There are therefore grounds for Julian Assange to remain detained in absentia."
Following the UN ruling, Mr Assange's lawyers had asked the Stockholm District Court to overturn the warrant for his arrest.
One of his representatives, Thomas Olsson, said the decision may be be appealed.
"As far as I understand it, the court has not addressed the main issue in the case, whether the delay in the investigation is due to the inaction of the prosecutor, which we mean is a reason to overturn this (arrest warrant)," he told Reuters.
Swedish prosecutors want to question the Australian over allegations of rape stemming from a working visit he made to the country in 2010, when revelations made by WikiLeaks on the Iraq and Afghanistan wars were reverberating around the world.
Mr Assange refused to return to Sweden, saying he fears extradition to the United States, where there has been a criminal investigation into the activities of WikiLeaks.
In 2010, the website released more than 90,000 secret documents on the US-led military campaign in Afghanistan, followed by almost 400,000 American military reports detailing operations in Iraq.
Those disclosures were followed by release of millions of diplomatic cables dating back to 1973.
Sweden and the UK have made no move to follow the WGAD's call to immediately end Mr Assange's "deprivation of liberty'' and compensate him.
The UK Government was formally contesting the findings and denied that his "voluntary" stay at the Ecuadorian Embassy constituted arbitrary detention, while Sweden's Prosecution Authority said there was "no impact" on its continuing investigation.
Register for free to continue reading
Registration is a free and easy way to support our truly independent journalism
By registering, you will also enjoy limited access to Premium articles, exclusive newsletters, commenting, and virtual events with our leading journalists
Already have an account? sign in
Join our new commenting forum
Join thought-provoking conversations, follow other Independent readers and see their replies