Julie Wilson: Broadway star and sultry cabaret singer known for her spine-tingling takes on Porter, Weill and Gershwin
Her husky tones were perfectly suited to the world of cabaret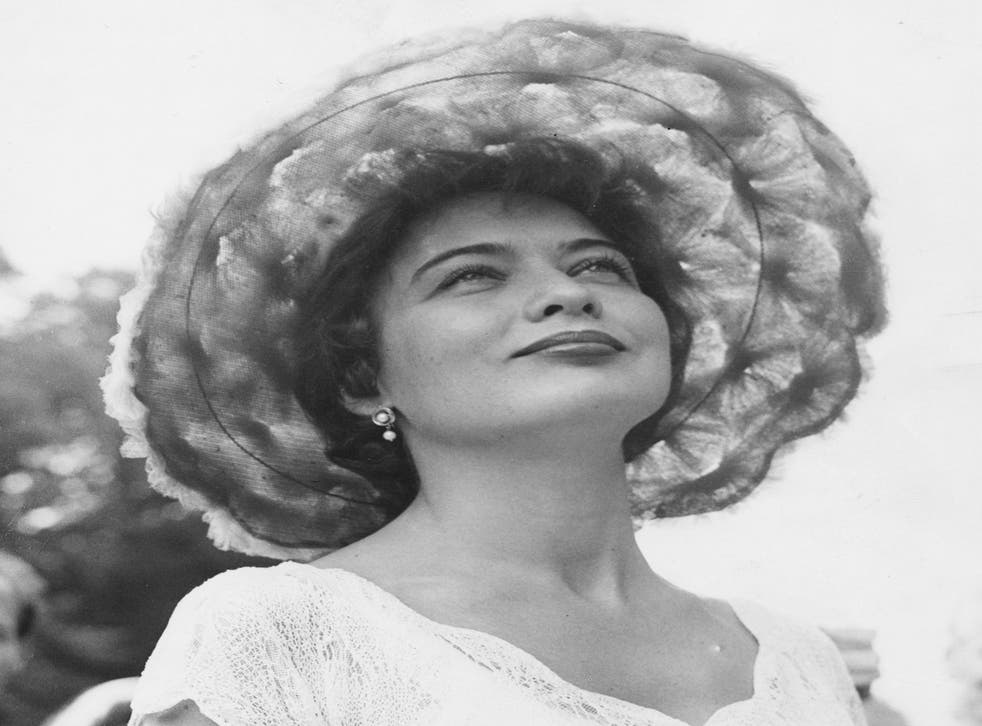 One of the greatest of artistes purveying the art of saloon singing, Julie Wilson was dubbed "The Queen of Cabaret" for her distinctive song stylings and respect for lyrics, focusing on such diverse composers as Kurt Weill and Stephen Sondheim – as well as such masters as Jerome Kern, Rodgers and Hart, the Gershwins and, in particular, Cole Porter. She delighted in mixing such Porter standards as "What Is This Thing Called Love?" with lesser known, often cheeky gems like "Most Gentlemen Don't Like Love".
Her husky tones were perfectly suited to the world of cabaret, where she evoked an earlier legend, Mabel Mercer. Heavily influenced in her youth by Billie Holiday (she wore a gardenia in honour of her idol), she was aware that she had limited range, stating, "I don't have a great voice, but I love songs." She had a diverse career in the theatre, notably playing in the London company of Kiss Me, Kate; but it is for her years in cabaret that she will be remembered.
The daughter of a coal merchant and a hairdresser, she was born Julia Mary Wilson in Omaha, Nebraska, and later described herself as a full-blooded American, a "down-home gal" who, when appearing in New York, took the subway every night to her home in New Jersey. Veteran theatre-goers will recall her stopping the show nightly at the London Coliseum in Kiss Me, Kate (1951), singing Cole Porter's "Always True to You In My Fashion".
Perhaps even better than that classic rouser was her rendition of another standard she handled in the show, the gorgeous "Why Can't You Behave?". Wilson's is still the definitive version, her wry but wistful tones encapsulating the tough Broadway babe in love with the wrong man and plaintively pipe-dreaming of settling down on a farm.
Her performance was the start of a love affair with London. She succeeded Mary Martin in the Drury Lane production of South Pacific, proving a tougher but still vulnerable Nellie Forbush, and a role was written specially for her in the musical Bet Your Life (1952), co-starring Arthur Askey and Sally Ann Howes. Alan Melville wrote the show's book and lyrics, with music by Kenneth Leslie Smith and Charles Zwar, and they gave Wilson a show-stopper with the belting "I Want a Great Big Hunk of Male", but the vulnerability was allowed to surface in a tender ballad she shared with Howes, "All on Account of a Guy".
Her preparation for stardom had started a decade earlier, when, having sung with local bands, she successfully auditioned for a touring version of Earl Carroll Vanities. She made her Broadway debut in the chorus of Three to Make Ready (1946), a revue starring Ray Bolger. She then became a production singer at the Copacabana in Manhattan, where, in 1946, she introduced Bob Hilliard and Dick Miles' "The Coffee Song", the number (also known as "They've Got an Awful Lot of Coffee in Brazil') which gave Frank Sinatra his first million-selling disc.
After a spell as a vocalist with Johnny Long's band, she made her cabaret breakthrough with a record-breaking 29-week run at La Maisonette at the St Regis Hotel, where she established her trademark white gardenia and fabulous beaded gowns, sometimes complemented by a feather boa, and where she would make seasonal returns for 15 years.
She was appearing in cabaret in Hollywood's Mocambo when she was seen by Cole Porter, who offered her the part of Bianca in the London version of Kiss Me, Kate.
In 1954 she was studying at the Royal Academy of Dramatic Art when she turned down the leading role in the original Broadway production of The Pajama Game, preferring to continue her studies; but after she returned to the US, she succeeded Janis Paige in the show. She also succeeded Joan Diener in Kismet.
Her television appearances included a version of Kiss Me, Kate (the kinescope of which preserves her scintillating portrayal), and an episode of Bilko! In Hollywood, in 1957, she was a memorably ditzy Southern belle in the cult movie The Strange One, and she was typecast as a nightclub singer in This Could Be the Night, starring Jean Simmons.
Nevertheless, cabaret was becoming the dominant area of her work, and she made notable appearances in such venues as The Russian Tea Room and the famed Oak Room of the Algonquin Hotel. Though she returned occasionally to the Broadway theatre, she was invariably superior to her material. In Jimmy (1969), a weak biography of Mayor Jimmy Walker (she played his wife), her delivery of "I Only Wanna Laugh" was cited as the high spot of the show; and in Peter Allen's overproduced Legs Diamond (1988) her performance as the owner of a speakeasy won a Tony nomination.
In 1976 Wilson retired to raise her two sons (she was married and divorced three times), but she returned eight years later to headline at Michael's Pub in New York, where she was acclaimed as one of the finest cabaret stars of our time. If her voice had lost a little range, her scope had widened, her approach had gained a new, fiercer conviction, and the abrasive edge to her smoky tones made her second only to Lotte Lenya as an interpreter of Kurt Weill's insinuatingly edgy melodies and second to none in her reading of lyrics. Porter, Hart and Ira Gershwin have never had a finer interpreter – for whether conveying heartbreak or humour, she gave spine-tingling expression to her material.
Julie Wilson, singer: born Omaha, Nebraska 21 October 1924; married three times (two sons); died Manhattan, New York 5 April 2015.
Register for free to continue reading
Registration is a free and easy way to support our truly independent journalism
By registering, you will also enjoy limited access to Premium articles, exclusive newsletters, commenting, and virtual events with our leading journalists
Already have an account? sign in
Register for free to continue reading
Registration is a free and easy way to support our truly independent journalism
By registering, you will also enjoy limited access to Premium articles, exclusive newsletters, commenting, and virtual events with our leading journalists
Already have an account? sign in
Join our new commenting forum
Join thought-provoking conversations, follow other Independent readers and see their replies