Julien Blanc 'apology' rejected by campaigner: 'He's sorry that he got caught, not because he realizes what he did was wrong'
Jennifer Li said the 'pick-up artist's' display of regret seemed insincere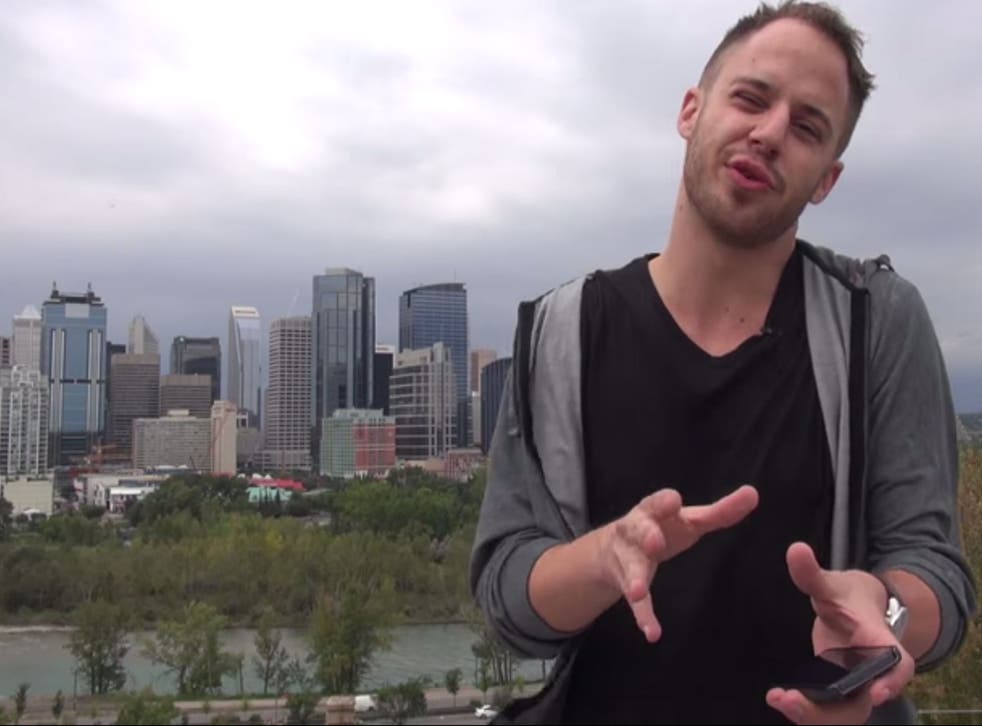 The young woman who started the Take Down Julien Blanc campaign has rejected the "pick-up artist's" apology, saying it "rings incredibly hollow".
Jennifer Li said Blanc's display of regret during a CNN interview was "full of s**t" and that he appeared to be just going through the motions.
She told The Independent: "I do not accept Julien Blanc's apology, because it rings incredibly hollow. There is no sincerity in it; he is sorry that he got caught, not because he realizes what he did was wrong.
"The fact that he has written all of it off as a "bad joke" shows that he does not understand or see any of what he did as wrong. It's frankly, full of s**t."
Blanc, whose paid dating seminars "teach" men to attract women, told interviewer Chris Cuomo: "I'd like to apologise to anyone I've offended in any way. It was never my intention and I just want to put it out there. I'm extremely sorry for everything that happened."
Blanc had been scheduled to tour Australia until December but his visa was cancelled following protests over his "techniques", which suggest men harass and abuse women - including by choking them.
In a video of him at a Japanese event he tells an audience: "At least in Tokyo, if you're a white male, you can do what you want. I'm just romping through the streets, just grabbing girls' heads, just like, head, pfft on the dick. Head, on the d**k, yelling, 'pikachu'." He then demonstrates with a female member of the public.
But Blanc maintained that he did not teach men to choke women, describing a picture showing him with his hand around a woman's neck as a "horrible, horrible attempt at humour" that had been "taken out of context in a way".
Responding to this, Li said: "How can he claim 'does not teach this in classes,' when the original video that sparked this movement and my outrage was a video of him literally teaching men that it is okay to grab women's faces and stick them in his crotch?"
Li's online petition has so far amassed over 50,000 signatures. There are now also campaigns to keep Blanc out of Canada, as well as Brazil and Japan. In the UK Home Secretary Teresa May is facing increasing pressure to prevent him entering the country. A petition calling for him to be denied a visa has been signed by over 157,000 people.
However, Li conceded the problem is more widespread. "I don't have the answer on how to combat pick up artists, but I would caution women to recognize their patterns and techniques, and to keep away from them," she said.
"I also urge men to not look to groups like RSD and other pick up artists as channels for self-improvement. It is a very toxic environment, and advocates unhealthy behaviour at best, and spreads misogynistic, destructive, abusive, and illegal behaviours, at worst."
She added: "This campaign has been very fulfilling, but it has not come without its risks. They are digging up my personal information, and frankly, that does scare me. If I could do it all over again, I would, but I would not have put my name and face out there. I didn't know it would blow up as big as it has.
"I'm one pissed off Asian chick running a campaign backed by a need for accountability and anger, not money. They're a multimillion dollar company. I'm glad that his campaign has inspired change. The reaction to this has made me hopeful and relieved that these types of actions are not condoned by our society."
Register for free to continue reading
Registration is a free and easy way to support our truly independent journalism
By registering, you will also enjoy limited access to Premium articles, exclusive newsletters, commenting, and virtual events with our leading journalists
Already have an account? sign in
Register for free to continue reading
Registration is a free and easy way to support our truly independent journalism
By registering, you will also enjoy limited access to Premium articles, exclusive newsletters, commenting, and virtual events with our leading journalists
Already have an account? sign in
Join our new commenting forum
Join thought-provoking conversations, follow other Independent readers and see their replies