Justin Trudeau just made his comic book debut in Marvel's Civil War
*Minor spoilers ahead*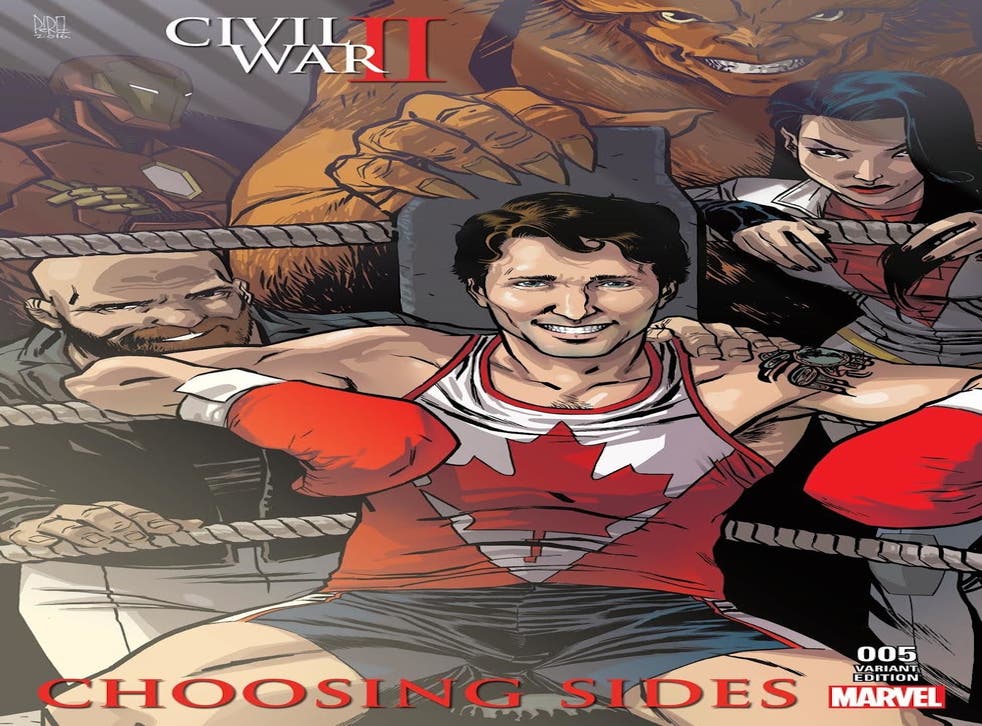 Canadian Prime Minister Justin Trudeau made his comic book debut on Wednesday in the latest issue of Marvel's Civil War II: Choosing Sides.
Lounging in his corner of the boxing ring, Trudeau rocks Canadian Maple-Leaf gear with red boxing gloves and black shorts on the comic's cover image. The prime minister joins the Canadian superhero team Alpha Flight, with the likes of Sasquatch, Aurora, and Puck.
"I was going for a little bit of, I guess, a little bit of attitude, a little bit of smugness, like you don't know if he's already been boxing for a little bit and he's going back in, or he's just starting out and gearing himself up," Ramon Perez, the comic's cartoonist, told NPR. He says that his depictions originally included a shirtless Trudeau, but Marvel decided the images were a bit too risqué.
"And then about two weeks or three weeks ago, Justin's popping up in media topless, here and there, camping with his family and stuff like that," Perez said in the interview. "And I'm like, there you go, we could have had him topless."
A Sneak Peak At Justin Trudeau's Marvel Debut

Show all 4
His late father Pierre also made an appearance in 1979 in Marvel's Uncanny X-Men series.
"I didn't want this to just be like a walk-on rescued by superheroes and he thanks them and that's the end of the story," writer Chip Zdarsky recently told CBC.
"I think a lot of these real-life appearances in comics tend to go that way. I liked the idea of him actually engaging them in an ethical debate. It's a little tricky just because once you start to put words in the prime minister's mouth, we acknowledge that this is basically Trudeau fan fiction."