Justin Trudeau: The rise of the feminist and pro-choice Canadian Prime Minister who wants to legalise marijuana 'right away'
Trudeau's Liberal party won the election on Monday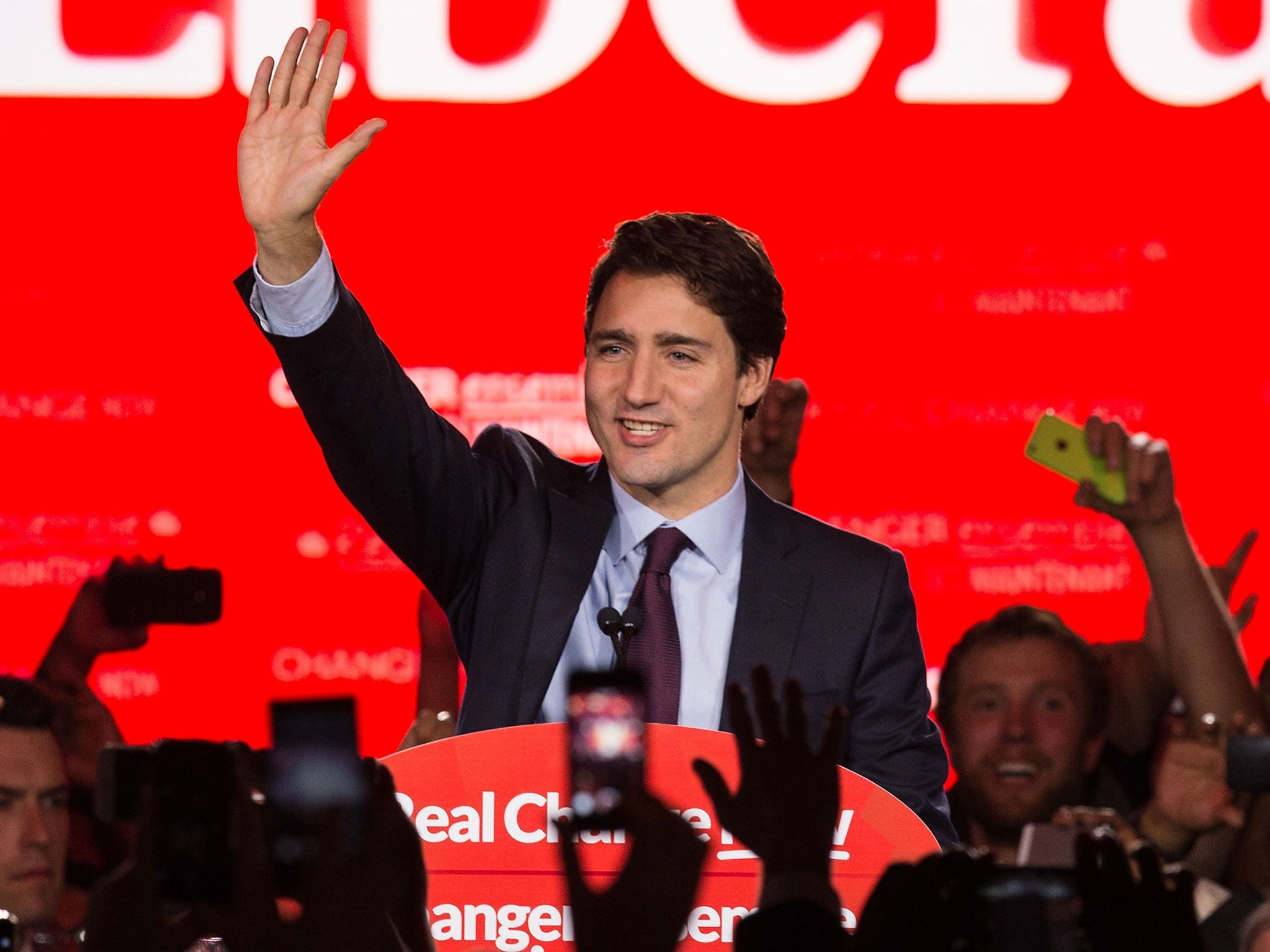 Justin Trudeau is about to become the Prime Minister of Canada after the Liberal party stormed to victory in the federal election on Monday.
The son of the late former prime minister Pierre Trudeau, he was born during his father's first term in office, prompting the "born to lead" headlines dominating the news agenda on Tuesday.
At 43, he is the second youngest prime minister to serve Canada and considerably younger than the leaders of opposing parties. He is the first son or daughter of a prime minister to follow their parent back into office.
Justin Trudeau: Canada's next Prime Minister
Show all 5
His life before politics
After growing up in the public eye, Trudeau retreated from politics as a young adult and studied English and French literature at McGill University in Montreal. He went on to become a teacher in Vancouver and acted in the CBC mini-series The Great War, playing the protaganist, Talbot Mercer Papineau.
The death of his brother Michel in 1998 and the moving eulogy he gave at his father's funeral in 2000 brought him back into the spotlight. Trudeau began taking steps towards a political career after this and was elected as an MP for Papineau in 2008. He became the leader of the Liberal party in 2013.
Liberals unseat Conservatives in Canada election
His political trajectory was reportedly predicted by the US President Richard Nixon, who told a gala dinner in Ottawa in 1972: "Tonight we'll dispense with the formalities. I'd like to toast the future prime minister of Canada: to Justin Pierre Trudeau."
On being the son of a prime minister
"Dealing with being my father's son isn't something that I suddenly had to get my mind around as I showed up in this place as an MP [...] it's been something that's been with me all my life," he told Reuters in January. "It's what I put out there that actually matters."
Personal life
Trudeau is married to Sophie Grégoire, a former TV host, and has three young children. He repeatedly decided against running for leadership until 2012, often saying he wanted to focus on his wife and children. When he did eventually run, he put family at the centre of his campaign and regularly shared pictures of Ms Grégoire and their children in the weeks leading up to the election.
Feminism
Unlike a number of actors, singers, politicians and high profile figures lately, Trudeau has not shied away from associating himself with the term 'feminist'.
"My mom raised me to be a feminist. My father raised me, he was a different generation but he raised me to respect and defend everyone's rights, and I deeply grounded my own identity in that, and I am proud to say that I am a feminist," he said during the Up for Debate event in September.
"The things we see online, whether it is issues like gamergate or video games misogyny in popular culture, it is something that we need to stand clearly against."
Marijuana
One of the first things Mr Trudeau has pledged to do is take steps "right away" towards legalising marijuana under a similar system to the one deployed in Colorado.
Refugees
Trudeau has promised to accept up to 25,000 Syrian refugees - 15,000 more than the target put forward by the Conservatives.
Abortion
Trudeau is pro-choice and his party's stance on this issue saw him targeted in an anti-abortion group's flyer campaign, who said a vote for Trudeau was a "vote for this" above a picture of an aborted foetus.
He was unfazed by the flyers, telling reporters in May: "I am perfectly comfortable with Canadians knowing that the Liberal Party is unequivocal in its defence of women's rights. We are the party of the Charter. We are the party that stands up for people's rights. We will continue to do so."
Join our commenting forum
Join thought-provoking conversations, follow other Independent readers and see their replies