Kanye West and Kim Kardashian embarrassed at TIME 100 gala after actress Amy Schumer prank falls at couple's feet
The apparently influential pair barely flinched when the incident occurred on the red carpet as they made their way into the event in New York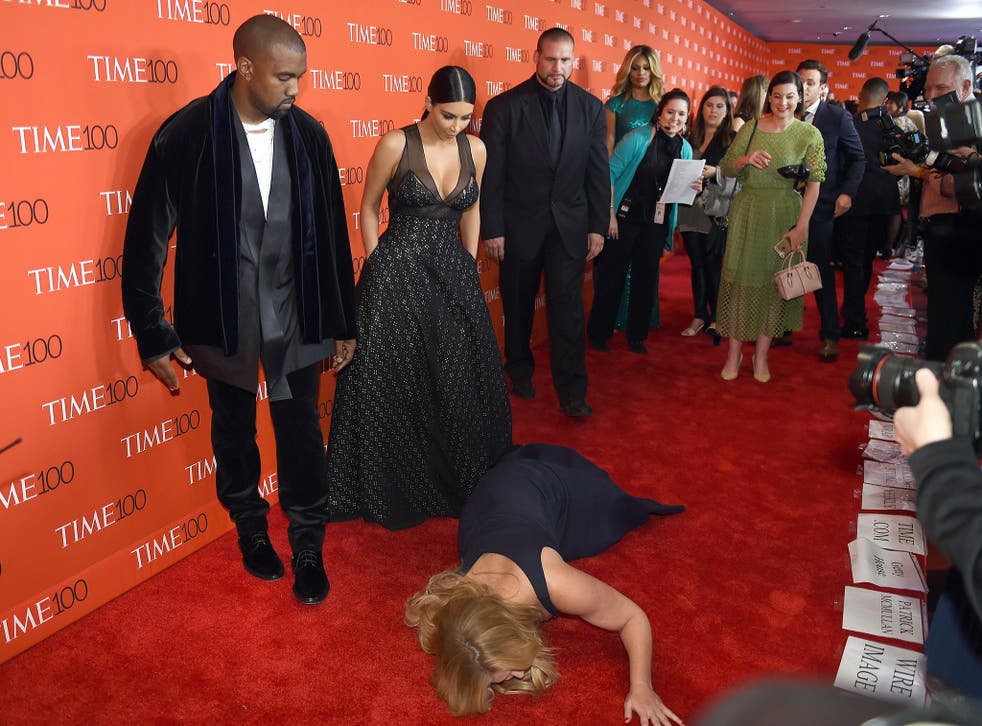 How would one of TIME 100's most influential power couple respond to an actress literally throwing herself at their feet?
The answer: they wouldn't. They'd barely register the fall, robotically pivot and drift gormlessly down the line of waiting photographers as if nothing had happened.
Probably not quite the rise comedienne Amy Schumer was hoping to achieve when she flung herself on the red carpet in front of Kim Kardashian and Kanye West at the annual Gala in New York on Tuesday night.
Quickly revived, Schumer managed to pick herself up for long enough to pose with Bradley Cooper, while honoree Laverne Cox tittered away in the background.
The only one of the Kardashian-West entourage who looked mildly amused by the spectacle was Kardashian's bodyguard Pascal Duvier, who could be seen chuckling on the sidelines.
West is one of five cover stars chosen to front the prestigious annual list of the most influential people in the world.
"Kanye West would be the first person to tell you he belongs on this list," an honorary essay about the rapper, written by entrepreneur Elon Musk, reads. "The dude doesn't believe in false modesty, and he shouldn't. Kanye's belief in himself and his incredible tenacity - he performed his first single with his jaw wired shut - got him to where he is today.
Kanye West's greatest self comparisons

Show all 12
"And he fought for his place in the cultural pantheon with a purpose."
Other prominent figures to write odes to placewinners include Taylor Swift for Ina Garten, Jill Abramson for Emma Watson, Jamie Lee Curtis for Marie Kondon, and Hillary Clinton for Elizabeth Warren.
Join our new commenting forum
Join thought-provoking conversations, follow other Independent readers and see their replies