Kanye West compares paparazzi attention to rape
Singer described having photographers approach him when he is 'not feeling so good' as similar to 'rape' and 'a violation'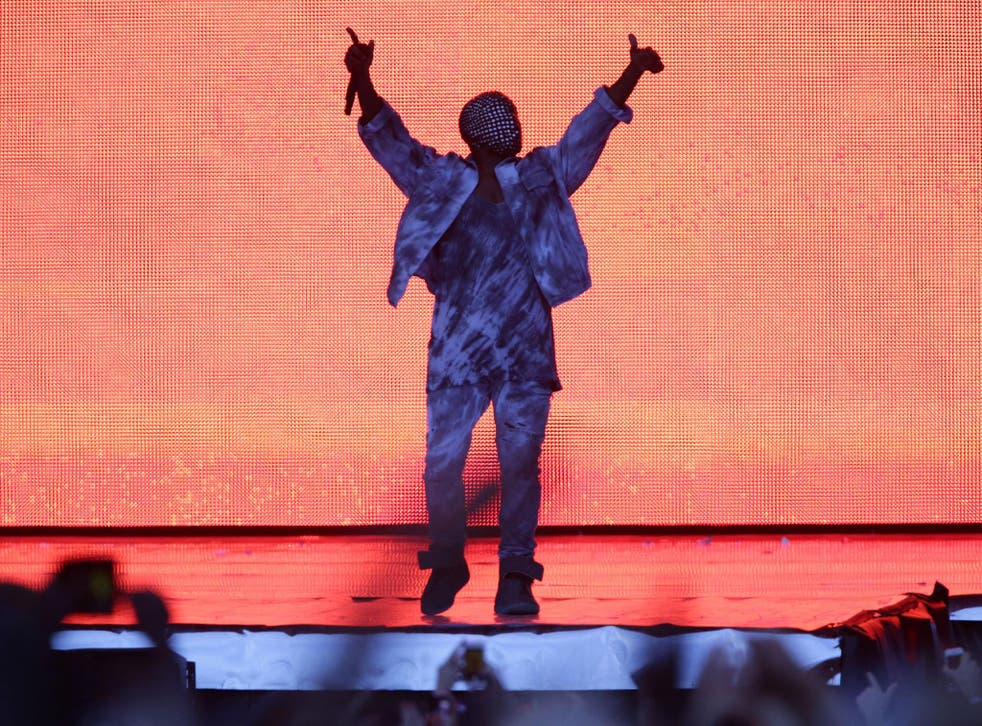 Kanye West has angered fans at the Wireless festival in London by embarking on a 20-minute rant in which he compared photographers' intrusion into his life to "rape".
The singer, brought in as cover after the Canadian rapper Drake was taken ill, received loud boos as he stopped performing to talk about himself, often in the third person, as being a both "shy" and "arrogant" person.
It came during a performance which reportedly got off to a strong start, as West played snippets of various Drake hits, saying: "My homeboy [Drake] can't be here but we still gotta rep for him tonight."
But festival-goers became increasingly disgruntled when the song Runaway broke down into one of the singer's now-infamous rants to keyboard accompaniment.
Though the crowd's response was mixed, there were reportedly boos, chants of "We want Drake!" and people leaving by the time his "speech" approached the 20-minute mark.
For much of the rant West discussed the fact that he was sentenced to two years' probation following a fight with paparazzi photographer Daniel Ramos in 2013, saying that he had been made out to appear "crazy". He said his reaction was like that of "a porcupine or a blowfish when they're angry".
Kanye West's greatest self comparisons

Show all 12
Discussing his concern for fellow star Britney Spears and the treatment she received at the hands of press photographers, West said: "I don't care what you do in life, everybody needs a day off, everybody has the right to say, 'You know what, I need a minute to breathe'.
"I want to bring my family to the movies without 30 motherf*****s following me. Everybody here, they like sex right? Sex is great when you and your partner are like, 'Hey, this is what we both want to do'.
"But if one of those people don't want to do that, what is that called? That's called rape. That is called violation.
"So if I walk around and say look sir, I'm not feeling so good today, I need some space, can you please not fuck with me today? I need cut-off space, not violation."
The musician, who is married to reality TV star Kim Kardashian, also admitted the intrusion of the paparazzi has left him worried for his daughter North West's future.
"I want my daughter to have that opportunity to decide whether she wants to be famous or not. I think to myself, what the f*** am I going to do, how can I change it and how can I give my daughter her childhood?"
West said that he would "stop every paparazzi one by one" if he wasn't on probation, adding: "One week I told a paparazzi, 'Stop talking to me - I might be thinking of something like a new stage show, a new design. You want to shove a camera in my face, you just f***** up my whole trail of thought."
West wore a beaded silver mask over his face for the majority of his performance, and after his rant played a number of hits from his 2013 album Yeezus to an increasingly appreciative 40,000-strong audience in north London's Finsbury Park.
His main stage set was preceded by Hackney four-piece Rudimental, Azealia Banks and Labrinth on the second of three days at the festival.
Bruno Mars, Robin Thicke, Salt-N-Pepper, Ellie Goulding and Naughty Boy will perform tonight on the final day of the London leg, while West will be headlining Birmingham.
Register for free to continue reading
Registration is a free and easy way to support our truly independent journalism
By registering, you will also enjoy limited access to Premium articles, exclusive newsletters, commenting, and virtual events with our leading journalists
Already have an account? sign in
Register for free to continue reading
Registration is a free and easy way to support our truly independent journalism
By registering, you will also enjoy limited access to Premium articles, exclusive newsletters, commenting, and virtual events with our leading journalists
Already have an account? sign in
Join our new commenting forum
Join thought-provoking conversations, follow other Independent readers and see their replies