Kat Von D says she will 'never apologise' for Underage Red lipstick amid criticism name promotes sexualisation of teens
Tattoo artist claims name is a nod to 'feminine rebellion'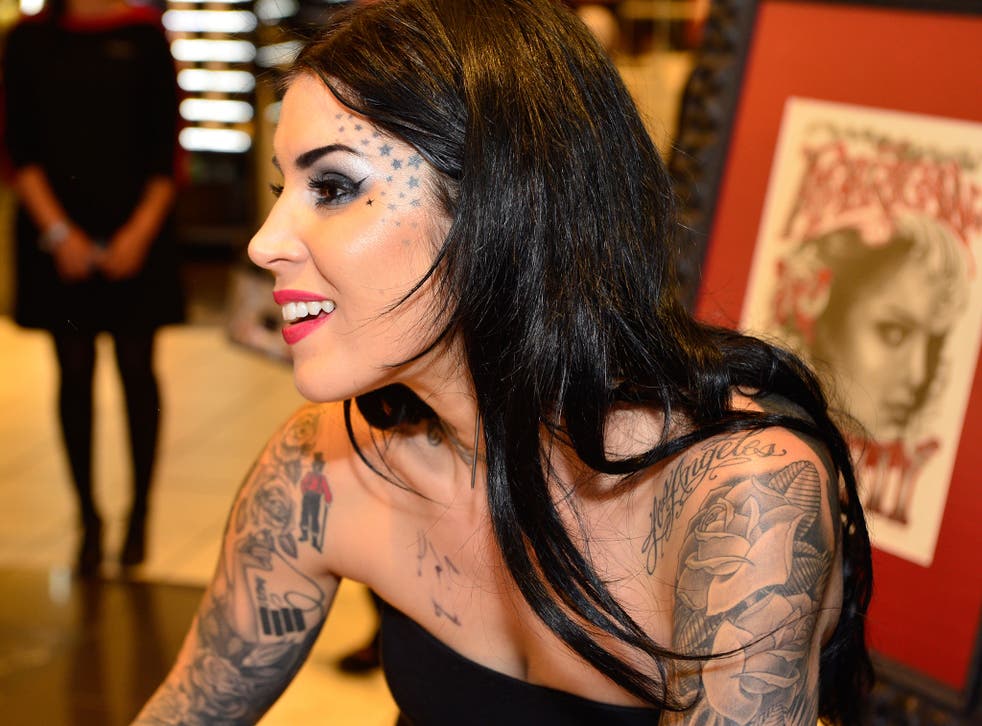 Kat Von D has blasted criticism that a lipstick from her makeup line named 'Underage Red' promotes the sexualisation of young teenagers, claiming the controversial name is instead an allusion to "feminine rebellion".
The tattoo artist and model said she would never apologise for the name or pull the lipstick from her cosmetic collection, which is sold exclusively to Sephora.
Von D insisted it has never been her aim to "inspire sexualisation of any sort", or "promote a destructive lifestyle" in a Facebook post challenging her critics.
Explaining her reasons for choosing the name, she wrote: "'Underage Red' was one out of four lipstick shades that I released at the very start of the makeup line, seven years ago. It [was] launched, alongside three other variation of red shades: 'Hellbent,' 'Misfit,' and 'Lolita'.
"Out of those four shades, 'Underage Red' was the matte, borderline-neon, fire-engine red.
30 Tattoo Icons by Cheyenne Randall

Show all 30
"I clearly remember wearing a variation of this shade when I was 16 years old. I also remember the feeling of wanting so badly to go see a specific concert at this age, and not being able to get in to the venue because I was underage. Back then, I was already deeply in love with punk rock music, and although in the eyes of many (including my parents), it may have been inappropriate for me to be wearing lipstick. But I did.
"'Underage Red' is not a girly, pink shade. It is not a sophisticated, deep red either. It is an unapologetic, bold red. To me, 'Underage Red' is feminine rebellion.
"Anyone who knows or follows me, is very aware of my personal lifestyle choices which include celibacy, sobriety, conscious living and [above feminism], human rights. Although, I would never force my views and opinions onto others, I most definitely find it offensive being accused of the opposite.
"These wild, and horrific accusations proclaiming that any aspect of my makeup line would ever promote the degradation of women, statutory rape, sexual behaviour, human trafficking, underage drinking, or even idealization of fleeting youth, goes against everything I stand for."
Von D also claimed anyone who read the name and "automatically jump[ed] to a disgusting conclusion" should instead question how they arrived there.
Register for free to continue reading
Registration is a free and easy way to support our truly independent journalism
By registering, you will also enjoy limited access to Premium articles, exclusive newsletters, commenting, and virtual events with our leading journalists
Already have an account? sign in
Register for free to continue reading
Registration is a free and easy way to support our truly independent journalism
By registering, you will also enjoy limited access to Premium articles, exclusive newsletters, commenting, and virtual events with our leading journalists
Already have an account? sign in
Join our new commenting forum
Join thought-provoking conversations, follow other Independent readers and see their replies