Kayla Mueller: Aid worker and peace campaigner who worked in East Jerusalem before being held hostage by Isis in Syria
Mueller died, according to her captors, in an airstrike by the Jordanian air force on the city of Raqqa in Syria, though US authorities disputed this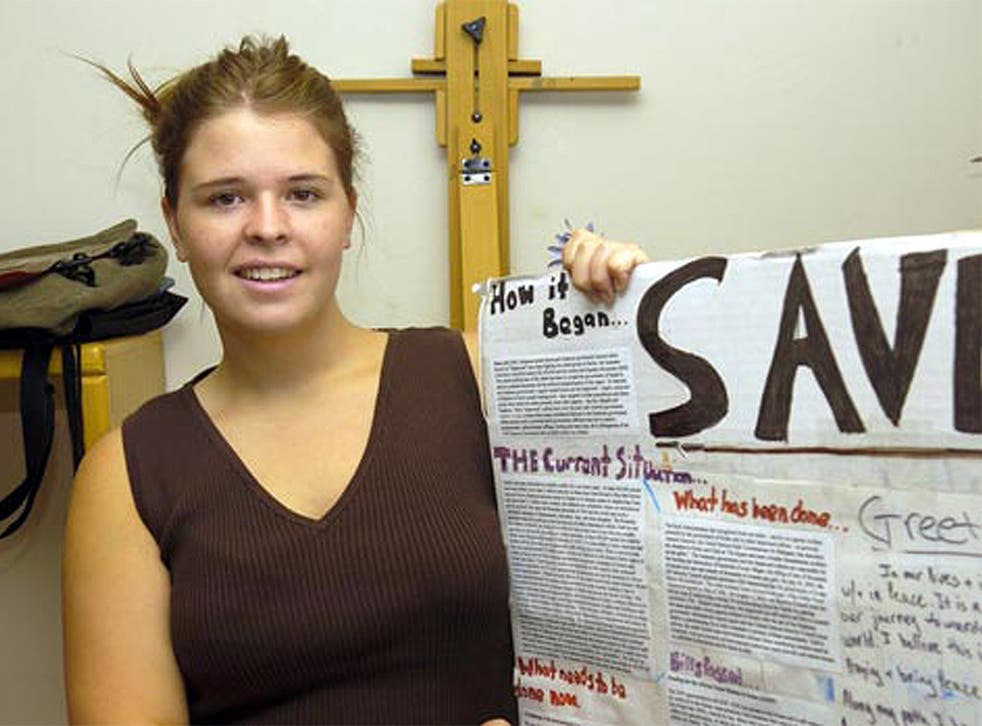 Kayla Mueller was a passionate and committed campaigner and aid worker whose life's mission was to help those less fortunate than herself. Aged 26, she was the last American hostage known to be held by the group called Islamic State of Iraq and the Levant, or Isis. She died, according to her captors, in an airstrike by the Jordanian air force on the city of Raqqa in Syria, though US authorities disputed this.
Mueller was born in Prescott, Arizona and attended the city's Tri-city College Prep High School, where her activism first blossomed, in the form of a demonstration calling for help for the people of Darfur and a presentation to students showing how overseas aid work makes a difference. She went on to Northern Arizona University, from which she graduated in 2009.
She spent the summer of 2010 volunteering for the International Solidarity Movement (ISM), living with a family in the Sheikh Jarrah area of East Jerusalem, hoping, according to ISM, "to try and prevent the takeover of their home by Israeli settlers". Seven years earlier an ISM volunteer, Rachel Corrie, had been killed trying to stop a bulldozer from destroying a Palestinian-owned building.
Aware of the danger of her own situation, Mueller wrote in a blog post, "How can I ignore the blessing of freedom of speech when I know that people I deeply care for can be shot dead for it? I could tell a few stories about sleeping in front of half-demolished buildings waiting for the one night when the bulldozers come to finish them off; fearing sleep because you don't know what could wake you..."
In a video from October 2011 for an online demonstration, Mueller stated: "I am in solidarity with the Syrian people, I declare my participation in the Syrian Sit-in on YouTube." She resolved to turn solidarity into action and travelled to the Turkish-Syrian border in December 2012, where she worked as a consultant with the Turkish aid organisation Hayata Destek (Support to Life) and the Danish Refugee Council.
On a visit home in May the following year she spoke to the Prescott Kiwanis Club, of which her father is a member, about her work in Syria. She recounted how she had helped a distraught man become reunited with a six-year-old relative who had been missing, in a refugee camp after a bombing. "This story is not rare in Syria," Mueller said. "This is the reality for Syrians two and a half years on. When Syrians hear I'm an American, they ask, 'Where is the world?' All I can do is cry with them, because I don't know."
On 4 August 2013, a few days before her 25th birthday, Mueller had journeyed to Aleppo in Syria to visit a hospital run by Médecins Sans Frontières. She was travelling in a car which was forced off the road and was abducted by Isis members. The organisation had demanded a ransom of $6.6 million and held her at a number of different locations, most recently in Raqqa.
In a letter to her family last spring, whose contents have only recently been revealed, she wrote that she was "completely unharmed and healthy" and was being "treated with the utmost respect and kindness". Describing her time in captivity she said, "I have been shown in darkness, light and have learned that even in prison, one can be free. I am grateful. I have come to see that there is good in every situation, sometimes we just have to look for it..." Later in the letter she reflected on her relationship with her family: "I have had many hours to think how only in your absence have I finally at 25 years old come to realize your place in my life."
Her fellow prisoner, Nicolas Henin, was freed last April following negotiations between Isis and the French government. President Obama revealed this week that an attempt to rescue American hostages had been made last year but was unsuccessful.
During December Isis forces captured a Royal Jordanian Air Force pilot, Muath al-Kasasbeh, whose F-16 jet crashed during bombing raids. He was burned to death last month. When a video of the immolation emerged in early February, Jordan launched a retaliatory attack on the city of Raqqa, with the purpose of destroying the group's base and ammunition supplies. It was possibly in this attack that Mueller died.
Her parents, Carl and Marsha Mueller, spoke of her as a "compassionate and devoted humanitarian" who "dedicated the whole of her young life to helping those in need of freedom, justice, and peace." They continued, "We are so proud of the person Kayla was and the work that she did while she was here with us. She lived with purpose, and we will work every day to honour her legacy.
"We remain heartbroken, also, for the families of the other captives who did not make it home safely and who remain in our thoughts and prayers. We pray for a peaceful resolution of the conflict in Syria."
MARCUS WILLIAMSON
Kayla Jean Mueller, campaigner and aid worker: born Prescott, Arizona 14 August 1988; died c. 6 February 2015.
Register for free to continue reading
Registration is a free and easy way to support our truly independent journalism
By registering, you will also enjoy limited access to Premium articles, exclusive newsletters, commenting, and virtual events with our leading journalists
Already have an account? sign in
Register for free to continue reading
Registration is a free and easy way to support our truly independent journalism
By registering, you will also enjoy limited access to Premium articles, exclusive newsletters, commenting, and virtual events with our leading journalists
Already have an account? sign in
Join our new commenting forum
Join thought-provoking conversations, follow other Independent readers and see their replies