Keith Vaz broke no laws and should not resign over 'sensationalist tabloid style sting of the 1980s', argues Peter Tatchell
'As far as I can see he has not broken any laws, or caused anyone any harm,' says the human rights campaigner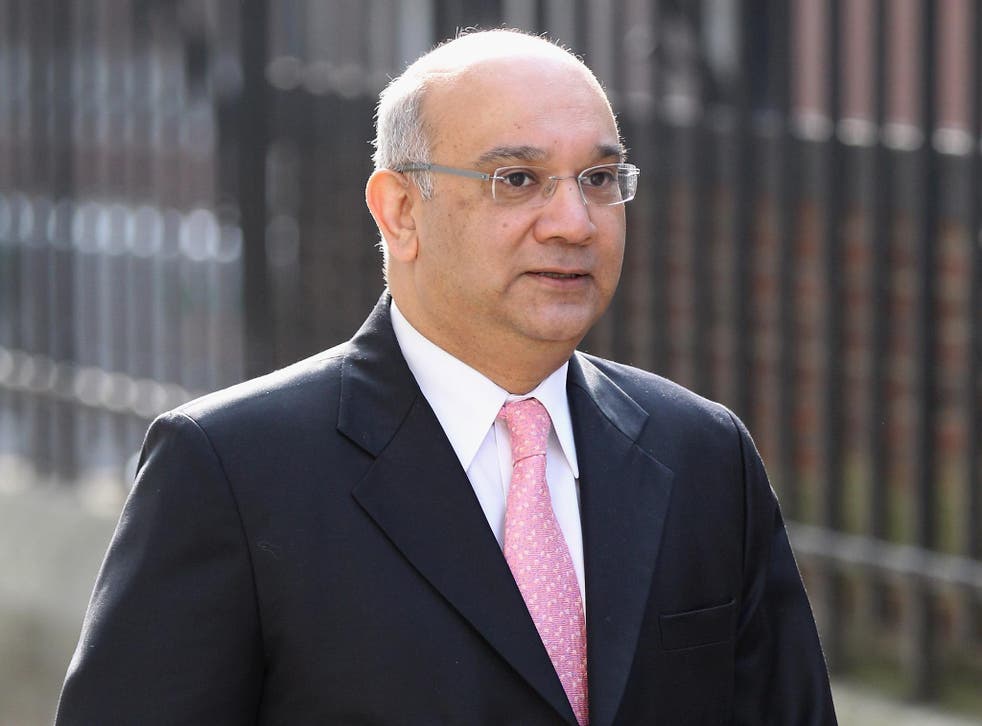 Peter Tatchell has said the Labour MP Keith Vaz has "not broken any laws" and should not resign from his position as chairman of the Commons Home Affairs Committee.
Mr Vaz, the MP for Leicester East, is facing mounting pressure to resign following allegations he paid for the services of two male escorts at his London flat.
The Sunday Mirror reported the married father-of-two met two Eastern European escorts at his property in north London and boasted about having unprotected sex. The 59-year-old allegedly offered to cover the cost of cocaine if it were brought to the flat but refused to have any himself during the encounter.
According to the paper, Mr Vaz asked one of the men in a text message sent before the meeting to bring poppers, the sex-enhancing legal high drug used by gay men, to the meeting.
People news in pictures

Show all 18
Tatchell, a human rights and LGBT campaigner, said he could not see any public interest in infringing upon Mr Vaz' privacy and publishing the story because there was no allegation of hypocrisy.
"As far as I can see he has not broken any laws, or caused anyone any harm and there's no allegation of hypocrisy, buying sex in this country is lawful," Tatchell told Radio 4's Today Programme on Monday.
"Keith Vaz has a strong record of supporting gay rights. He has never gone tub-thumping in terms of supporting family values so what is the public interest in publishing this story".
Keith Vaz stands down as Home Affairs Select Committee chairman
"Whatever you think about Keith Vaz behaviour and some people might take the view that it was irresponsible and wrong, I don't think it's a resigning matter. I don't think there is a serious conflict of interest there".
Tatchell argued Mr Vaz had always supported the decriminalisation of sex work and the efforts of gay rights and had therefore displayed no "double standards" in his actions.
He also suggested the politician may have been entrapped by the paper and argued it appeared to be a "classic tabloid sting".
"It's a throwback to the sensationalist tabloid style of the 1980s. It's not something you'd expect to see in 2016".
In a statement released after the allegations emerged, Mr Vaz claimed he was the victim of a "deeply disturbing" newspaper sting operation and would be referring the allegations to his solicitor. He issued an apology for his actions and indicated he would inform the Commons Home Affairs Committee whether he plans to resign on Tuesday.
Although a number of reports suggest Mr Vaz is expected to stand down as a committee chair they have yet to be confirmed.
The Home Affairs Select Committee is currently overseeing an inquiry into prostitution laws. An interim report published in July recommended significant changes to existing laws so that soliciting and brothel-keeping are decriminalised.
A spokesperson for The Sunday Mirror told The Independent they "stood by the story".
Mr Vaz' statement in full:
"It is deeply troubling that a national newspaper should have paid individuals who have acted in this way.
"I have referred these allegations to my solicitor Mark Stephens of Howard Kennedy who will consider them carefully and advise me accordingly.
"At this time I do not want there to be any distraction from the important work the Home Affairs Select Committee undertakes so well.
"Select committees do vital work in holding the government and others to account. We are due to publish two reports, one into anti-Semitism and the other into FGM in the next few days, in addition we have a number of key witnesses.
"I will of course inform committee members first of my plans when we meet on Tuesday.
"My decision has been based entirely on what is in the best interests of the committee which I have had the privilege of chairing for the last nine years."
Register for free to continue reading
Registration is a free and easy way to support our truly independent journalism
By registering, you will also enjoy limited access to Premium articles, exclusive newsletters, commenting, and virtual events with our leading journalists
Already have an account? sign in
Register for free to continue reading
Registration is a free and easy way to support our truly independent journalism
By registering, you will also enjoy limited access to Premium articles, exclusive newsletters, commenting, and virtual events with our leading journalists
Already have an account? sign in
Join our new commenting forum
Join thought-provoking conversations, follow other Independent readers and see their replies