Kim Kardashian in Armenia: Reality TV star and family's trip to Yerevan raises eyebrows - and global awareness of genocide
Her Instagram posts from the eight-day visit have drawn criticism, but her representatives claim she simply wished to explore her Armenian roots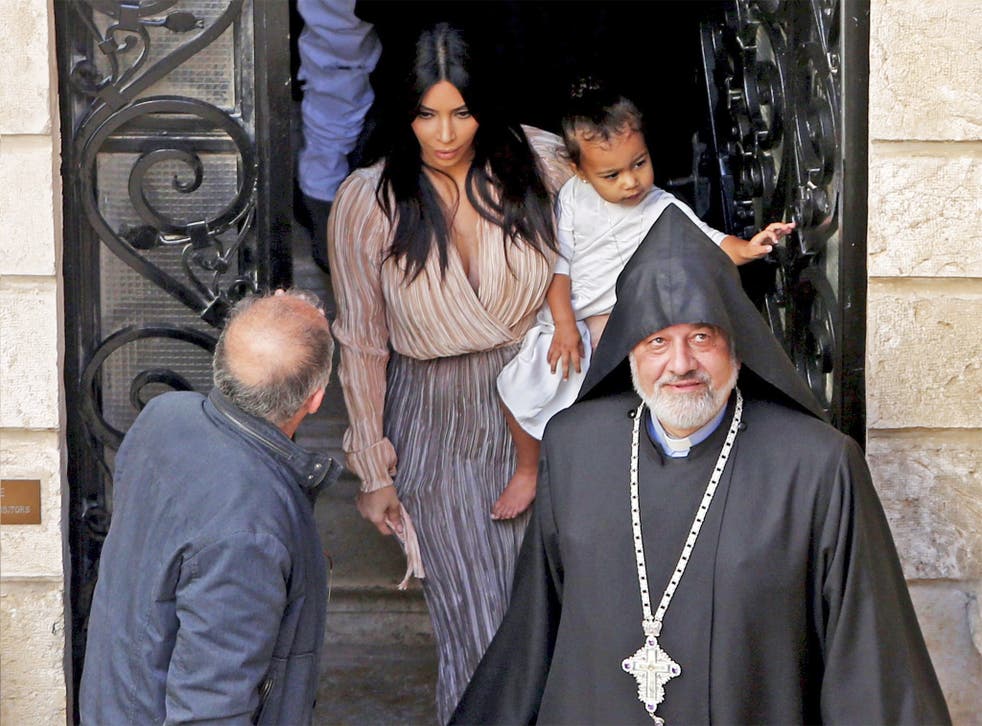 Standing in the decaying ruins of a roofless, sheet-metal house in the small Armenian town of Gyumri, Kim Kardashian West and her family must have felt a very long way from the comforts of home. Yet for her forebears, this was home: Gyumri, close to the once-contested border with Turkey, was the town from which the first Kardashians fled to the US in the early 20th Century.
Over the last week, Kardashian West has been using her hefty promotional clout to draw attention to Armenia, the ancestral nation of her father, the late Robert Kardashian. During her Middle East tour, she was joined by her sister Khloe, husband Kanye West and baby daughter North for the eight-day visit, which was filmed for the next series of reality show Keeping Up with the Kardashians and recorded on social media by the sisters, who between them have almost 50 million Instagram followers. They also visited the Crusader-era church in Jerusalem marking the traditional spot of Jesus's crucifixion, burial and resurrection. The Church of the Holy Sepulchre was empty for the visit.
Last week, Kardashian West posted an image of her and her sister in vertiginous heels, ascending the steep steps to the Mother Armenia statue in Yerevan, the Armenian capital. "This statue reminds visitors of the strong female figures in Armenian history," Kardashian West wrote. "I love how powerful women are and respected so much in our culture!"
The following day, the sisters, accompanied by cousins Kourtni and Kara Kardashian, met the Prime Minister. "It was an honour to meet the Prime Minister of Armenia, Hovik Abrahamyan, who expressed how proud they are that we are proud Armenians and we have not forgotten our roots!" Kardashian West wrote.
The visit caused great excitement in Yerevan, where the family was pursued by vast crowds. On Sunday evening, Mr West performed an impromptu concert at the city's Swan Lake, which climaxed with the rapper leaping fully clothed into the water to be mobbed by fans. After leaving Armenia, the family travelled on to Israel, where, on Monday, baby North West was baptised at St James' Cathedral, a 12th Century Armenian church in Jerusalem.
The trip came just days before the 100th anniversary of the start of the Armenian genocide, the mass killing of up to 1.5 million Armenians by the Ottoman Turks. On Friday, the Kardashians spent "an emotional day" at the Genocide Museum in Yerevan, Kardashian West wrote. Mr Abrahamyan applauded the reality star for helping to generate "international recognition and condemnation of the Armenian genocide."
Kardashian West's Instagram posts drew criticism from certain quarters for her use of the word "genocide". Though she has blogged and tweeted about the killings in previous years, Kardashian West's representatives told TMZ the timing of the trip so close to the centenary was coincidental, and that she simply wished to explore her Armenian roots.
Register for free to continue reading
Registration is a free and easy way to support our truly independent journalism
By registering, you will also enjoy limited access to Premium articles, exclusive newsletters, commenting, and virtual events with our leading journalists
Already have an account? sign in
Register for free to continue reading
Registration is a free and easy way to support our truly independent journalism
By registering, you will also enjoy limited access to Premium articles, exclusive newsletters, commenting, and virtual events with our leading journalists
Already have an account? sign in
Join our new commenting forum
Join thought-provoking conversations, follow other Independent readers and see their replies