Kim Kardashian selfie endorsing morning sickness drug taken down after FDA warning for not communicating medical risks
The reality TV star promoted the prescription drug Diclegis on her Instagram page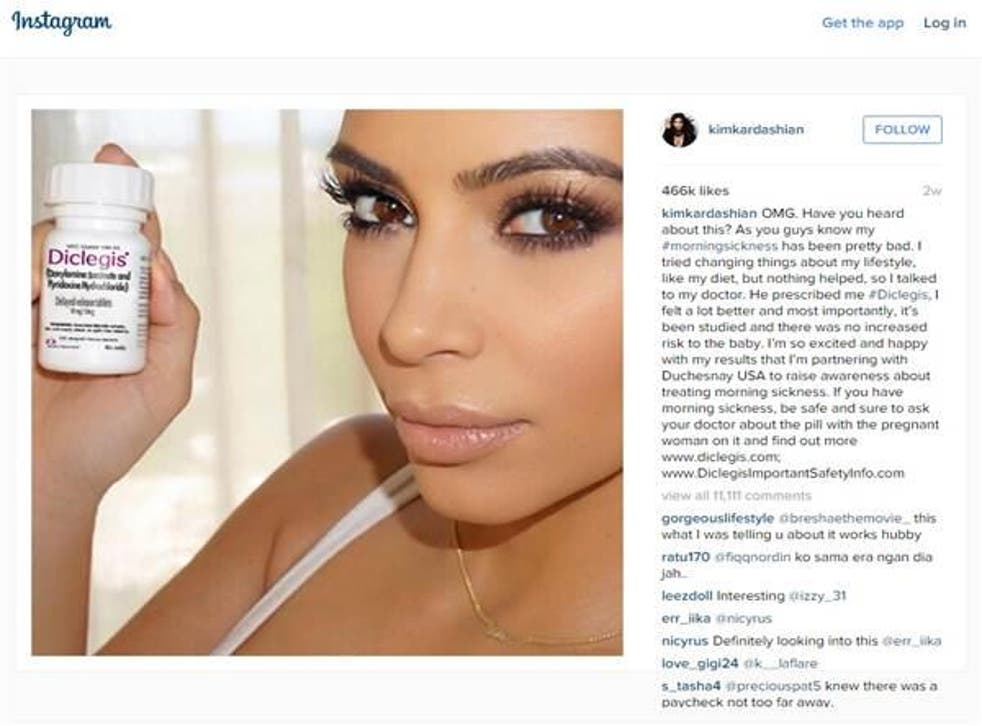 The Food and Drug Administration has issued a warning over an Instagram selfie posted by Kim Kardashian that was liked over 450,000 times for promoting a morning sickness drug without communicating the medical risks associated with it.
The reality TV star shared a selfie of herself holding a bottle of Diclegis, a prescription-only drug produced by Duchesnay USA, that is used to treat nausea and vomiting during pregnancy. Her post, which was also shared on her Twitter page, told over 40 million followers Diclegis had made her feel "a lot better" and worked after everything else her doctor recommended. "Most importantly, it's been studied and there was no increased risk to the baby," it added.
A warning letter from the FDA to Duchesnay said the post was "misleading" because "it presents various efficacy claims for Diclegis, but fails to communicate any risk information".
Kardashian's post, which has since been removed from her page, advised women to "be safe and sure to ask your doctor about the pill with the pregnant woman on it" and provided a link to the Diclegis 'important safety information' page. However, it did not mention any specific risks associated with taking the drug. Diclegis can cause a number of side-effects, the most common being drowsiness, and should not be used by women with certain health conditions such as asthma. It has also not been studied for use by women who have hyperemesis gravidarum, a condition that causes excessive nausea or vomiting throughout pregnancy.
Kim Kardashian- entrepreneur extraordinaire

Show all 6
A spokesperson for Duchesnay confirmed to The Independent that Kardashian was paid to "share her experience of the product", but said she was prescribed the drug by her doctor.
"Duchesnay USA takes its regulatory responsibilities very seriously, and acknowledges that its communications, including in social media as in this particular instance, need to be in accordance with applicable rules and regulations," the spokesperson said.
"Duchesnay is working very hard to take quick action in responding to the FDA's letter and are working out a plan to submit to the FDA."
Thomas Abrams, the director of the Office of Prescription Drug Promotion (OPDP) at the FDA, admitted in a Q&A on the FDA's site that social media had complicated the practice of advertising drugs.
He said this isn't the first time the FDA has had to act over testimonials about a drug made by a famous person on their social media page.
Register for free to continue reading
Registration is a free and easy way to support our truly independent journalism
By registering, you will also enjoy limited access to Premium articles, exclusive newsletters, commenting, and virtual events with our leading journalists
Already have an account? sign in
Register for free to continue reading
Registration is a free and easy way to support our truly independent journalism
By registering, you will also enjoy limited access to Premium articles, exclusive newsletters, commenting, and virtual events with our leading journalists
Already have an account? sign in
Join our new commenting forum
Join thought-provoking conversations, follow other Independent readers and see their replies