Ku Klux Klan supporters do Nazi salutes at rally in honour of Donald Trump
The white supremacists did not stop in the North Carolina town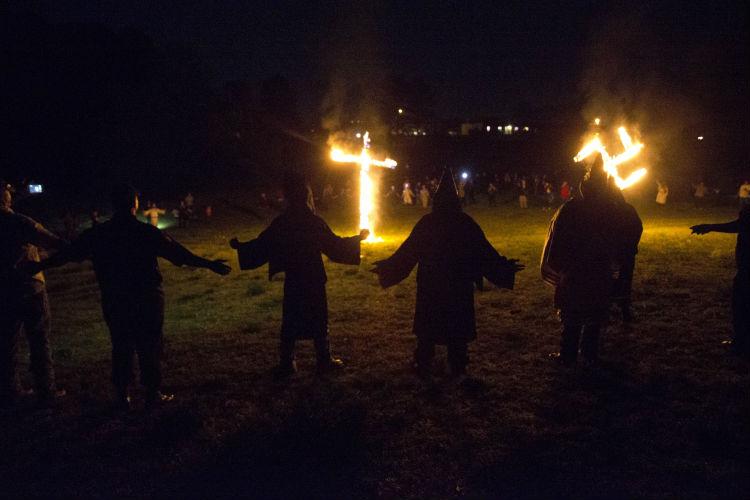 Members of the Ku Klux Klan gave Nazi salutes and shouted white power slogans as they held a "Donald Trump victory parade" in a North Carolina town.
After Mr Trump's victory, a win that was celebrated by many white supremacist groups, one of the many organisations that use the KKK name said the would hold a rally on Saturday, December 3. The Loyal White Knights had initially said the event would be held in Pelham, located 60 miles north east of Winston-Salem.
Yet reports said that in an apparent attempt to throw off demonstrators opposed to the rally, who had been holding their own events across the state, the parade was eventually held in Roxboro, about 40 miles away.
Amanda Barker, who is identified on the KKK's website as an "imperial kommander", told the Times-News newspaper that the parade involving around 30 vehicles was a celebration of Mr Trump's victory.
"We actually kind of have the same views," she said. "Actually a lot of white Americans actually felt the same way, especially about the wall, immigration and the terrorism coming here. I think Donald Trump is going to do some really good things and turn this country around."
The newspaper said that vehicles carried KKK banners, Confederate battle flags and Donald Trump posters. The Daily Telegraph said some of those taking part gave Nazi salutes and shouted "white power". They vehicles did not stop in the town.
Mr Trump's victory has been widely celebrated by white supremacist organisations and groups, some of which have sought to rebrand themselves as the alt-right.
Donald Trump's controversial cabinet
During the primary campaign, Mr Trump was criticised for failing to distance himself from figures such as former KKK leader David Duke, who had endorsed his candidacy.
Since becoming President-elect, he has made greater efforts to denounce racist violence and extremist views, though not with sufficient vigour for many observers.
At a rally last Thursday in Cincinnati to celebrate his win, Mr Trump said: "We condemn bigotry and prejudice in all of its forms. We denounce all of the hatred and we forcefully reject the language of exclusion and separation."
Earlier this year, members of various KKK groups said they were hoping to reinvigorate the movement after decades of decline. Among events they have organised was a cross and swastika burning ceremony in Paulding County, Georgia, pictured above.
Join our commenting forum
Join thought-provoking conversations, follow other Independent readers and see their replies