Lily Allen accuses Home Office of 'aiding' tabloid media by processing older teenage refugees over younger children
Singer says Home Office has helped tabloids in pushing their agenda in essay addressing backlash
Heather Saul
Sunday 19 March 2017 20:56 Comments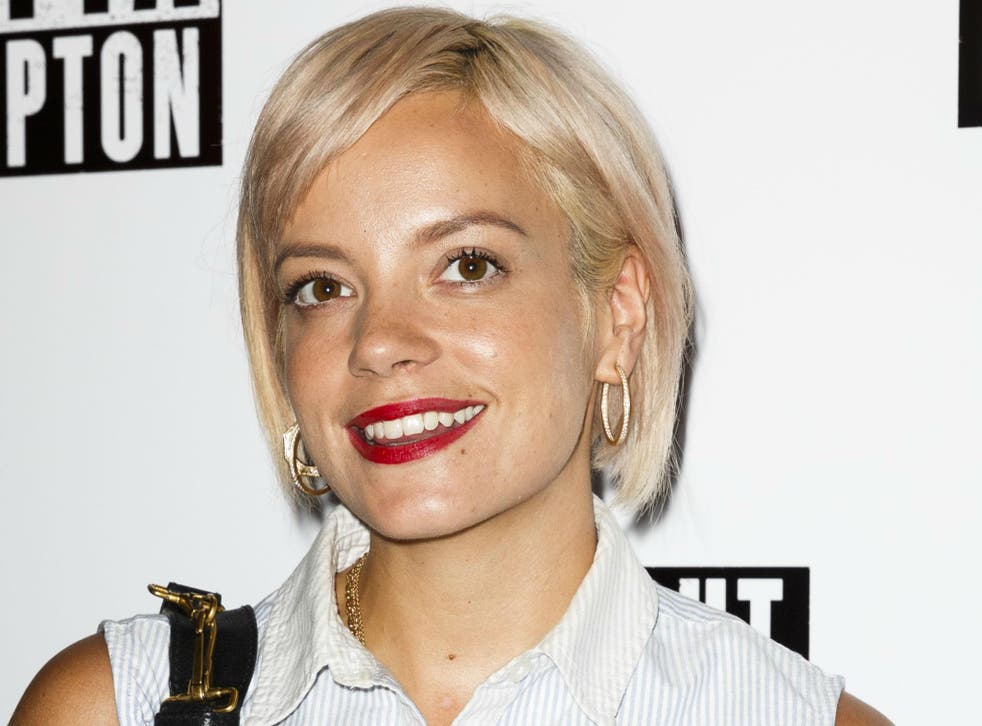 When Lily Allen delivered a tearful, heartfelt apology to a child refugee on camera, she probably wasn't expecting the protracted furore that would blow up in her face. Similarly, Gary Lineker probably didn't expect the vitriol that would be prompted by one tweet either.
The Lily Allen and Gary Lineker vs the tabloids and Twitter battle powers full steam ahead today, with the singer setting out her stance in an essay published by Vice.
In it, Allen accused the tabloid media of trying to silence celebrities by presenting them as out of touch in order to push their own agendas. The singer says the Government has been complicit in this by processing refugees in their late teens first, knowing they would lead media coverage. The Home Office told the Independent more than 200 children have been brought to the UK since 10 October, with more due to arrive in the coming days and weeks.
"There are much younger unaccompanied children who still haven't been processed – so why did the UK take in a tiny group of older male teenagers first? Doing that doesn't really help the plight of the refugees, but it does push the agenda of the tabloids."
Calais refugee camp evacuation

Show all 15
Allen was widely mocked for her empathetic response towards the 13-year-old boy living in a camp in Calais which is now being demolished. One remark particularly riled some: "I apologise on behalf of my country. I'm sorry for what we have put you through." The backlash came thick and fast in "not in my name" tweets.
When the Tory MP David Davies issued his widely condemned call for child refugees to undergo dental checks because those arriving "don't look like children", he even used Allen as an example of how the UK must adopt a more "hard-nosed" attitude: "It's no good Lily Allen turning up with tears in her eyes and all the rest of it."
Lineker was then accused of "peddling lies" and branded a "leftie luvvie" for also demonstrating compassion towards refugees in a front page by The Sun. His criticism of attitudes towards refugees arriving in the UK as "racist" was met with calls for him to be sacked for breaching impartiality guidelines, calls that received an unperturbed response from the broadcaster: "Gary is a freelance broadcaster and this is a personal Twitter account."
"The Sun isn't really calling for Gary Lineker to be fired because of a tweet," writes Allen. "He's being attacked because Murdoch hates the BBC. It's using refugees to have a proxy war with the most successful sports presenter who isn't on Sky."
Allen says her decision to speak out, regardless of the backlash, comes from her refusal to be "a good German" in a scenario increasingly echoing the one that engendered the rise of Hitler.
"From a very early age we were taught about the Second World War and how evil Hitler was. You always wonder how he managed to get the whole country to go along with that. Now we're seeing it. But I don't want to be a good German. I want to be on the right side of history.
Meanwhile, Lineker silenced his detractors today by sharing Allen's piece, adding just one comment above it: "It is worth it."
Register for free to continue reading
Registration is a free and easy way to support our truly independent journalism
By registering, you will also enjoy limited access to Premium articles, exclusive newsletters, commenting, and virtual events with our leading journalists
Already have an account? sign in
Join our new commenting forum
Join thought-provoking conversations, follow other Independent readers and see their replies