Lionel Messi and father to appeal sentences for tax fraud
Neither man are likely to be sent to jail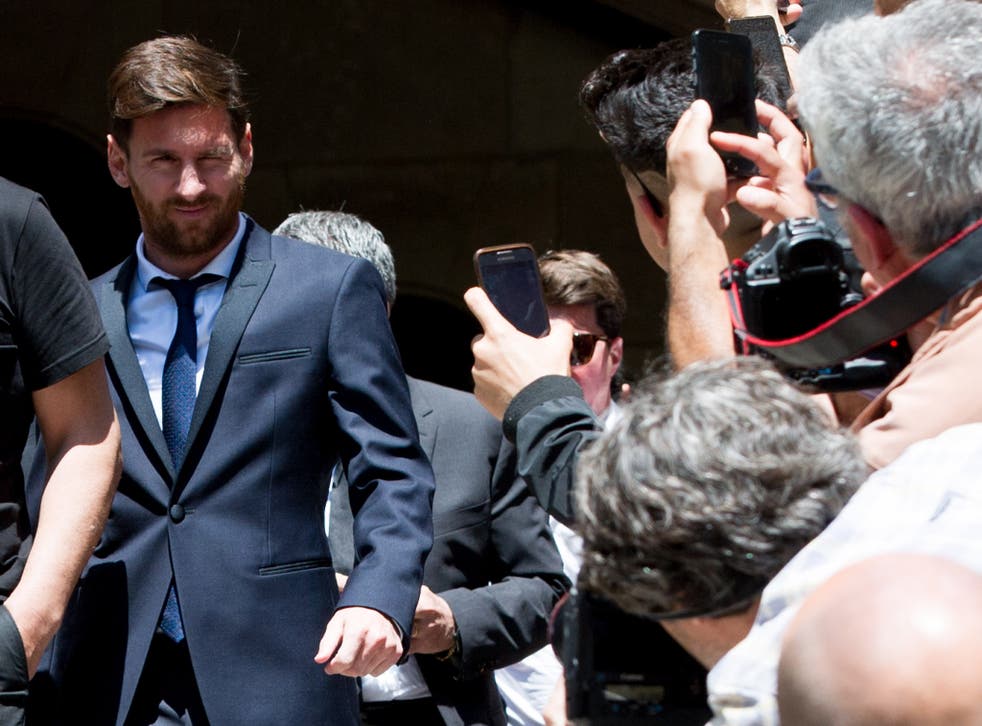 Barcelona striker Lionel Messi and his father Jorge will appeal against the 21-month prison sentences for tax fraud imposed on them by a Catalan court.
Messi's management company said on Wednesday night that the pair would take appeals to the supreme court, even though neither man is likely to serve any time in prison.
Under Spanish law, sentences under two years are usually suspended.
A statement from lawyers representing the pair described the sentences as "incorrect."
The long-running case relates to a scheme to avoid paying £3.4m of tax on Lionel Messi's image rights.
The disputed tax payments date back to a period from 2007 to 2009, a time when Argentinian player Messi, now 29, helped to transform Barca into the world's best team.
He has now, however, been fined £1.7m for three counts of tax fraud while his father has been given a £1.3m fine.
Lionel Messi has always denied any knowledge of his tax affairs, saying he concentrated on football, while his father has claimed he left it all up to financial advisers.
In Wednesday's statement, lawyers Enrique Bacigalupo and Javier Sanchez-Vera added: "The large majority of the arguments on which the ruling focuses the debate are precisely the ones which we are convinced must lead to absolution, as such, the appeal has a good chance of being successful."
The four-day hearing actually concluded in Barcelona on June 3, shortly before Lionel Messi left to join Argentina's squad for the Copa America.
The 29-year-old forward joined the club's academy in 2000, aged 13, and his family joined him in Spain soon after.
He made his competitive debut in 2004, at 17, and has now scored 453 goals in 531 appearances, winning five Ballon d'Or trophies for the world's best player along the way.
With Barcelona, he has won eight league titles and four Champions League winner's medals.
The Nou Camp club said in a statement on their official website that they considered Messi to be "no way criminally responsible with regards to the facts underlined in this case."
They added: "Barcelona continue to be at the disposal of Leo Messi and his family to support him in whatever action he decides to take in defence of his honesty and his legal interests."
He is also Argentina's leading goalscorer but has found success on the world stage harder to come by, losing in four major finals, including last month's Copa America.
Immediately after that defeat, he announced his retirement from international football.
Messi is not the only Barcelona star to come under scrutiny for tax affairs, as team-mate Neymar was recently fined almost £40m by a Brazilian court for allegedly evading tax on his sponsorship deals.
Like Messi, he also denies any wrongdoing and is appealing against that ruling.
PA
Register for free to continue reading
Registration is a free and easy way to support our truly independent journalism
By registering, you will also enjoy limited access to Premium articles, exclusive newsletters, commenting, and virtual events with our leading journalists
Already have an account? sign in
Register for free to continue reading
Registration is a free and easy way to support our truly independent journalism
By registering, you will also enjoy limited access to Premium articles, exclusive newsletters, commenting, and virtual events with our leading journalists
Already have an account? sign in
Join our new commenting forum
Join thought-provoking conversations, follow other Independent readers and see their replies