Liz Truss: Conqueror of the Turnip Taliban
She's the youngest female Cabinet member ever. Not bad for an MP whose private life shocked the blue-rinse brigade
Andy McSmith
Friday 18 July 2014 20:40 Comments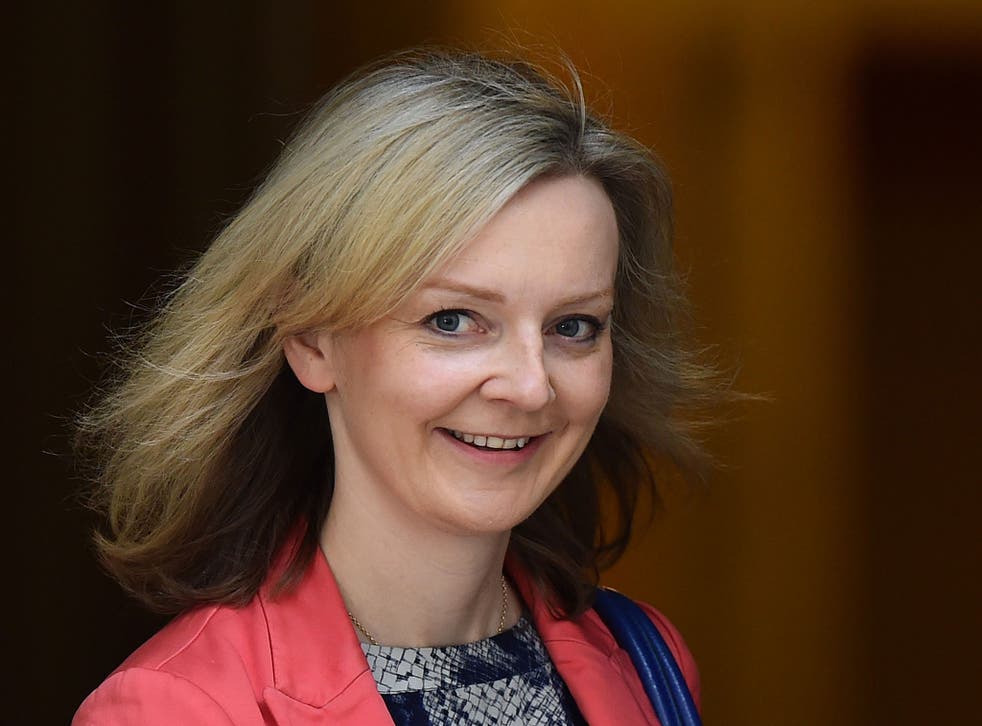 Liz Truss has taken her place as the youngest female cabinet minister in British history. Indeed, at the age of only 38, she is one of the youngest cabinet ministers of any description. As she settles into her new office at the Department for Environment, Food and Rural Affairs, she will have to read up on badgers, and bovine TB, and farm subsidies, and food production – but one life form that need not worry her any more is the species of Conservative known as the Turnip Taliban.
Her back story is a good one for a modern Tory. She is a northerner, for a start, the product of a comprehensive education, brought up by left-wing parents in Paisley and Leeds. As a child, she marched through Paisley chanting: "Maggie, Maggie, Maggie, out, out, out." But after graduating from Oxford University, she went into the private sector, working for Shell, and Cable & Wireless, and developed a purist pro-free market ideology.
As a newly elected MP, she was a founder of the Free Enterprise Group, and one of five authors of a 2012 booklet entitled Britannia Unchained, which became notorious because of a single sentence plucked from it, which alleged that "the British are among the worst idlers in the world". Appointed an education minister in September 2012, she pushed through changes to the A-level, in the teeth of opposition from Labour and from the unions. She is also a rare example of a working mother at the highest level of politics. She married Hugh O'Leary, a finance director, in 2000. They have two small children.
In short, hers is a success story, so far at least. And yet, it was nearly a case of a woman with brains and ambition whose political career was destroyed before it had properly begun because of her private life.
She was only 25-years-old when she made her first foray into politics, taking on the dispiriting task of carrying the Tory message into a northern seat in the Labour heartlands. In 2001, she contested Hemsworth, in West Yorkshire, and secured a 4 per cent swing from Labour to Conservative, which brought the Labour majority down from nearly 24,000 to less than 16,000. The party machine was impressed. To improve her chances of securing a more winnable seat next time, she was assigned a political mentor in Mark Field, the MP for Cities of London and Westminster, who was then a Tory high flier, the shadow minister for London despite having been in Parliament since only 2001. As one senior Tory later told the Daily Mail: "It seems Field took his mentoring duties more seriously than intended." He and his young "shadow" became lovers, though they were both married. The affair lasted about 18 months, until June 2005. His 12-year marriage ended in divorce soon afterwards. Her marriage survived, and according to her became stronger. She assured her husband that he was the father of their first child, born in March 2006.
Meanwhile, in another Yorkshire seat, Calder Valley, the Tory candidate, an actress named Sue Catling, had fallen out comprehensively with local party members. They accused her of having had an affair with a former chairman of the association. For some Tories, no woman who strayed outside marriage was fit to represent them in Parliament. By January 2005, it had all turned so nasty that Ms Catling resigned, accusing her tormentors of sexism and narrow-mindedness. As if to prove that she was wrong, the association selected Liz Truss, then aged 29, as her replacement, unaware that she was having an extramarital affair. Calder Valley was a marginal seat that the Tories might have won if they had been united. As it was, their vote fell, and Labour narrowly held on.
However, that setback was not blamed on Liz Truss, who had arrived after the damage was done. By the end of 2005, the Conservatives had a new leader, David Cameron, who was desperate to give the party a more modern appearance, and to see more women selected in winnable Tory seats. Those with northern backgrounds were a double bonus. Within months of losing in Calder Valley, Truss was on the "A-list" of parliamentary candidates, and was being tipped to be the next MP for the rock-solid Tory seat of Bromley and Chislehurst, where a by-election was pending after the death of the local MP. Then in May 2006, the Daily Mail broke the story of her old affair with Mark Field. The bombshell was perfectly timed for those in Bromley who did not want to be told by David Cameron who their candidate should be. "We need a traditional man [who] has good values," one elderly Bromley party member told The Sunday Telegraph. They selected Bob Neill, leader of the Conservative group on the London Assembly, who very nearly lost the by-election to Nigel Farage, and has yet to achieve ministerial office.
That might have been the end of Truss's hopes of a parliamentary career, because she went through a period when her name cropped up in every story about resistance in the Tory party to David Cameron's efforts to get A-list candidates into safe seats. Anyone who Googled her name immediately learnt about her old affair with Field. But she refused to give up. In January 2008, she abandoned her business career to take up a job as deputy director of the think-tank Reform, which enabled her to improve her political contacts.
In October 2009, she put her name forward for the safe seat of South West Norfolk, and on a Saturday morning, 24 October, she and four others went in front of a selection meeting packed with local party members to give a talk and be questioned about their suitability to be an MP. The locals were impressed by her performance, and selected her. No one asked about her affair with Mark Field, and she did not think it necessary to mention it. It was more than four years old, and anyone with a link to the internet could find out about it. But some of the local party members did not know and did not think to check online. That very evening, a furious woman rang the Mail on Sunday, having belatedly learnt of the affair, saying that she was "disgusted" and that the newly adopted candidate should "do the decent thing and step down". The South West Norfolk Tories were already bruised by the long-running expenses scandal, during which the wealthy incumbent, Christopher Fraser, was found to have claimed 140 cherry laurels and 75 red cedars out of his parliamentary expenses. Many were not in the mood to accept another candidate who was attracting publicity for the wrong reasons.
On the Tuesday after her selection, the executive of the local association met, ignored a plea from David Cameron to give their "excellent" candidate "the support she deserves" and agreed to throw her future open to a full meeting of the association. The affair opened up a furious division in the Conservative Party between the Cameron-style modernisers and traditionalists whom the Mail on Sunday wittily nicknamed the "Turnip Taliban". Supporters of the "Taliban" were noisy, but few in number. After a month of intensive manoeuvring, the local party voted in a secret ballot by 132 to 37 to stand by their chosen candidate. The Taliban had been mashed. Liz Truss had proved that even in the Conservative Party, a woman need not be destroyed by past shenanigans. The Cabinet, as a result, looks a little more in tune with the modern world.
A life in brief
Born 26 July 1975, in Oxford.
Family Mother was a nurse and a teacher; her father is a mathematics professor. Married to Hugh O'Leary, a finance director, and has two daughters.
Education Roundhay School, Leeds. Read politics, philosophy and economics at Merton College, Oxford.
Career Worked for Shell and Cable & Wireless and was deputy director of Reform before entering Parliament in 2010 as Conservative MP for South West Norfolk.
Register for free to continue reading
Registration is a free and easy way to support our truly independent journalism
By registering, you will also enjoy limited access to Premium articles, exclusive newsletters, commenting, and virtual events with our leading journalists
Already have an account? sign in
Join our new commenting forum
Join thought-provoking conversations, follow other Independent readers and see their replies