Madonna has now become 'toxic' figure for millennials, academics say
Survey reveals the 57-year-old's latest on-stage antics have been deemed 'desparate' and 'embarrassing'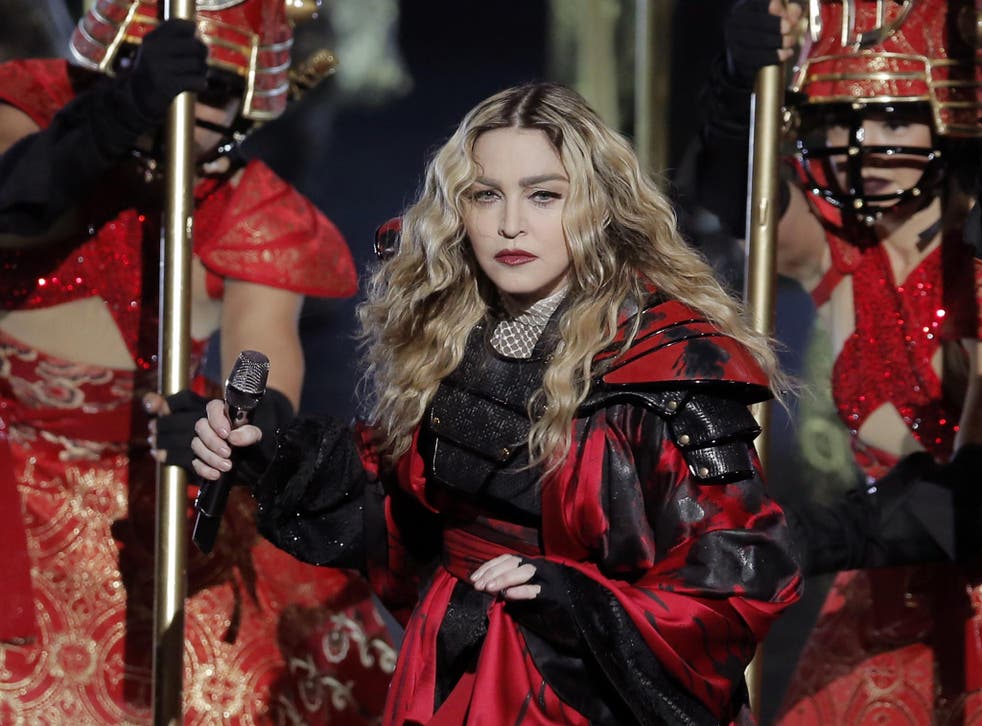 Madonna's many incarnations and reinventions have enthralled her fans for 30 years, but the Queen of Pop has now become a "toxic" figure for millennials, according to new academic research.
When The Independent made its debut on 7 October 1986, the strains of "True Blue" by Madonna topped the pop charts. She was also seen as an innovator across fashion and style, who courted controversy and inspired generations of women.
But much has apparently changed in recent years. The 57 year-old is now seen as an "inauthentic" media manipulator, whose latest on-stage antics are deemed "desperate" and "embarrassing", a survey seen by The Independent has found.
The research, by Jeetendr Sehdev, marketing professor at the University of Southern California, found that Madonna's desire to stay relevant with younger audiences has damaged the $1bn brand she has built over more than 30 years.
The study, based on interviews with 1,000 young adults, has been published during a difficult period for Madonna. The concluding Australian leg of her Rebel Heart tour was marred by erratic behaviour, including late starts, slurred lyrics and reports of drinking during shows.
During one show, Madonna referenced a bitter custody battle with ex-husband Guy Ritchie over their 15 year-old son Rocco, who is living with his father in London despite the singer's pleas for him to join her in the United States.
The Madonna who could outrage the Catholic Church, trample over sexual boundaries and turn Voguing into a dance craze during the "imperial" phase of her career, now ranks amongst the lowest of 500 celebrities when the attributes "honest", "genuine" and "cool" are tested.
Millennials are highly distrustful of Madonna, who is 17-times less influential than Taylor Swift and 15-times less influential than Adele, according to the poll of young Americans. Three in five people viewed an incident during a Brisbane show when she pulled down the top of a 17-year-old fan exposing her breast, as little more than a "desperate publicity stunt".
Her continued efforts to remain sexually appealing were described as "desperate" and "inauthentic". Three in five said her image was "embarrassing".
Madonna's damaged brand has also negatively impacted the perception of the younger collaborators on her Rebel Heart album. Diplo, Avicii and Nicki Minaj were rated less culturally relevant amongst millennials who are aware of their collaborations with Madonna.
Older generations who once admired her brand are losing faith too. Professor Sehdev, who advises brands on corporate endorsements using a research-based approach to quantify celebrity influence, also found a 23 per cent decline in generation X-ers who once agreed that Madonna was an "iconic cultural force".
Professor Sehdev said: "Madonna's desperate attempts for attention have damaged her legacy."
He added: "1980s media manipulation tactics simply don't work any more and turn off younger audiences. This is not about Madonna's age and her sexual image but about her being perceived as inauthentic."
Writing off Madonna could prove a dangerous game. Despite its rather shambolic conclusion, the Rebel Heart tour grossed £100m, playing to one million fans at sold-out shows.
Professor Sehdev cited YouTube stars such as PewDiePie as figures who have supplanted Madonna among millennials due to their "unprecedented levels of transparency", "sincerity and authenticity". Yet their legacy may not match Madonna's global impact on popular culture over an extended period.
Last week a British judge told the singer and Ritchie that it would be a "very great tragedy" if they did not thrash out a deal over custody of Rocco.
Register for free to continue reading
Registration is a free and easy way to support our truly independent journalism
By registering, you will also enjoy limited access to Premium articles, exclusive newsletters, commenting, and virtual events with our leading journalists
Already have an account? sign in
Register for free to continue reading
Registration is a free and easy way to support our truly independent journalism
By registering, you will also enjoy limited access to Premium articles, exclusive newsletters, commenting, and virtual events with our leading journalists
Already have an account? sign in
Join our new commenting forum
Join thought-provoking conversations, follow other Independent readers and see their replies