Malala Yousafzai's Nobel Peace Prize is celebrated in the West and widely criticised or ignored in Pakistan
What really matters is the reason she won it in the first place, says Omar Waraich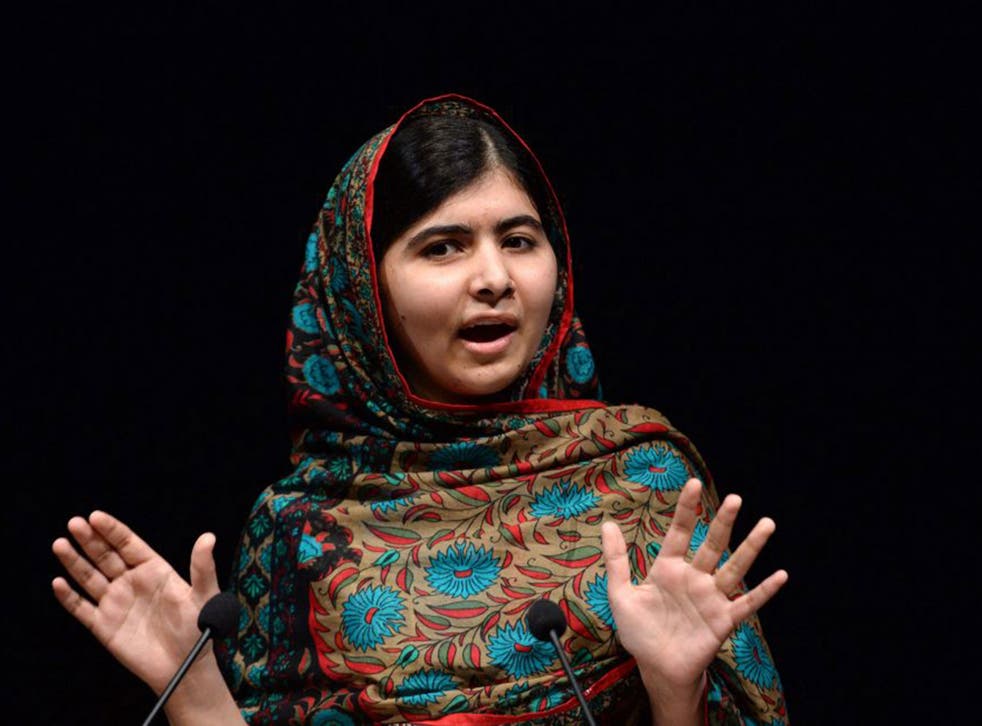 Tucked away in a corner of a modest neighbourhood in the Pakistani capital is the government-run Islamabad Model School for Girls. In between rows of small redbrick houses where government employees live, it is distinguished only by a peeling blue sign that arcs over its gates.
When Malala Yousafzai was first nominated for the Nobel Peace Prize last year, girls at the school had followed the lead-up to the announcement anxiously. Like Malala, many of them are ambitious teenage girls who want to go on to lengthy careers as doctors, engineers and psychologists. "We're not going to stop working after we get married like some women do," Sharmeen Farooq, 14, stressed.
They keenly followed Malala's progress. "When we saw Malala, we were very happy," Wajiha Batool told me. "She's a source of pride for us." Her admiration began with Malala's defiance of the Taliban. "She was so brave," said Wajiha, who is just two years younger than Malala. "She became a wall in front of terrorism."
For them, Malala's plight was not an isolated incident. "There are thousands like her," Azka Yamin, who is also 14, told me. One of Azka's friends, from a tribal area near the Afghan border was being denied the chance of an education by her family. "When I heard her brother say, 'what are you going to do with education?' I wanted to slap him!"
When Malala became the youngest winner of the Nobel Peace Prize last week, however, much of the attention fastened on to her long-standing critics in Pakistan. Notoriously, a journalist falsely claiming to be the editor of a national newspaper told the BBC that Malala was "a normal, useless girl".
There was no dearth of voices wildly alleging that Malala had never been shot, despite the Taliban's eager claims of responsibility and the fact that Pakistan's army recently arrested her attackers. Others said that there were worthier recipients, like drone victims, or the celebrated Pakistani humanitarian, Abdul Sattar Edhi.
Pakistanis have grown so accustomed to hearing bad news that they have trouble reconciling themselves to a positive development, Afiya Shehrbano Zia, the noted scholar and activist, wrote. "If this news is about or made by a woman, you can bet there's going to be a backlash."
No Pakistani woman who has achieved global prominence has been spared such attacks, whether it was the Former Prime Minister Benazir Bhutto, the human-rights campaigner Asma Jahangir, or Oscar-winning film-maker Sharmeen Obaid Chinoy. The misogyny often mingles with a virulent form of religiously inspired nationalism.
With levels of anti-Americanism cresting high, those embraced by the West are spurned. The opposite applies, too. When Aafia Siddiqui, the scientist accused of terrorist links, was arrested and transported to the US, many Pakistanis proudly declared her a "daughter of the nation".
Not all Pakistanis think this way, of course. A Pew poll earlier this year found that only a fifth of the country has an unfavourable view of Malala. Half the population was indifferent, while 30 per cent supported her. The most vocal critics are among the urban middle classes, who have never had a problem going to school or sending their children there.
What has been obscured, almost to vanishing point, is the fact that most Pakistani children don't enjoy such opportunities. Education is a right enshrined in Pakistan's constitution, but even the most basic form of schooling has, for decades, been denied to vast swathes of the population.
The girls at the Islamabad Model School are the lucky ones, studying at one of the largest and best-funded government schools in the country. Elsewhere, there are 25 million Pakistani children currently out of school and 61 per cent of them are girls. Looking at the statistics, Malala was defying remarkable odds even before she survived the Taliban's assassination attempt.
In Malala's home district of Swat, the Taliban's campaign of violence saw many girls' schools torched. But to start with, the government had only built half as many schools for girls as it did for boys. Gender discrimination was built into the local education system. And, today, just 3 per cent of the district's children make it to high school.
In a different part of the country, where the Taliban have never had a serious presence, the picture is just as bleak. Larkana in Sindh is home to three generations of Oxford-educated members of the Bhutto dynasty. In a quarter of the schools there, there is only a single teacher.
For Pakistan's rulers, military and civilian alike, education has never been a priority. Local politicians have often used schools as sources of patronage, appointing loyal supporters to jobs for which they are unsuited for. A common problem at government schools is that it is the teachers who play truant. Education is just one part of the story. Malala shared her Nobel with Kailash Satyarthi, a child-rights campaigner from India. For two countries that have long insisted on their separateness, India and Pakistan have a similarly privileged nuclear arms race over the future of their children.
Both countries rival each other when it comes to malnutrition, infant mortality, child slavery, child labour, and child trafficking. On either side of the border, for example, more than 40 per cent of all children are underweight.
By 2050, Pakistan is set to become the world's fourth most populous country. An overwhelmingly young population can be a boon, if today's children are educated and can find jobs. If they aren't, a series of social disasters will ensue.
Malala's critics are at least honest about their positions. They don't pretend to like her or value her cause. The government and the main opposition parties, however, hastened to laud Malala as "the pride for Pakistan", the words emblazoned across large newspaper ads.
The Nobel represents an achievement for Malala, the girls of Islamabad Model School and the millions of children who brave daunting odds to go to school each day in Pakistan. But it is also a damning indictment of the many leaders who have repeatedly failed to protect and educate them.
Register for free to continue reading
Registration is a free and easy way to support our truly independent journalism
By registering, you will also enjoy limited access to Premium articles, exclusive newsletters, commenting, and virtual events with our leading journalists
Already have an account? sign in
Register for free to continue reading
Registration is a free and easy way to support our truly independent journalism
By registering, you will also enjoy limited access to Premium articles, exclusive newsletters, commenting, and virtual events with our leading journalists
Already have an account? sign in
Join our new commenting forum
Join thought-provoking conversations, follow other Independent readers and see their replies