Man rides Tour de France route on Raleigh Chopper
Dave Sims' epic effort was for charity
Rose Troup Buchanan
Friday 31 July 2015 21:24 Comments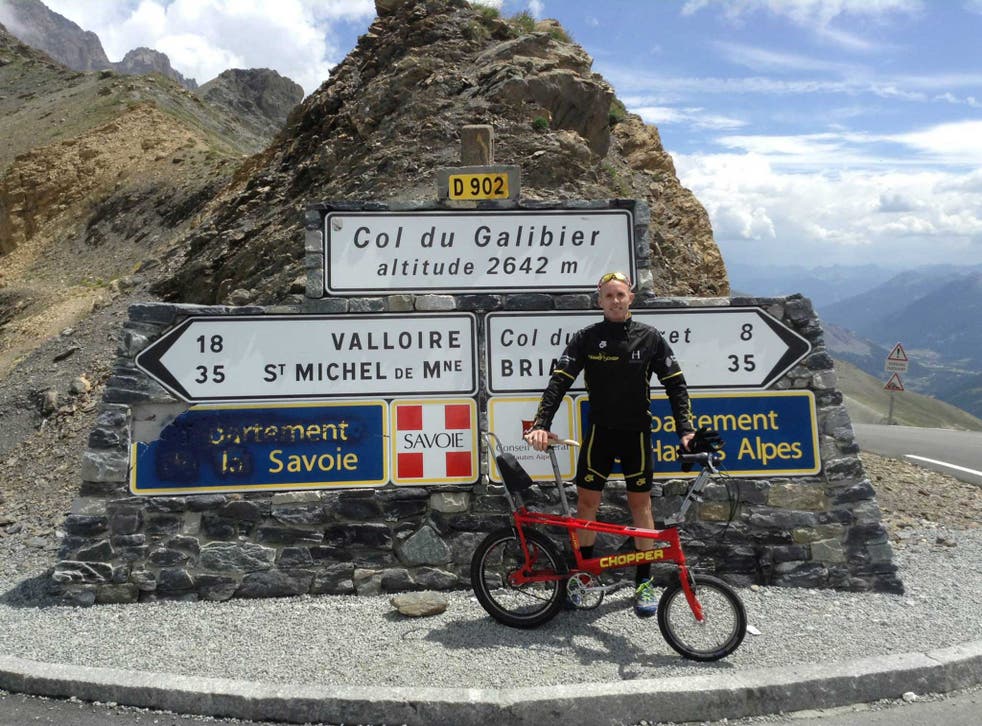 A man has ridden 1,600 miles of the Tour de France route on a child's bike.
Dave Sims, from Southport, completed the epic effort on a bright yellow Raleigh Chopper bike, raising £6,000 for charity Help for Heroes.
Mr Sims, 36, said he was inspired to undertake the journey after meeting a former servicewoman in the Majorcan mountains in 2014 who was cycling up the mountain using her arms.
"I will always remember her focus and pure stubbornness," he wrote on his blog. "If I could use this project to help fund specially adapted sporting equipment, like this lady was using, then this would make my Tour De France chopper ride so much more meaningful."
Mr Sims told the Southport Visitor that he took each stage of the journey mile by mile, and despite pulling his Achilles tendon during a break managed to keep going and complete the race.
Tackling the journey was difficult not only because of the length. Mr Sims had to work around the official route, choosing to take quieter roads than the motorways sometimes used by the tour.
"My dream was always to do the Tour de France, but I never thought it would be on a kid's bike," he told the local newspaper.
The Raleigh Chopper, known for its distinctive shape and design, was popular in the 1970s.
Register for free to continue reading
Registration is a free and easy way to support our truly independent journalism
By registering, you will also enjoy limited access to Premium articles, exclusive newsletters, commenting, and virtual events with our leading journalists
Already have an account? sign in
Join our new commenting forum
Join thought-provoking conversations, follow other Independent readers and see their replies