Martin Shkreli profile: Who is the hedge fund manager dubbed 'the most hated man on the internet'?
Turing Pharmaceuticals CEO is infamous for buying the rights to a HIV drug and hiking up the price overnight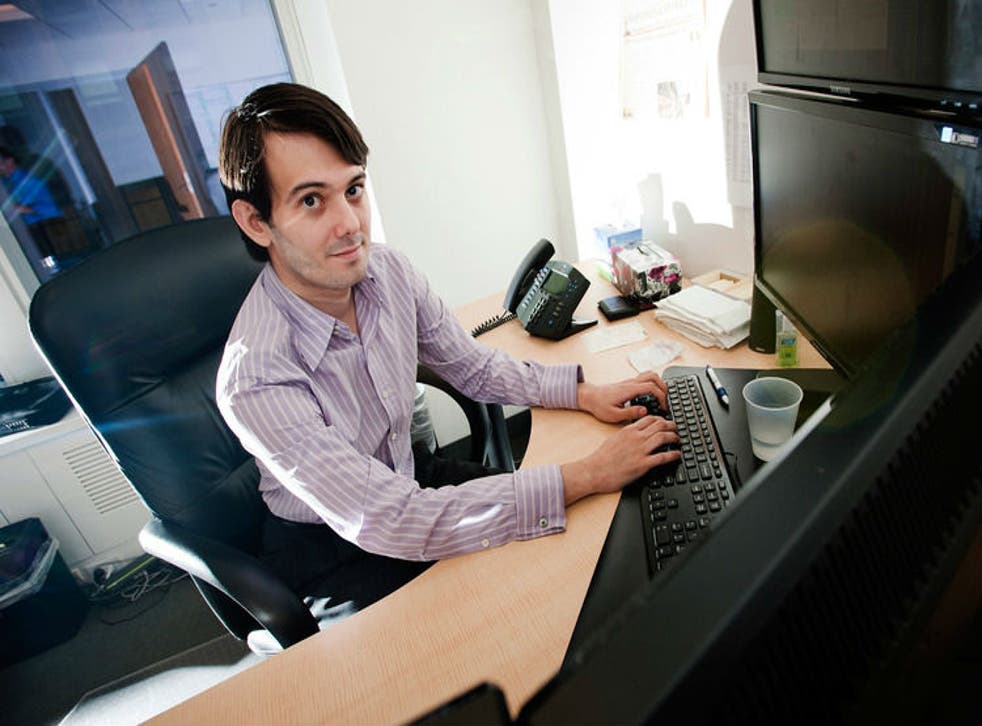 Martin Shkreli, the man dubbed 'the most hated man on the internet' after it emerged his company dramatically increased the price of a life-saving drug overnight, is back in the headlines once again.
Theis time, the hedge fund manager has reportedly been arrested on securities fraud charges relating to a firm that he founded.
Who is he?
Shkreli is the chief executive of Turing Pharmaceuticals of New York, a start-up firm, which bought the rights to a life-saving drug used for people who have HIV and weakened immune systems, such as patients undergoing chemotherapy.
Shreli, 32, had a relatively low profile until news broke that he had increased the price of the drug Daraprim in September, prompting global condemnation.
USA: Pharma CEO Martin Shkreli arrested on fraud charges
Why has he attracted so much controversy?
Daraprim is a medicine used to combat toxoplasmosis, a common food-borne illness that can make people with compromised immune systems extremely ill, and even prove deadly. The drug has been on the market for approximately $13.50 per pill, until Turing hiked up the price to $750 on Sunday - increasing the price more than 50 fold.
Health news: in pictures

Show all 104
The Infectious Diseases Society of America (IDSA) and the HIV Medicine Association warned such a price increase was "unjustifiable for the medically vulnerable patient population" in an open letter to Turing after it acquired the drug in August.
His move has been criticised by people across the world and his Wikipedia page has now been locked after it was vandalised. Even Hillary Clinton waded in on the debate, branding the price increase "outrageous" and promising to "lay out a plan to take it on".
How did he responded to the backlash?
Badly, at least initially. Shkreli posted a series of unrepentant tweets and in one shared lyrics from Eminem's "The Way I Am": "And it seems like the media immediately points a finger at me/ So I point one back at em, but not the index or pinkie."
However, he later gave a series of interviews claiming the price increase was in order for the company to create a better version of the drug. He defended his decision by telling CNBC the higher price was a more "appropriate" one for Daraprim.
He promised his business model will provide patients with better access to the drug at a lower price and claimed anyone who does not have insurance would have access to the drug for free.
Shkreli has said that newer versions of the drug needed to be developed and his was the first company "to really focus on this product" for decades, adding that research was extremely expensive.
He told Bloomberg: "The price that they were pricing it at, $13.50, you only needed less than 100 pills, so at the end of the day the price per course of treatment - to save your life! - was only $1,000."
Register for free to continue reading
Registration is a free and easy way to support our truly independent journalism
By registering, you will also enjoy limited access to Premium articles, exclusive newsletters, commenting, and virtual events with our leading journalists
Already have an account? sign in
Register for free to continue reading
Registration is a free and easy way to support our truly independent journalism
By registering, you will also enjoy limited access to Premium articles, exclusive newsletters, commenting, and virtual events with our leading journalists
Already have an account? sign in
Join our new commenting forum
Join thought-provoking conversations, follow other Independent readers and see their replies