Maureen O'Hara: Actress whose fiery and intelligent performances made her a favourite of director John Ford
'I have acted, punched, swashbuckled and shot through an absurdly masculine profession'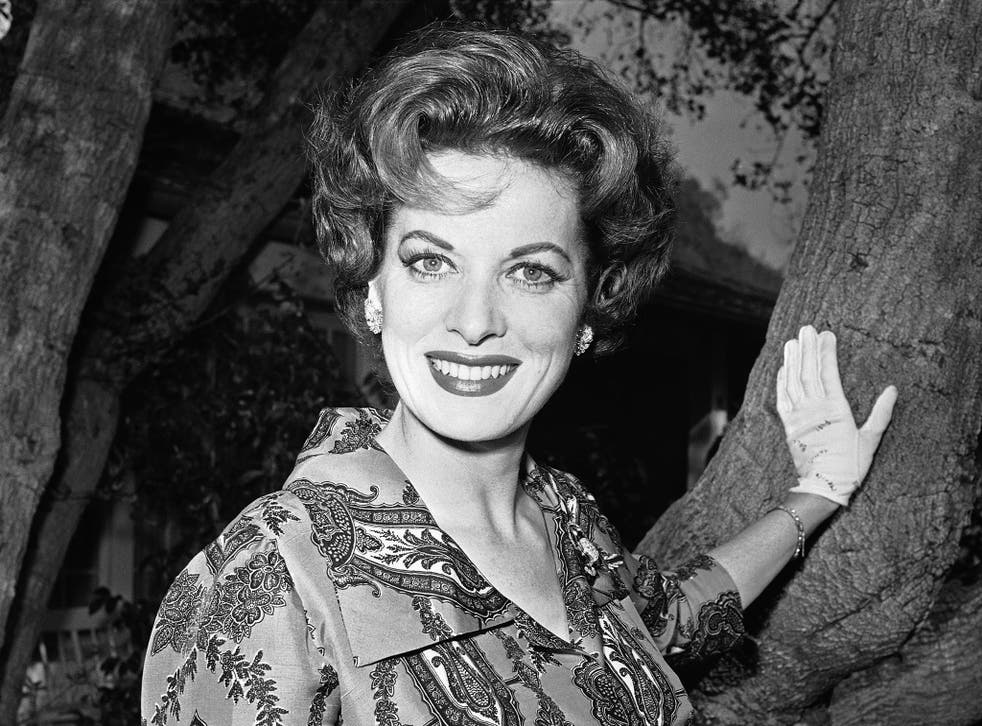 A spirited beauty whose film career spanned 60 years, Maureen O'Hara was an Irish red-head whose fiery performances made her a favourite of director John Ford, who admired her zest and ability to hold her own with the toughest leading men. She starred in such classics as Ford's Oscar-winning How Green Was My Valley, George Seaton's Christmas perennial, Miracle on 34th Street, Ford's classic The Quiet Man and the popular Disney comedy The Parent Trap, as well as a string of swashbucklers such as The Black Swan, The Spanish Main and Sinbad the Sailor, which earned her the title "The Queen of Technicolor".
She was later to write in her autobiography, "I have acted, punched, swashbuckled and shot through an absurdly masculine profession… As a woman I'm proud to say that I stood toe to toe with the best of them and made my mark on my own terms.' John Wayne was to become her friend and admirer, and they made five films together.
One of five children born to a clothing merchant and a former actress with the Abbey Theatre, she was born Maureen Fitzsimmons in a village near Dublin and educated at the Dominican Convent School. When she was six years old, her reading of a religious poem at a school concert prompted her mother to enrol her in Dublin's finest drama school, and at the age of 14 she was accepted by the Abbey Theatre, where she was spotted by the American singing star Harry Richman, who arranged for her to have a screen test and say a few lines in the film he was making, Kicking the Moon Around.
The test was seen by Charles Laughton, who had recently formed Mayflower Pictures with Erich Pommer, and they signed the young actress to a contract, casting her in a musical, My Wild Irish Molly, the only film in which she was billed as Maureen Fitzsimmons. Cast next in a leading role in Hitchcock's Jamaica Inn, she was told by Laughton that her surname was too long, and he suggested O'Hara.
He then cast her as the gypsy girl, Esmeralda, in The Hunchback of Notre Dame (1939), for which she journeyed to Hollywood. The lavish movie was a great success, and RKO bought O'Hara's contract, but cast her in vehicles – including a remake of Bill of Divorcement and Dorothy Arzner's tepid Dance, Girl, Dance (both 1940) – that did nothing for her career. Fortunately, 20th Century Fox bought a share of her contract, and John Ford was able to cast her in How Green Was My Valley, which won the Oscar for Best Film, and gave O'Hara a superb showcase as the member of a Welsh mining family who falls in love with the new minister (Walter Pidgeon). She consolidated her success with her spunky portrayal of the governor's daughter kidnapped by pirate Tyrone Power in Henry King's robust The Black Swan.
She co-starred for the third and last time with Charles Laughton in Jean Renoir's This Land is Mine (1943), an intense portrayal of a small European village's resistance against Nazi invaders, but she pleased her audiences by returning to the pirate genre in The Spanish Main. Sentimental Journey (1946), a script O'Hara found in studio files and which she asked them to make, was indeed sentimental – the story of a dying wife who adopts a child she hopes with console her husband after her loss – but it was a major hit.
"It was every bit the smash hit I thought it would be," she said. "Audiences ate it up, Fox made a fortune, and I was hoping that critics might actually mention my performance instead of focusing on my looks."
Do You Love Me? (1946), a musical in which she was a prim college professor who "titivates" by taking off her glasses and letting down her hair, winning her the love of both band leader Harry James and vocalist Dick Haymes, and the gaudy Arabian Nights adventure Sinbad the Sailor, were unlikely to change critical perceptions, but she was praised for her practical widow who fails to encourage her daughter (Natalie Wood) in her belief in Santa Claus in the Christmas classic, Miracle on 34th Street, and she was a convincing wife and mother in the hit comedy Sitting Pretty (1948), aghast when she discovers that the baby-minder she has hired is a man (Clifton Webb).
A string of forgettable titles (including Bagdad, Comanche Territory and Tripoli) preceded her welcome reunion with John Ford, who cast her as John Wayne's frigid estranged wife in his cavalry movie, Rio Grande (1950). The Quiet Man (1952), again with Ford and Wayne, proved a huge hit, with O'Hara's feisty heroine a prime part of its success. Filmed largely in Ireland, its stunning photography highlighted O'Hara's flowing red locks, and her rapport with Wayne was tangible.
Ford again rescued her from a fallow period in 1955 when he cast her in The Long Gray Line, the true life story of a West Point sports instructor, played by Tyrone Power, and she was another loving wife of a real-life notable – Navy aviator and hero Frank "Spig" Wead – in Ford's Wings of Eagles (1957). Despite her productive association with Ford, she was to describe him in her memoirs as a brute and sadist.
In 1957 she made headlines by suing the scandal magazine Confidential, which had accused her of improper behaviour in a cinema. She proved that she was out of the country when the alleged offence occurred, and the suit was settled out of court. Though admired for being the first star to take the magazine on, she nevertheless felt that some Hollywood personnel subsequently blacklisted her.
O'Hara had always possessed an attractive singing voice, though it had never been used in her films, and in 1960 she made her Broadway debut in a musical, Christine, with a score by Sammy Fain and Paul Francis Webster. The story of an Irish lady who journeys to India to meet her deceased daughter's husband and falls in love with him, it suffered in comparison to the similar The King and I and ran for only two weeks. (Daryl F Zanuck had wanted O'Hara for the film version of The King and I but Rodgers and Hammerstein had vetoed the idea, stating, "Our Anna played by a Pirate Queen? Ouch!"
O'Hara also made a pleasing album of ballads, Love Letters, and she began to appear frequently on television as a singer. On screen she starred with Hayley Mills in the comedy The Parent Trap, with twins (both played by Mills) plotting to get their estranged parents (O'Hara and Brian Keith) back together again.
O'Hara's brother Charles produced the western, Deadly Companions (1961), in which she again played a widow, but the film, the first feature directed by Sam Peckinpah, received poor distribution. McLintock (1963) paired her with John Wayne for another welcome reunion in a good-natured western in which she was Wayne's long-separated wife who returns to check on his rearing of their now teenaged daughter.
Wayne was also her co-star in Big Jake (1971), her last film for nearly 20 years. In 1979 O'Hara went to Washington to make an impassioned plea that a suggestion that Wayne be awarded the Congressional Gold Medal should be approved. Tears ran down her cheeks as she said, "I feel that the medal should say just one thing: 'John Wayne, American."
In 1990 O'Hara started her final film, as John Candy's mother in Only the Lonely. It was a complex role, described by O'Hara as "wonderfully tough, mean, strong nasty, sad and funny," and O'Hara captured all the nuances perfectly, though talk of an Oscar nomination proved groundless. She made three subsequent television movies, all with Christmas themes, but devoted most of her time to her family.
She was married three times, the first two unhappily, though the second produced a daughter, Bronwyn. She had a good third marriage to the aviation hero Major Charlie Blair, whom she married in 1968 and lived with in the US Virgin Islands. Blair died in a seaplane crash that was to prove controversial in 1978. In 2004 O'Hara published an autobiography, 'Tis Herself.
Maureen FitzSimons, actress: born Ranelagh, County Dublin 17 August 1920; married 1939 George Brown (marriage annulled 1941), 1941 Will Price (divorced 1953; one daughter), 1968 Charles Blair, Jnr (died 1978); died Boise, Idaho 24 October 2015.
Register for free to continue reading
Registration is a free and easy way to support our truly independent journalism
By registering, you will also enjoy limited access to Premium articles, exclusive newsletters, commenting, and virtual events with our leading journalists
Already have an account? sign in
Register for free to continue reading
Registration is a free and easy way to support our truly independent journalism
By registering, you will also enjoy limited access to Premium articles, exclusive newsletters, commenting, and virtual events with our leading journalists
Already have an account? sign in
Join our new commenting forum
Join thought-provoking conversations, follow other Independent readers and see their replies