Meet the pioneering plus-size male models and agents spearheading the male body positivity movement
The Independent speaks to models Bruce Sturgell, Claus Fleissner and agent Mona Schulze, who set up the first plus-size male agency in Germany, about celebrating a diversity of male bodies
Maya Oppenheim
Wednesday 23 March 2016 17:12 Comments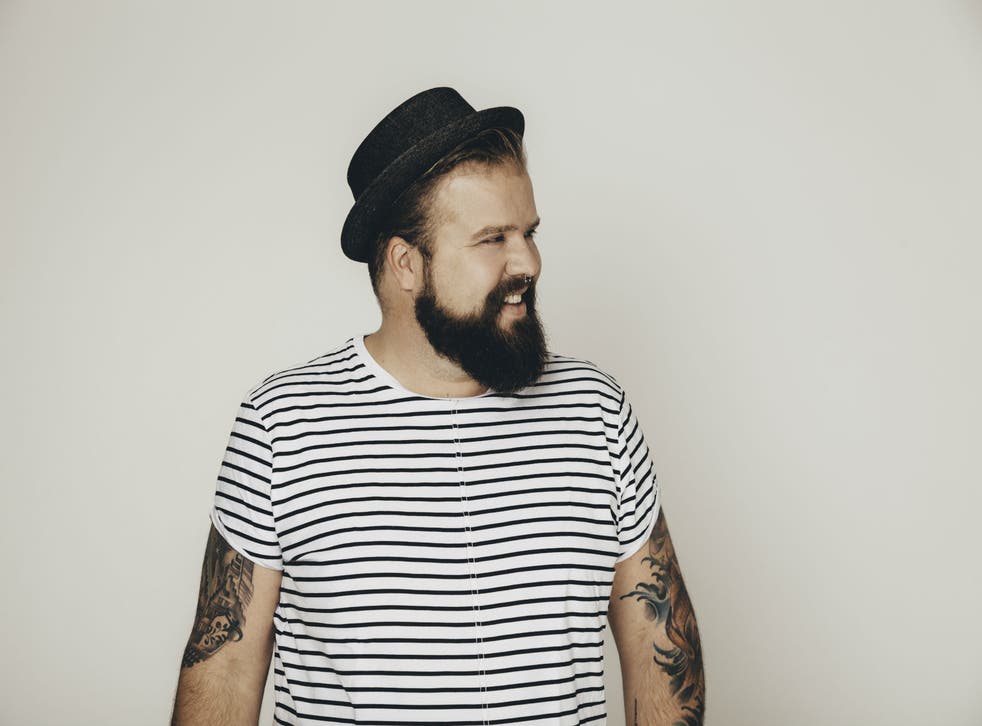 The world of male modelling can hardly be noted for its diversity of bodies. While high couture is ruled by slender androgynous adolescents, the high street is dominated by muscular Ken doll silhouettes.
But this is finally changing. At long last, the body positivity movement is picking up steam in men's fashion. In the same way that we have seen increasing numbers of female curve models break into the mainstream, their male counterparts are now doing the same.
Just last week IMG Models signed Zach Miko, a New York-based model who is 6 foot 6 with a 40-inch waist. In doing so, the prestigious agency inaugurated a new term for big and tall – "brawn" – a phrase that is likely to get increasing airplay in the next year. In symbolic terms, booking Miko is a significant step forward and may encourage other agencies to follow suit.
Plus Size male models changing the fashion industry

Show all 5
Bruce Sturgell, the founder of popular fashion blog Chubstr, is leading the way in the male plus-size movement in the US. Launched back in 2010, the American site is one of the first of its kind. "I've always been a bigger guy, and finding clothes that fit has generally been a pain," Sturgell tells The Independent. "I spent an afternoon at the shopping mall, trying to find clothes that fit, and I left empty-handed. I was frustrated by the entire situation, so I decided to head to Tumblr to complain about it".
Once on Tumblr, Sturgell found other similarly embittered men venting their frustrations. "I started talking about brands that didn't carry extended sizes, but should, and I started sharing photos of looks I had created that I liked," he says. "I realised there was the need for a real brand to address this, and Chubstr.com was born. Our mission is to help men of size find, create, and share their style with the world". In exposing the public to a range of body images, the site rebuffs and rectifies the misconception that men of certain sizes simply aren't interested in fashion.
In Sturgell's view, it's damaging for men to only be exposed to one body type. "They see less worth in their own," he reflects. "The majority of the bodies we see on television, in magazines, and in clothing stores don't look like us. When we put together photo shoots for Chubstr and feature plus size male models, our readers respond positively." Sturgell argues this is because people want to see someone who has a similar body shape sporting the clothes they may buy.
On top of this, he also argues it can often be more difficult for men to speak openly about their body image than women. "From a young age, many men are told that the if they aren't aspiring to be the muscular body builder type, they are less worthy. As chubby kids, they get picked on, yet they're told to be silent and shrug it off," he tells me. "Those things stick with men just as they would women, and make it more difficult to speak out about body issues, in turn, affecting us for the rest of our lives".
The fashion industry might have long turned a blind eye, and even actively disregarded, people of size but Sturgell is adamant that things are finally starting to look up. "With agencies like IMG Models kicking off their Brawn division for plus size male models and signing Zach Miko, doors are opening," he says. "I think we'll start to see bigger men featured in more US media. As far as high fashion, I think change will take longer, and we'll only see that with certain fashion brands. Overall, I do think we'll see positive change in the future".
And let's face it, for too long, men of a certain size and above have been hidden from the public domain and pushed to the sidelines. Despite the fact that the average American man has a 39inch waist and the average British man has a 37inch waist, men's fashion has only promoted one body shape. While womenswear designers have come under increasing pressure to represent the female body in all its forms in recent years, menswear has continued to remain bizarrely exempt.
Still in its nascent stages, the men's body-positivity movement remains far behind the equivalent women's movement, which has seen the likes of Ashley Graham and Tess Holliday gain increasing traction in recent years. To put this into context, in the UK there is not one plus-size agency for men. You have to go as far afield as Germany to track one down. According to Mona Schulze, the owner of Curve Model Management in Hamburg, there are three agencies that specialise in plus-size male models in Germany. Curve Model Management is the biggest of the three and currently has 30 active male models on its books.
"We started Curve Model Management five years ago, as we noticed an increasing focus on plus size models," Schulze tells me. "We researched the market and found out that not a lot of agencies had specialised on this segment only. It was the perfect timing, as the market for both men and women has been growing constantly since then". Sculza says she doesn't have a "good explanation" for why the British male scene lags behind Germany's, but she argues that the rest of Europe will follow as well, "as its a big market with a lot of potential".
Claus Fleissner is one of the leading plus-size male models in Germany. Like many, he never envisaged himself going into modelling. "My career started last year due to a coincidence," he says. "I've always loved fashion but did not see myself as the model type of guy". To his great surprise, the 37-year-old was asked to join an all-female cast and take part in a fashion show for the Plus-Size Fashion Days in Hamburg while working as a content manager. Fleissner was immediately scouted by Schulze. "My first model job was just two weeks later. So you could say that I kind of slipped into the business by chance," he reflects.
Living in Frankfurt, Germany, Fleissner works a nine to five for a plus size online shop and a number of other brands and writes a plus size male fashion blog called Extra Inches. Like Sturgell, Fleissner thinks it's imperative a diversity of male body shapes are celebrated. "There is such a wide range of bodies! We're not clones! Everyone is different," he exclaims. Fortunately for Fleissner, the plus-size model scene in Germany appears to be rapidly growing.
"More and more women and men are starting to see themselves as the type that can be a model. Its a new awareness of their own bodies and a new attitude," he explains. "For me, it's all about seeing life as it is and people the way they are. Why not have a big guy like me presenting brands in high fashion. It already worked fine with Beth Ditto doing a runway for Jean Paul Gaultier".
Nevertheless, Fleissner also draws attention to the obstacles facing plus-size models. "Some people think they are not real models, but "just" plus-size models. That's not nice because we also need to take care of our bodies. We need to be in shape and be healthy because modelling is a tough business".
It goes without saying that the evolution of the male plus-size movement helps to address men's body image issues. While body image is a problem most of us associate with women, a recent YouGov survey found 31 per cent of British men aren't happy with their body image. In the same way that women are plagued by glossy "Beach Body Ready" images, men are also surrounded by photos of glistening, ripped male bods. In other words, for some men, Ken can be equally as damaging as Barbie.
However, it finally seems that certain parts of the fashion industry are realising they have a social responsibility to represent people for all their shapes and sizes. While it is hard to know exactly what future direction the male plus-size movement will take, things seem to be moving slowly, but surely, in the right direction.
Register for free to continue reading
Registration is a free and easy way to support our truly independent journalism
By registering, you will also enjoy limited access to Premium articles, exclusive newsletters, commenting, and virtual events with our leading journalists
Already have an account? sign in
Join our new commenting forum
Join thought-provoking conversations, follow other Independent readers and see their replies