Meet the stars of Instagram: The most famous people you've never heard of
With 400 million users, Instagram is the social media of choice for the snap-happy. With its rise has come a new phenomenon: the InstaCeleb. Simon Usborne meets the new faces of fame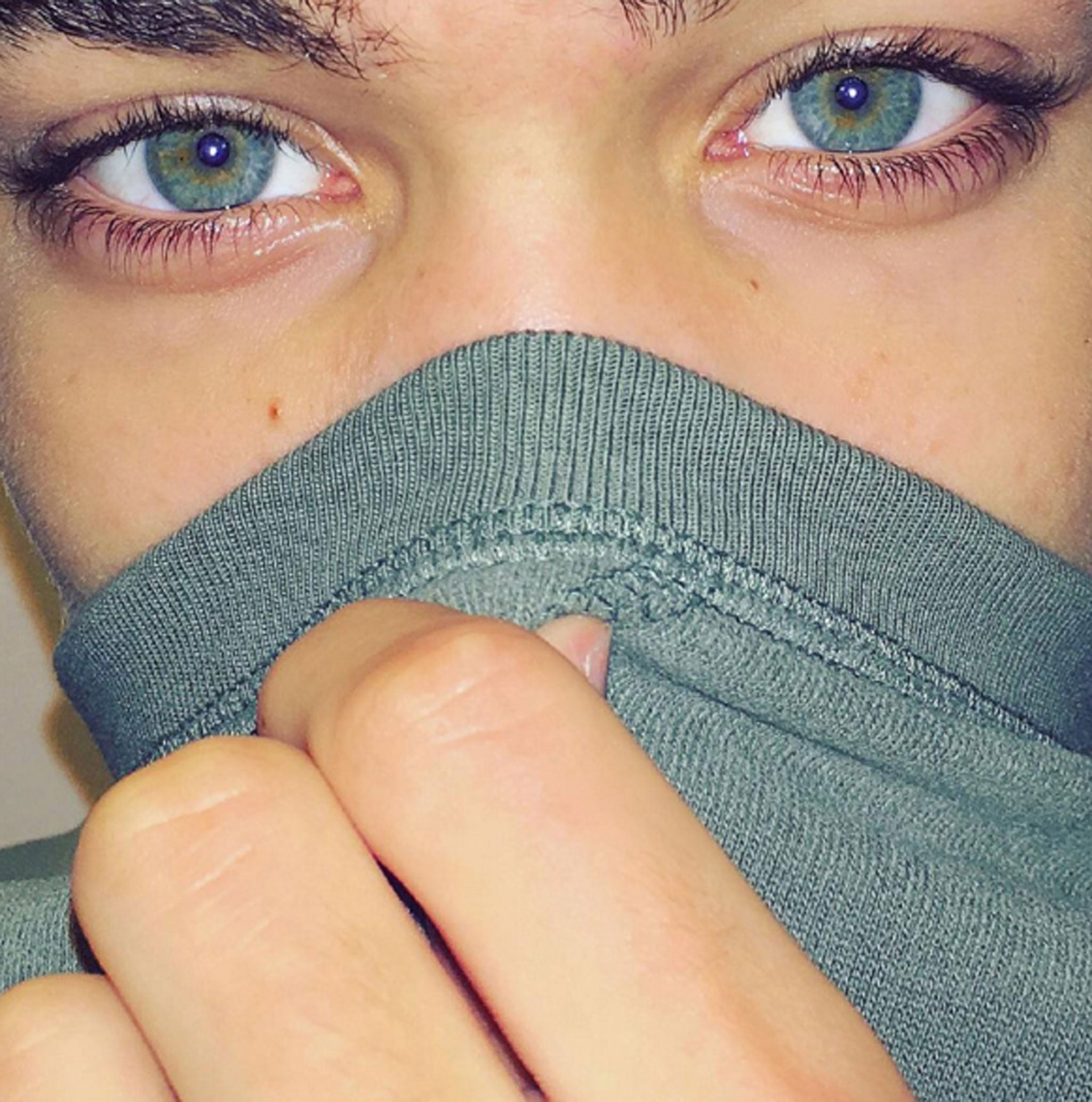 Charlie Barker is in her pyjamas, sitting in the shared kitchen of her halls of residence, with an Asda shopping trolley next to her – storage overflow from her tiny room. A Flybe plane takes off from City Airport, just across the dank water from the University of East London, where Barker studies art in surroundings that could not be greyer. The only way out is the DLR, the driverless trains that link Docklands to the brighter parts of town.
"I always wanted to move to London and when everyone was signing up for uni, I was like, I don't want to go to uni – I just want to go to London," says Barker, who calls David Bowie her "spirit animal" and is obsessed with Hello Kitty. But going to London is hard if you're 18 and from Nottingham and don't have a plan or money. "So then I was like, OK, I'll go to uni in London." So she ended up in Beckton, which is closer to Essex than the city centre.
It's lunchtime and one of Barker's housemates walks in to stick something in the microwave, which he quickly takes back to his room. They exchange hellos. "I don't really talk to people here, I just go to central to meet my friends," she says. "But the DLR is so long and tragic, especially when you're not in the brightest of moods." I ask her if she often goes to the student canteen. I noticed it on the way here; it's called "Munch". She's in her second year and says she didn't know it existed.
These are unlikely surroundings, in some ways. Because while Barker is a nice, normal student doing normal student things, she's also famous. I take out my phone and we look through her pictures on Instagram, where her following is greater than the combined circulations of Hello! and OK! magazines. Now @charliexbarker is in the room and things become more colourful. Pink, mainly. And blue, and glitter, and selfies, and skin.
Meet the stars of Instagram
Show all 10
And Hello Kitty. "I wanted to get a tattoo on the palm of my hand and because it was painful I was like, 'what do I believe in enough to get tattooed on my hand for the rest of my life?', and I was like – Hello Kitty. My Mum was like, 'you freak!'" The drawing of the Japanese cartoon cat features in a couple of Barker's 700-plus photos. In a portrait of her hand, she holds a pink and blue lollipop, and her fingernails are painted pink and blue. The caption: "Pink n blu pink n blu."
Before that, Barker, now 19, wanted a tattoo saying "Drink water, eat pussy", but decided against it. The slogan appears in another photo, scrawled on the pavement in pink chalk as she sits wearing a Betty Boop jacket in pink and black, with pink hair and fishnets. "I was bumming around with my friend Daniel, who's a photographer, and I wanted to see if I could do all the styling and everything," she says. "We'd already done four of five looks and we were like, oh my God, so we just wet my hair and went with it."
"Poco esplicita," suggests one of her Italian followers beside the photo. Barker rarely replies to comments these days, most of which are from fans ("I love uuuuu… Your style just killing me… IM SCREAMING") and doesn't say much in her captions ("I do wat I want" in this case). Yet her followers – 622,000 of them at the time of writing – love her pictures, many of which receive more than 50,000 likes. She's not on reality TV, can't sing and has no famous relatives. She's not rich and has no access to private jets or tigers as pets. Yet with a photographic glimpse – or at least suggestion – of a life of colour and attitude, a student in Beckton has earned the sort of fame that only exists on Instagram.
"That sounds so weird, saying that, stop it!" she says when I ask if she feels famous. "No, I'm not famous. I'm just doing my own thing, getting recognition doing it. And I think everyone's famous now, aren't they? Everyone has an Instagram and everyone's famous."
The photo app, bought by Facebook in 2012, boomed last year, overtaking Twitter in September with 400 million active monthly users. But there are degrees of Instafame. And if one measure, beyond an audience, is a change to one's life, then Barker has it. So too do Brian Whittaker (@brianhwhittaker) and Olivia Knight-Butler (@livrosekb), whose followings also defy celebrity norms. Whittaker, an insanely grown-up 16-year-old from Solihull, also rejects the idea that he's famous at all, despite having a quarter of a million followers. "I don't see followers as a real thing, it's just being popular on a page," he says from his mum's house.
Yet in the next sentence he talks about the best indicator of fame in any age. "I get stopped in the street quite a bit now. In the summer I was in Singapore with my parents and people were taking pictures of me. One person stopped me and then when I got back to the hotel room I saw pictures of me on Instagram shopping. People had tagged me and were asking, 'is this really you, are you in Singapore?'"
"I get so so flattered when people ask me for a picture in the street," Barker says. Most of her fans are younger teenage girls. Many have set up dedicated Charlie Barker fan accounts, re-posting her images adorned with love hearts. They idolise her. "I feel like I have to give them eternal love for it, I'm like, oh my God, that is so sweet."
Knight-Butler has a fraction of the followers of Barker or Whittaker, but 15,000 people is still a head-stretching number, a constituency without borders. "I have no idea where they're from, I'd love to know," she says. The 20-year-old from East Sussex calls her account a channel, and fills it with fashion and lifestyle shots. In one image she walks up to the Savoy Hotel in London, a white teddy perched on her leopard print roller suitcase. "There are followers who like my photos without fail, and they're mostly younger girls who want to know about my life," she adds.
Barker's following began to snowball about a year ago for reasons that weren't clear, and emails flooded in from admirers. They also came from brands, for whom bedroom Instagrammers with unexpectedly large followings can offer valuable, targeted reach. "If they want a mention in a caption it's about £500, which is cheap because I know people who charge a lot more," Barker says. "It used to be easier – they were like, 'Oh we'll give you these shoes, do what you want with them'. Now they're like, 'We want this picture, and can you do this many posts'. I guess they want what they're paying for but I'm like a spoilt brat – I'm like, I'll do what I want, thanks'."
One day Barker received an email from a modelling scout, Nikki Sheldon (@nikkiscoutcastproduce). They messaged, then met and within a week or so Barker was meeting agencies in London. "Normally a model is a blank canvas, whereas Charlie has such a strong style and presence she's the opposite of that," says Sheldon. "I had no idea what the agencies would think. But every single one wanted to meet her and she got offers from them all, which happens very rarely."
Barker went with Select, one of London's biggest agencies. "I joined just before fashion week and they were like, you've got 18 castings today. I was like, what is this, I'm just a Nottingham girl, leave me alone. But I stuck it out and it's gone really well."
Instagram is changing the industry. "A lot of brands when they search for models for campaigns and shoots now check how many followers they have," says Sheldon, 29, who has been scouting for seven years and has found five models on Instagram, all in the past 18 months or so. The industry website Models.com ranks girls by metrics including social media followings. Barker is too new to have a profile on the site but if she did, her Instagram audience would place her roughly at the level of Suki Waterhouse and Georgia May Jagger, surely neither of whom have ever slept in a single bed in Beckton.
"Some brands who used to just shoot Autumn/Winter and Spring/Summer now do a social media campaign as a separate thing," adds Sheldon. In this context, a conventional, blank-canvas model wearing or featuring a brand on Instagram is a lot less useful than someone like Barker, assuming the brand fits her style.
Barker shows me a pair of studded leather jackets given to her and her girlfriend, Rebecca Fox, aka @foxillaa, a one-time model and aspiring DJ with almost 400,000 followers, by clothing brand Religion. They were invited to paint the jackets. Barker went with a Hello Kitty design ("I don't know why I'm so obsessed") while Fox chose a Pikachu character. "They also gave us outfits to wear but we're not gonna wear them," Barker says. "Some of their stuff I like though. Rebecca said they were the shit when she was growing up, and she was born in 1990 so maybe they were a thing at some point."
Barker's work is mostly for smaller brands but she's ventured on to the high street with Urban Outfitters and H&M. And she has had occasional brushes with other spheres of fame. "I got dared to take a selfie with Amy Childs at the Clothes Show," she says. "She was having dinner and my friends were like, 'go on, go on' just to take the piss a bit. That's really bad, isn't it. Sorry Amy Childs." She's confident that the Only Way is Essex star (who has less than half Barker's Instagram following) had no idea who she was.
Barker already had close to 100,000 followers before being scouted, and it has only fuelled her popularity. The same now goes for Whittaker, who was scouted by another model a year ago and is also signed with Select. He says he mostly keeps work out of his account, and was also already big on Instagram before it started. Since he turned 16, he's squeezed in a few jobs but he's also busy at college, where he's studying art and design.
Barker and Knight-Butler have also found love on Instagram. Knight-Butler's boyfriend began liking her pictures and they eventually met (he has a modest but growing following on his own account, which is based on his fondness for golf). Barker's hook-up was less conventional. "I'm so chilled out about gender, it's not a big thing," she says. "Growing up I was always like, 'Mum, here's my girlfriend, whatever' and the next week, 'here's my boyfriend, whatever'."
She first met Fox about 10 months ago, "She woman-crush Wednesdayed me," Barker says. (On Wednesdays, admirers tag women they like with "#wcw". "Everyone knows that's a thing," she adds.) "I thought she was doing it as a joke. But then we started messaging and eventually we met up and clicked straight away." It was Fox, who's 25, who inspired the tattoo. She has several, including one on her own palm – a drawing of Bulbasaur, a frog-like Pokémon character.
Whittaker has been less lucky, relationship-wise. His style and physique make him popular, but conversations with girls typically end when they ask his age. "I've not come across another 16-year-old with the mentality of myself," he explains. "I speak to a lot of people, in real life as well, and if we're getting on it means they're older – they can be like 20 or something. Then they ask me and I'm like, I'm 16, and that's the annoying bit with girls."
Barker, Whittaker and Knight-Butler move in very different circles but have things in common beyond Instagram, which all three say they joined without a plan or expectation. They grew up with social media – Barker signed up to Facebook during a sleepover when she was 11 – and are far wiser to its potential and pitfalls than people even a generation older. They have supportive parents to look out for them but who are also young enough to get what they do, more or less.
They are also all self-aware and confident enough to share selfies and seek an audience, but insecure enough to find doing so compulsive. None identifies as vain. They talk about the need to satisfy followers – to keep posting and to interact. "They've helped me so much mentally," Whittaker says. "I didn't have a great time at school because I didn't fit in. A year ago I didn't have that much confidence at all and then it got worse. I basically had one friend because no one else understood me."
Leaving school helped, and so did the gym. Whittaker made new friends in real life, and thousands more on Instagram, many of whom he messages. "Some of these people give me words that aren't empty. They give me, I don't know how to explain it, they give me good vibes and I just really appreciate it," he says. "And I give them positivity back. You're probably sat there thinking, 'look, it's not that deep', but for me it kind of is."
Knight-Butler had eating problems when she was 15 and 16. A need to be best at everything bled into social media and she later had to decide if Instagram was part of the problem or solution. "I deleted my accounts once or twice and it felt like a huge weight was lifted off my shoulders," she says. She stuck with it and got healthy again, but Instagram became another way to exert control over her life. "I'd order food that looked good for the photo and not even eat it," she says. "I'd take three hours to get ready for a night out and if I didn't look right for the photo, I'd start again or just not go out."
In early December, after conversations with her family, boyfriend – and herself – she decided to start her channel again, with the same followers but new photos. She posts fewer of them now, and says she spends less time caring about them. "I did think about closing it forever but, I don't know, I feel like I'd be letting myself down," she says. "If one of the people I follow went off grid I'd be really disappointed because when you follow them, they become part of life. It's sad but true."
Barker has had self-esteem issues, too, but says she's happy now and has a healthy relationship with Instagram, one of her creative outlets. I admit I had no idea what to expect as I took the DLR out to meet her. "Imagine if I was dead boring," she says. "I'm not boring, am I?" I tell her she's not boring, but that she also comes across as a pretty normal, nice young woman with a big imagination. "People think I'm, like, psycho, like a psychobitch," she says. "They stereotype me but when you meet me you see it a lot differently."
What would she think if she could stumble on her Instagram as someone else? "I'd think I was annoying, I dunno." She thinks. "Everyone on Instagram is just annoying, aren't they. I do rate myself as cool [she's laughing now] and I think I'd like my Instagram more than a lot of other people's. This is weird talking about me as another person. But I'd probably think, oh my God, she has too much time."
Join our commenting forum
Join thought-provoking conversations, follow other Independent readers and see their replies