Melania Trump denies it was 'awkward' meeting Michelle Obama
In less than a week, the First Lady and soon-to-be First Lady have gone from being on rival teams to sipping tea together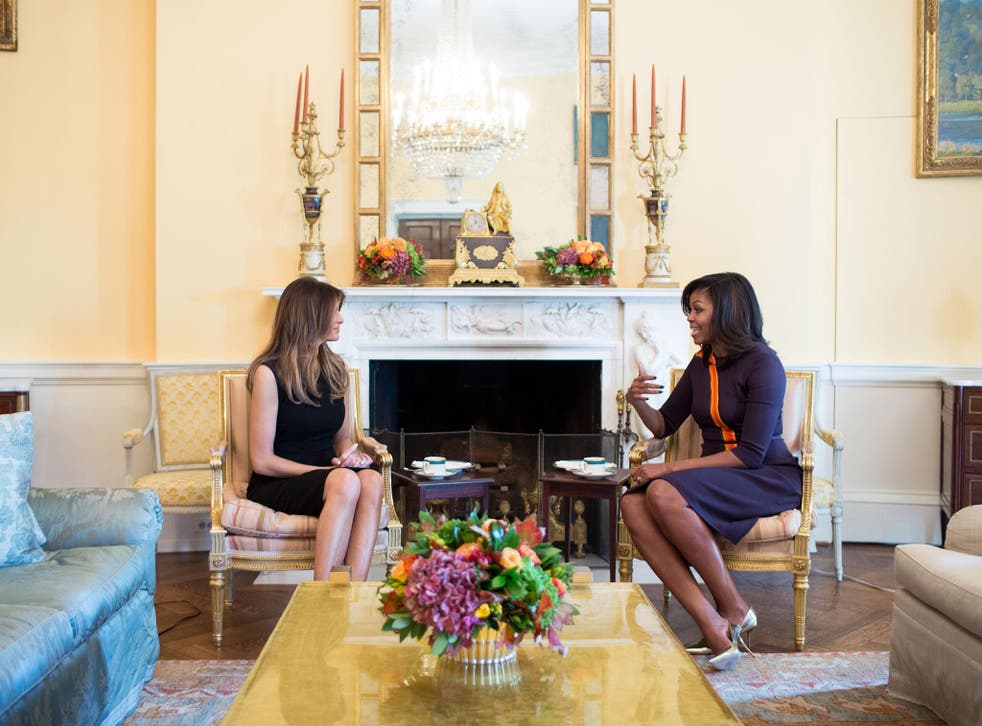 If Hillary Clinton had been victorious as the polls had predicted it would have been Bill Clinton sitting opposite Michelle Obama at the White House. But instead, it was Melania Trump.
In less than a week, the First Lady and Ms Trump have gone from being on opposing teams in the ugliest presidential campaign in recent history to sitting on golden chairs cordially sipping tea together in the White House.
While they might be constantly compared and contrasted, the current First Lady and the soon-to-be First Lady put on their most well-mannered smiles for the meeting. After all, what's a bit of casual "plagiarism" between newfound friends?
Ms Obama, who was a vocal campaigner against Mr Trump during the campaign, took Ms Trump on a tour of her future home.
President Donald Trump life in pictures

Show all 16
Appearing in a 60-minute interview on CBS, Ms Trump was probed about whether any "awkwardness" had arisen from the Republican National Convention furor which saw Ms Trump accused of plaigarising some of Ms Obama's Democratic convention speech eight years ago.
"No. I didn't feel it," she said. "[Michelle] was a gracious host. We had a great time and we talk about raising children in the White House. She was very warm and very nice."
Children are arguably one of the few things the First Ladies have in common. While Ms Trump has one son Barron who is ten years old. Ms Obama has two children - Malia who is 18 years old and Sasha who is 15.
In the interview, Ms Trump also admitted she was sometimes forced to monitor her husband's Twitter usage - throughout the election campaign he became notorious for inflammatory tweets.
Donald Trump: Is the President-elect already breaking campaign promises?
"You never say to him, 'Come on'?" the interviewer probed. To which she replied: "I did."
Her husband also chipped in, adding: "She does."
"You know, of course, I did many times from the beginning of the campaign," Ms Trump added. "Sometimes he listens, sometimes he doesn't...I think he - he hears me. But he will do what he wants to do on the end. He's an adult. He knows the consequences. And I give him my opinion. And he could do whatever he likes with it."
Join our new commenting forum
Join thought-provoking conversations, follow other Independent readers and see their replies